Hey guys! Dah lama i tak share mengenai tips kecantikan kan?! Actually i banyak tips yang boleh dikongsikan dalam blog i ni, tetapi disebabkan fokus utama Wanderhoney blog adalah lebih kepada tutorial website dan travel, i jarang nak tulis post mengenai tips kecantikan. 
Anyway, today i nak share satu tips yang i dah lama praktikkan pada diri i sendiri iaitu cara untuk mendapatkan kulit yang lembut dalam masa yang sama melembapkan kulit. I have been doing this for the last 3 years and it works really well for me. How do i know it works? – because i get lots of compliments about my skin. Since i like to keep my blog real, you have nothing to worry. If this tips works for me, it will works for you too.
Sebagai permulaan, sediakan 3 barang ni :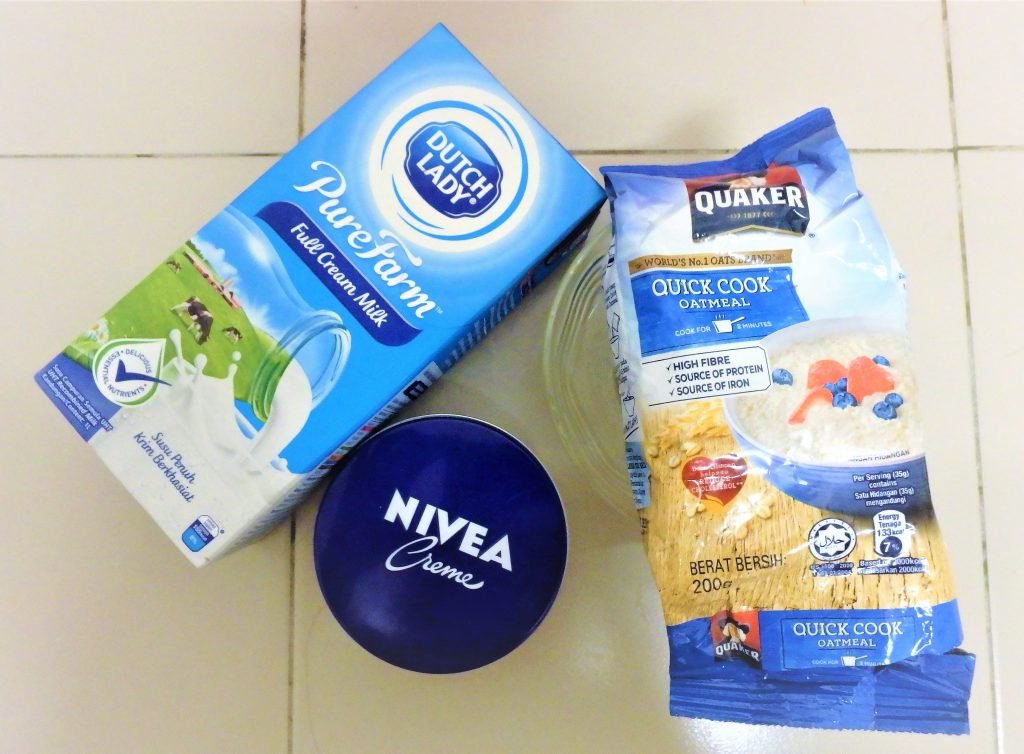 Full cream milk

Quaker Oats (Original)

Nivea Cream
Okay, cara nak buat – Firstly you kena campurkan oats dengan susu full cream. Make sure kuantiti oats yang digunakan adalah mengikut bentuk badan you (sebab nak kena gosok seluruh badan). Gaulkan oats dengan susu sehingga jadi seperti paste ataupun masker. Kemudian, gosok dan lumurkan oats di seluruh badan dari hujung kaki sampai ke leher. Biarkan selama 20 minit. Akhir sekali cuci seluruh badan dengan sabun dan air bersih. Nivea cream di sapu ke seluruh badan selepas badan di lap kering.

P/s : Tips ni tak perlu buat setiap hari. Cukup sekadar seminggu sekali. 
Apa fungsi 3 bahan ni?
Full cream milk bertindak sebagai enzim yang mencerahkan kulit dengan lembut.

Oats mempunyai ciri-ciri penggelupasan yang baik yang tidak akan merosakkan kulit.

Nivea Cream membantu untuk melembapkan dan melindungi kulit terutama di bahagian siku, lutut, tumit, kutikel dan bahagian-bahagian badan yang memerlukan extra hydration.
Until then…Good Luck!