Hey guys! Part I i dah kongsikan beberapa Hanoi travel tips sebagai panduan for you guys yang ada plan untuk bercuti ke Hanoi, Vietnam. If belum baca Part I, boleh klik link di bawah ni, 
Solo Travel 2018 : Panduan Percutian Ke Hanoi, Vietnam (Part I).
Untuk Part II ni pula, i nak kongsikan dengan lebih detail lagi about the tour yang i ambil sepanjang i berada di Hanoi. Fyi, i booked semua tour bila i dah berada di Hanoi (tak perlu pun nak buat tempahan awal-awal dari Malaysia). Tour service di Hanoi ni bersepah-sepah. Even setiap hotel di Hanoi boleh arrange tour for you. Jadi, if you travel alone, tak perlu risau pun mana nak cari tour service. Your hotel can do it for you. 
---
1. Ha Long Bay Tour  (Day Tour)
Price : 

45 USD / 1,024 490.00 VND / 176.00 MYR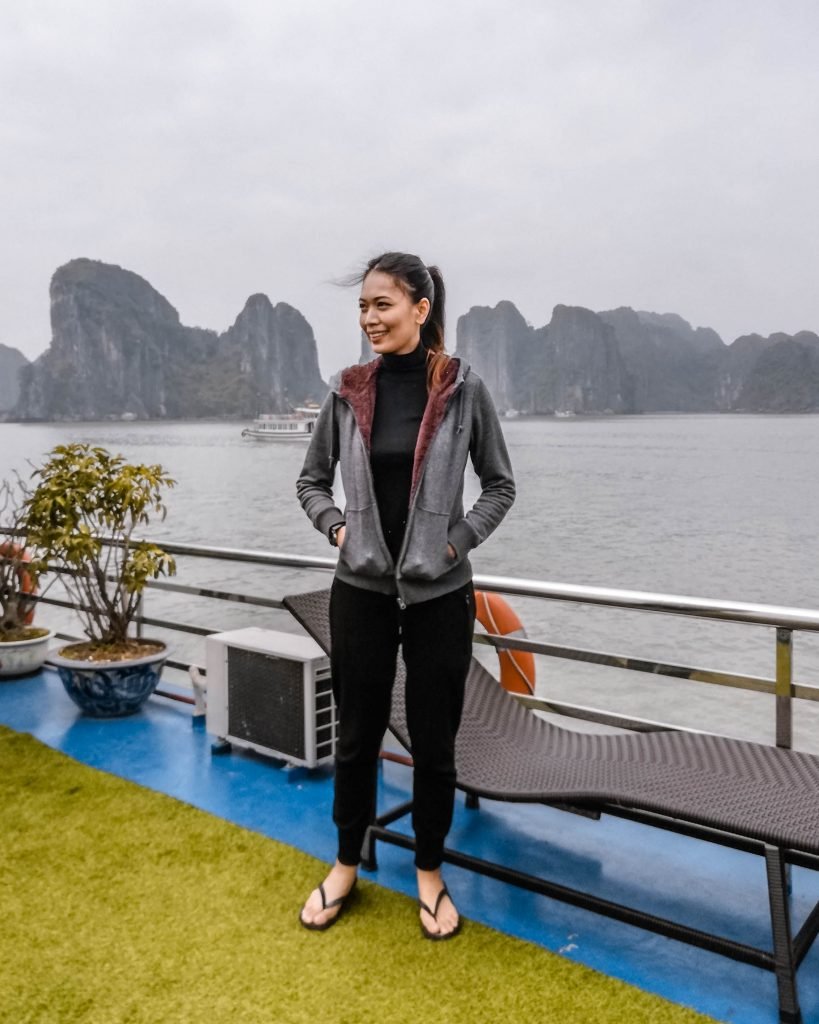 Tour yang paling popular di Hanoi. Tak sah kalau ke Hanoi tapi tak ambil this tour. 

I booked this tour dengan Box Hotel. Bayaran 45 usd ni actually tak termasuk harga kayaking dan bamboo boat (but later i dapat full package termasuk kayaking & bamboo boat disebabkan company mistake yang tersalah booked tour i). 

Box Hotel memang standard hotel backpacker, jadi harga dia masih berada di dalam lingkungan budget i. If you nak ambil tour service, i sangat recommend untuk ambil dengan hotel ni. 

Ha Long Bay tour ada beberapa package – Day tour, 2 days 1 night, 3 days 2 nights.
Kalau tanya i, memang i suggest untuk ambil Day tour sahaja. No need to stay more than a day (tak perlu membazir duit dan masa) unless you betul-betul teringin nak tidur dalam cruise atau hotel di sana. 

Perjalanan ke Ha Long Bay dari Hanoi mengambil masa selama 4 jam. 

Bila sampai di Ha Long Bay, Tour guide akan terus bawa ke cruise untuk lunch (dah termasuk dalam package, jadi tak perlu bayar lagi). Hanya air sahaja yang perlu dibayar. Mula-mula tu i pelik la juga. Tak kan la makan tak provide air? Haha. Tapi tu lah, lain tempat lain cara. Menu dia seafoods. Sedap! 
Overall, it was a good trip. Our tour guide sangat friendly and helpful. Tapi Ha Long Bay ni bukan seperti yang i imagined or expected. Entah la. I rasa Ha Long Bay ni biasa je. Tak ada la "Wow" sangat macam dalam gambar yang i tengok. Kecantikan Ha Long Bay ni pada i tahap average. Mungkin juga disebabkan cuaca yang tak berapa nak baik (hujan renyai-renyai). Tapi apa pun, pengalaman yang i dapat di sini, i can't replace it with anything. 🙂 
---
2. Sapa Tour (2 Days 1 Night)
Price :

50 USD / 1,138 322.00 VND / 196.00 MYR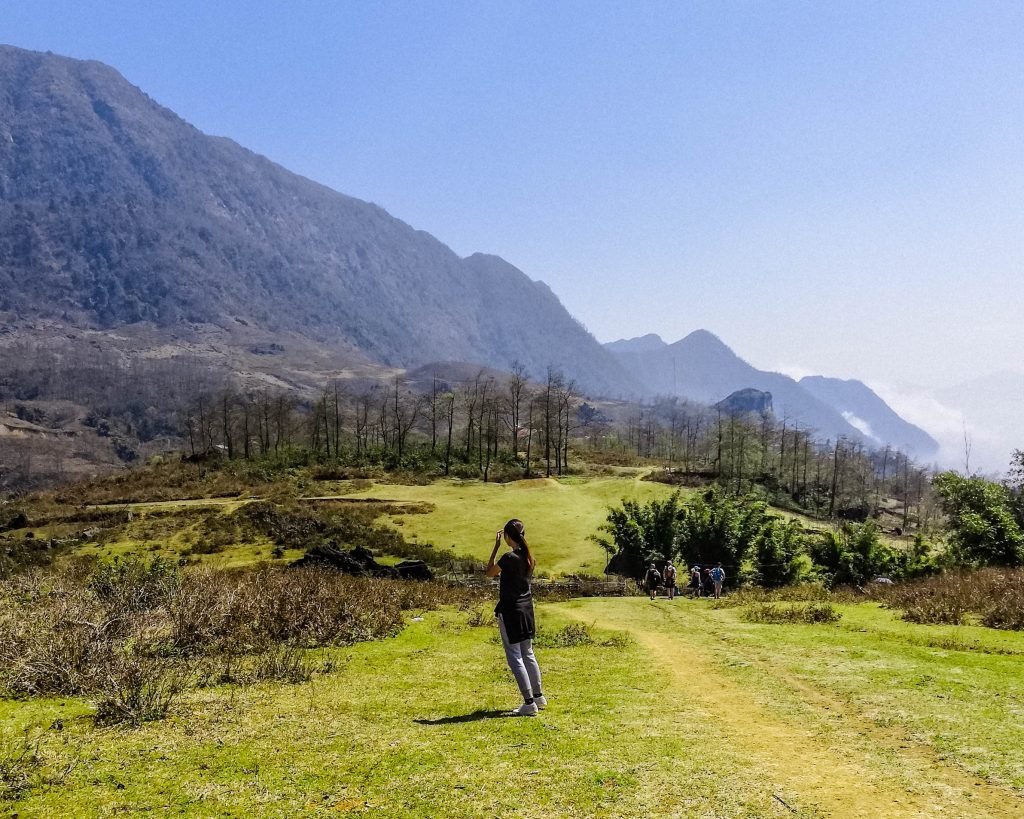 If you suka hiking, you should take this tour BUT untuk muslim, i tak recommend. If nak pergi juga, just make sure you are not the only Muslim dan bring your own foods.

Oh! you need to prepare to throw away you shoes too. Haha. Kenapa? Jalan ke homestay penuh babi. Setiap rumah di village ni ada kandang babi. Sambil-sambil jalan tu, babi lalu sebelah je. Anjing pun banyak. Tahi babi merata-rata. Mungkin you terpijak, mungkin tak. Who knows? Haha.

I booked this tour dengan Box Hotel and the tour agent syorkan i ambil night bus pukul 10.30 malam. Maknanya, after balik dari Ha Long Bay pukul 9.30 malam tu, i ada masa 1 jam lagi to take shower & pack my stuff.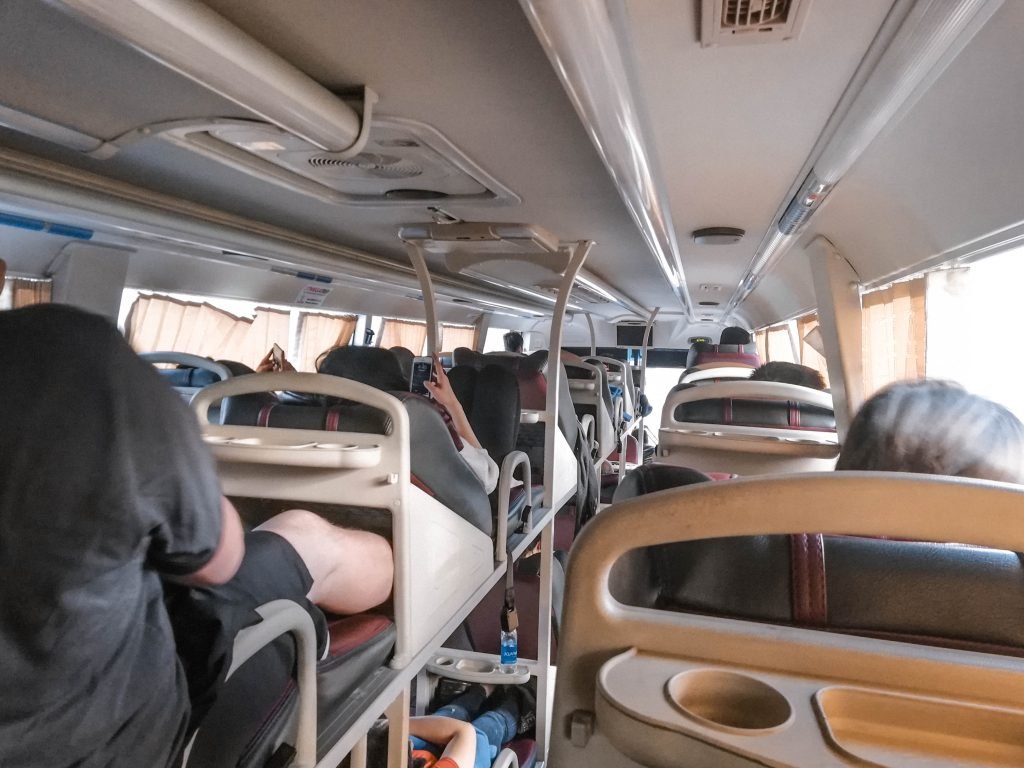 Bas ke Sapa ni bukan sebarang bas yer – boleh baring tidur. Masa mula-mula nak masuk tu i have no idea lagi about this bus – diorang bagi plastic hitam suruh i buka kasut. At first i rasa pelik, i asked "Why do i need to take off my shoes?". They replied "This is sleeping bus". Seriously, awkward gila  i rasa terutama bila i masuk dalam bas dah ramai orang. Nasib baik la i cepat masuk, ada 2 lagi katil yang kosong. Kalau tak, memang kena tidur di lantai bas lol.
Perjalanan ke Sapa dari Hanoi mengambil masa selama 5-6 jam (kalau naik train 12 jam).

I tak boleh tido pun dalam bas. Rasa menyesal pun ada ambil night bus. Penat ikut tour ke Ha Long Bay pun tak habis lagi. Haha.

Hiking mengambil masa selama 7 jam untuk sampai ke destinasi (homestay). Bayangkan i dengan tak cukup tidurnya. Weh, serious! Nak mati dah i rasa. 

The hike is pretty tough. Even geng-geng mat saleh dalam group i pun cakap benda yang sama.

 Cuaca jangan cakap la – panas terik (macam matahari atas kepala je). Tu yang i dapat sunburn teruk. haishh.
The mountain has breathtaking views. 

Tak boleh i nak describe betapa cantiknya tempat ni in words.  Sometimes buatkan i rasa macam berada di Kashmir dan ada part macam di Switzerland. 
Di homestay, me & my friend stayed for a night there dengan 18 orang traveller yang datang dari different countries. We are the only Asian and Muslim.

Locals prepared food for all of us at the homestay. We all had dinner and breakfast together at the living room.

Mountain people di Sapa sumpah baik gila! My friend lost her iphone while Hiking. Diorang cari her phone (based on beberapa tempat we mentioned) sampai jumpa. Then, they called our tour agent di Hanoi, told her to tell us not to worry. They found the phone! 
To be honest, i personally don't like hiking. I chose this tour because i want to see the culture and ethnic in Sapa. I really have no idea yet about the 7 hours hike. Like i said above, the hike is pretty tough. I never thought i could make it though. Mula-mula tu timbul juga la rasa penyesalan. Ceh. Haha. Tapi, bila dah i tengok kecantikan gunung Sapa dan kebaikan ethnic di gunung ni, i realized this is The Best Tour yang i ambil during my trip to Hanoi. It gave me the best memories of Vietnam. 
---
3. Hanoi City Tour 
Untuk Hanoi City tour i tak ambil tour service. I bergerak sendiri je (jalan kaki) ke tempat yang i nak pergi dengan menggunakan google map.

Dalam banyak-banyak tempat yang menarik kat Hanoi City ni, tempat yang wajib pergi adalah Hoan Kiem Lake. Area sini memang happening. 

Nak melintas kena extra careful dan tahap keberanian kena 200%. Haha. Traffic kat sini teruk gila. Traffic light macam tak ada function. 

Nak masuk museum, temple, etc, ada entry fees. I'm not sure how much sebab i tak masuk. Tak sempat pun. Gigih tangkap gambar dekat Hoan Kiem Lake. 

If you ke Hanoi, make sure dalam itinerary ada luangkan masa 1 hari untuk buat Hanoi city tour. Do not skip. 
---
More about Hanoi… 
Make sure sentiasa ada alamat hotel with you. Screenshot booking confirmation. If nak naik teksi or other transportation, diorang akan tanya alamat. Bukan nama hotel. You can't just simply say nama hotel tu and expect they know. 

ALWAYS bring wet tissue with you. Public toilet di sini memang tak ada paip air lol! 

ALWAYS bring money with you :
1. Nak masuk public toilet kena bayar.


2. Hanya makanan sahaja termasuk dalam package tour. Air minum kena bayar. 

Most people in here akan bagi price in USD. But you pay in Vietnamese Dong. Make sure you ada currency exchange apps dalam phone you. Ringgit Malaysia tak digunakan di sini yer! Hanoi bukan macam Ho Chi Minh city. 

Total cost trip

i ke Hanoi – RM1483.00 (Termasuk flight & hotels)
Alhamdulillah, semua cerita buruk yang i dengar about Vietnam, tak terjadi dekat i even though i arrived there alone. Dari pemandu taxi, sampai la pekerja hotel, tour agent, tour guide, locals, semua layan i dengan baiknya. They taught me what i don't know, kept my belongings safe, helped me when I'm in need. I truly felt safe during my trip to Vietnam. Til we meet again! xoxo