Hey guys. I finally got a chance to write about my trip to Siem Reap, Cambodia. Went there in April for 4 days and 3 nights. Nasib baik i tak pergi lebih dari 4 days because honestly, there's nothing much to do there. Actually 3 days pun dah more than enough.
Like always, after i beli flight tickets, i akan arrange my accommodation, airport transfer etc. Benda yang i selalunya tak plan lebih awal adalah itinerary (mana tempat i nak pergi bagai). Kebiasaannya i ni bila dah sampai ke destinasi yang i pergi tu, baru i akan tanya locals untuk suggest mana tempat yang best. I akan ambil apa sahaja pamphlet yang ada sebagai rujukan, then baru i decide mana tempat yang i nak pergi. Yeah, it's last minute but i like it that way. 
---
Flight Ticket
I beli my flight ticket 2 weeks before my trip. So, the price quite expensive. It was RM487.80 (tak termasuk lagi harga seat yang i beli). Actually nak pergi Siem Reap ni harga ticket boleh dapat below RM300.00. Tapi kena plan beli awal-awal. Kalau jenis tak plan dari awal, memang kena keluar duit lebih sikit la untuk flight ticket. 
---
Currency
Di Cambodia pakai USD. Bila tukar duit di Malaysia, make sure duit USD tu tak ada cacat cela. If ada garisan pen sikit pun, diorang tak terima. Kira duit tu rosak.
---
Passport & Visa
Rakyat Malaysia tak perlu Visa untuk ke Cambodia. Boleh stay for 30 days. Lebih dari tu, kena apply. Untuk kepastian for visa requirement, you boleh check kat laman web ni : OeVisa.com
---
Where To Stay
I stayed di Mudra Angkor Boutique hotel atas recommendation colleague boyfriend i. Untuk my readers, i tak recommend sangat hotel ni. It was okay, the staff are friendly and helpful but i had bad experiences here. The location of this hotel pun jauh dari tempat tourist spot. So, if you ke Siem Reap, cari hotel or hostel yang terletak di area or close to Old Market. This location is located at the heart of the city. Nightlife area sini memang happening. 
---
Transportation 
I pakai Tuk tuk dan Grab. My main Tuk tuk memang hotel dah booked awal-awal with him. So mana pun nak pergi, i bayar dia je.  Cuma bila i pergi lepak kat Pub Streets and balik lewat malam, i kena cari Tuk tuk lain which is memang senang nak cari sebab bersepah kat area sini. My tips, make sure tawar menawar tambang sebab diorang akan tipu bagi harga tinggi. Contohnya if tambang harga 4 usd, diorang akan cakap 6 usd.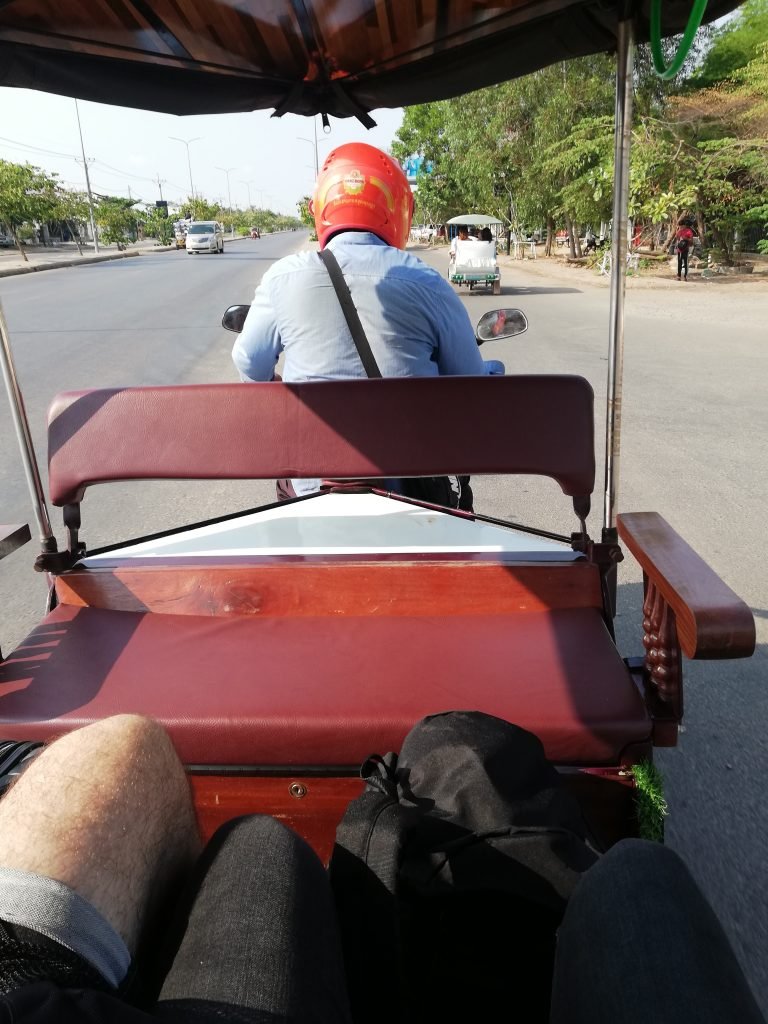 ---
Foods and Drinks
To be honest, sangat susah nak dapat makanan halal here. I jumpa 3 restaurant halal dan semua restaurant ni adalah Indian restaurants. Lagi satu, i tak recommend untuk beli street foods here. Persekitaran tak bersih dan makanan terdedah. If you ke sini, you akan faham maksud i. My boyfriend kena food poisoning teruk. Nasib baik apa yang dia makan tak sama dengan apa yang i makan. Better bawa stok makanan sendiri dari Malaysia. Makan megi hari-hari pun tak apa. Yang penting tak kena food poisoning. 
---
What To Pack
Time i pergi ke Siem Reap ni memang tengah musim panas terik. Suhu mencecah 34'C-35'C. I sendiri tak tahan lol. Sun burned jangan cakap la. Dah pakai suncreen pun macam tak pakai. So, sebelum ke Siem Reap, make sure check dulu online suhu kat sana. If musim panas, tak payah la bawa baju tebal-tebal. Bawa yang boleh serap peluh. Bawa sneakers or sport shoes untuk keselesaan terutama bila pergi ke Temple di sini – senang dan selesa untuk bergerak. No heels lol. Simpan je kat umah. Tak sesuai pun nak pakai heels kat Siem Reap ni. Lagi satu yang penting, pakaian untuk ke Temple make sure kena tutup bahu dan seluar/skirt yang tutup sampai ke lutut. Well, it's common. Mana-mana tempat suci kalau nak pergi, ada dresscode. Selain dari tu, bawa pen (letak dalam handbag) untuk isi borang custom dalam flight, wet tissue, sunscreen, slipper, travel adapter dan barang-barang keperluan you yang lain.
---
Shopping in Siem Reap 
If nak shopping for souvenirs, cari di Old Markets. You boleh tawar-menawar sampai dapat harga paling rendah. 
---
Where I've Been To 
Tix price : 15 USD / person
If you are a big fan of history, you can come here. It was boring for me since i'm not a big fan of history. Haha. Tapi let say if you just nak buang masa, tak ada tempat lain nak pergi, you can come here and learn a bit about Cambodia. 
Tix price : 37 USD / person
Tempat yang wajib pergi bila ke Siem Reap. Nak ke sini kalau boleh gerak waktu pagi dalam pukul 9.00 camtu. Tour akan habis petang. Banyak temple you boleh pergi visit. Bawa air sendiri juga sebab you akan banyak berjalan. Oh, lagi satu, nak beli tiket, tak boleh orang lain belikan sebab time beli tu kena tangkap gambar. 
Phnom Kulen National Park 
Price : 80 USD
Since i suka nature, my hotel suggested me untuk pergi ke sini. Definitely the best activity yang i buat sepanjang di Siem Reap. Perjalanan from my hotel ambil masa 2 jam. Apa yang i paling suka mengenai tempat ni adalah it's popular among locals tapi tak crowded with tourist.
Old Market / Pub Streets / Siem Reap Night Market
Sepanjang di Siem Reap, every night i akan datang ke sini. Semua tempat ni within walking distance. Kalau naik tuk tuk, cakap je nak pergi Old Market. Kat sini memang happening waktu malam. Tak bosan. Banyak restaurants and pubs. Serious tak rasa macam di Cambodia pun sebab banyak mat salleh lol. Haha. 
Okay guys! If you have any question about Siem Reap, you can just email me. Until then…