It's like a yearly thing for me to have a birthday retreat where I can just be by myself, away from everyone and everything. I love pampering myself on my birthday, and I don't mind splurging a little to make it extra special. To me, my birthday is always about self-giving and self-care. It's a time when I prioritize what I can give to myself. 
After months of researching to find the perfect place I had in mind—a private villa in front of the beach—I stumbled upon Mangrove Bay Krabi Beachfront Pool Villa. Before booking, I did some online research about the villa, and based on the reviews I found, I booked the villa without any second thoughts. I'm grateful that I did book with the villa because it exceeded all my expectations and turned out to be the ultimate birthday retreat I could have ever wished for.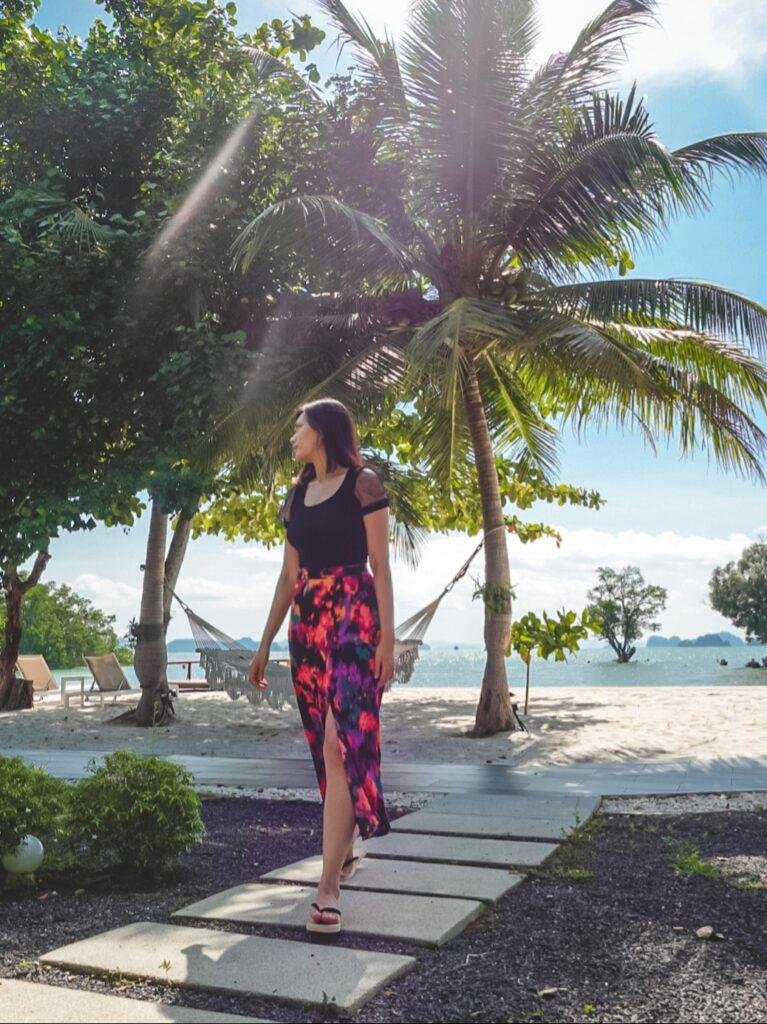 ---
Mangrove Bay Krabi Beachfront Pool Villa.
The villa is situated in Ban Tha Len, just a 40-minute drive from the Krabi International Airport. While it may be slightly secluded, it's a perfect choice for those seeking privacy and tranquility. If you're looking to escape the crowds and enjoy some peaceful moments, this place is ideal. They have everything you need right on-site, including a swimming pool, a restaurant, and a café. You can simply relax by the beach and soak up the serene atmosphere. The entire place is well-maintained, impeccably clean, and well-organized. However, the reception and staff are not always available. It is only available from 08:00 a.m. to 07:00 p.m. including the facilities on-site.
I stayed in a Superior villa that faced the ocean, and it exceeded my expectations. The villa was spacious! The bed was very comfortable, accompanied by four fluffy pillows. It also had a cozy sofa, free Wi-Fi, a ceiling fan, air conditioning, a flat-screen TV with Netflix, a convenient workstation, a balcony, a safe box, and all the essential amenities. To make my stay even more delightful, they even provided a delightful fruit basket as a welcoming gesture, which was a lovely touch.
If you're interested in booking, you can check out the villa through their website here. Personally, I made my reservation through Agoda. Being a VIP Gold member, I was able to take advantage to get promotional prices, making it quite affordable and well within my budget. You can book the villa on Agoda here: Mangrove Bay Krabi Beachfront Pool Villa.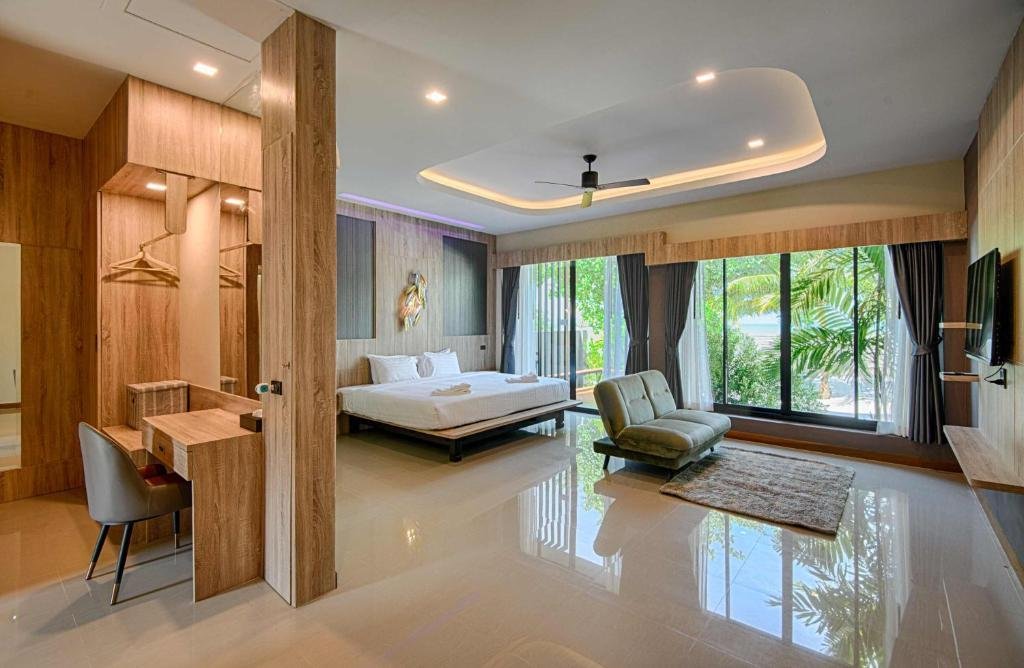 ---
Airport Transfer.
I'm so glad I booked the airport transfer with the villa, especially since my flight was scheduled to arrive in the evening. As luck would have it, my flight ended up being delayed by 1.5 hours, and by the time I landed, it was already dark outside. I remembered that the reception closes at 7:00 p.m, so it made perfect sense to arrange the airport transfer with them. It gave me peace of mind to know that someone would be there to greet me and ensure my safety.
The cost for a one-way transfer was 900 Thai baht, and I decided to go for the round-trip option, which came to a total of 1600 Thai baht.
I must say, the driver was incredibly kind and friendly. He even made a quick stop at a nearby 7-Eleven so I could grab some food since the restaurant had already closed. The staff at the villa were equally accommodating, patiently awaiting my arrival and making the check-in process smooth and hassle-free.
---
Foods And Drinks. 
As I mentioned earlier, the villa has a restaurant and a cafe on site. To make sure they could prepare the meals exactly as the guest wanted, the guest had to book in advance. They didn't do buffets here; instead, everything was made to order. In each villa, there was a menu placed on a desk, and all I had to do was send a quick WhatsApp message to place my order. Speaking of WhatsApp, that's how we mostly communicated. Whenever my food was ready, they'd send me a message. It was so convenient!
Now let's talk about the food. Not only was it delicious, but they also served generous portions.
Breakfast: The options were a bit limited. They had four sets to choose from—Seat A: American Breakfast; Set B: Boiled Rice; Set C: Fried Rice; and Set D; Egg Benedict. I had to order my breakfast before the next morning, and they'd let me know when it was ready in the morning.
Lunch: They had plenty of choices, from Thai cuisine to pizzas, grilled seafood, and sandwiches. And the drink options were abundant too! For lunch, I decided to go all out and indulge in room service. I mean, who wouldn't want to enjoy a delicious meal on the beach, right?
Dinner: The same menu as lunch, but I need to order 2 hours before 7:00 PM. I ordered my dinner at the same time I ordered my lunch. They texted me once my dinner was ready for me to go to the restaurant. The best part? I had the entire restaurant to myself, enjoying my meal while taking in the incredible view. It was pure bliss.
Oh, and I can't forget to mention the cafe! They had an amazing selection of drinks, and they also served mouthwatering cakes. I ordered a Pineapple frappe and a small coconut cake, and let me tell you, it was the best coconut cake I've ever had (I doubt I could find it anywhere else, even back in Malaysia). You've got to try it when you visit.
Overall, the food and drinks at the villa were fantastic. Whether it was breakfast, lunch, or dinner, I was thoroughly satisfied with the delicious options and the attentive service.
---
The Activities and Other Services.
The villa also offers a range of activities, including kayaking, and they can also arrange other activities that the island has to offer. Unfortunately, I forgot to take a photo of the pamphlet with all the details. However, there was one service that I did ask the villa to arrange for me, and that was a Thai Massage. The masseuse came to my room, and the staff prepared a designated spot for me to enjoy the massage. I paid 800 Thai baht for a full massage with oil, and I have to say, it was a good massage. I felt lighter and more relaxed afterward.
---
The staff.
The staff here is the best! They're incredibly kind, warm, and friendly. They made me feel so welcome and were always ready to assist me with anything I needed. They truly ensured that my vacation went smoothly and was filled with wonderful experiences.
To top it all off, they surprised me with a special treat on my birthday. They brought the coconut cake that I had ordered, but since they knew it was for my birthday, they added a candle to it and presented me with a thoughtful birthday card. They even sang me a birthday song! It was such a sweet gesture that made my experience here even more memorable.
Will I ever come here again? Absolutely, yes. This is the kind of place I love to be when I need some peace and away from everything, especially on my birthday. I adore the beachfront setting, and it's always been my dream to own a beachfront villa someday.
Until my next travel! X, Hani. ❤