When people think of holiday destinations in Greece, they often think of popular islands like Mykonos, Santorini, and Corfu. However, today I want to introduce you to a lesser-known island that I absolutely adore: Milos Island. It's one of those places that I can't help but gush about because it's just that amazing. Despite being a hidden gem that hasn't been overrun by tourists, Milos offers breathtaking scenery, romantic sunsets, charming small towns, delicious cuisine, and amazing beaches with volcanic rocks. After spending 4 days on Milos, I can confidently say that it's my favourite island in the Cyclades and one of the best places I've ever visited. I fell in love with Milos in just a few short hours and didn't want to leave once my stay was over. Gosh…I cannot say enough about this island and I swore to go back to this island someday. 🙂
---
"Milos Is For Lovers"
I saw this quote when I was on the bus, in Milos island. I totally understand why it is named as such. It is known to be a romantic getaway for couples to fall in love again. It is a quiet island with not as many clubs or bars but cafes. I can see many old couples on this island, spending time together, walking and holding hands. It made me want to grow old here with my partner. If you're a

newlywed or a very in-love couple and looking to find some quiet time enjoying each other's company, I highly recommend this place.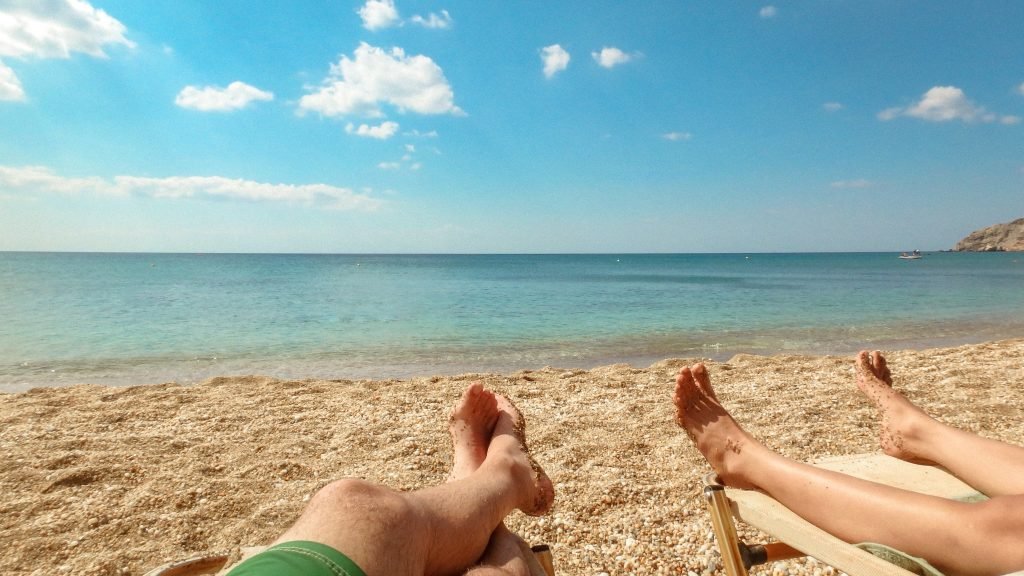 So, here's a quick travel guide to Milos. Hopefully, this will help take you through the island and all of its charms.
How To Get There.
Milos is located at the southwest end of the Cyclades complex of islands

. You can get there by ferry boat or speedboat from Piraeus port, Athens or by plane from Athens International Airport. I went to Milos by speedboat called Sea jets that departed from Santorini. It takes 3 hours journey to get there and less than 40 minutes if you take a flight from Athens International Airport. Ticket prices can vary, and it's best to book in advance to get the cheapest rates.
---
Where To Stay.
There are three main towns in Milos: Pollonia, Adamas and Plaka. After touring all three, I would highly recommend Adamas as the place to reside during your stay in Milos. It was logistically the easiest place to stay. All the buses left from here as well as the ferries and the sailing boats. If you want to stay in one place without going anywhere much, I would recommend Pollonia. It's a quiet place, charming and cats are everywhere too! 🙂  I stayed at Christina Rooms, located 15 minutes walk from the Adamas port. The room was cosy, the bed was comfortable, and it was very well equipped with snacks and drinks in the fridge upon arrival. It only cost me 84 Euros for 3 nights, and the owner, Viktoria, was super friendly and helpful.
Transportation.
I would advise you to hire a car or ATV  when you get to Milos. It is pretty much necessary to rent because the island is quite big and hiring a car or ATV would give you the flexibility to explore since local buses only go to a few places. You will regret it if you don't.  
---
What To Eat.
I loved each and every restaurant I went to. Almost all of the restaurants in Milos are located right on the water so you get fantastic food with a great sea view. Overall, the food in Milos is delicious, and I highly recommend trying the Greek salad, grilled octopus, pitarakia (local cheese pie), and beef with tomato sauce, all of which were particularly memorable.
One of the must-go restaurants in Milos is O! Halmos. This unique restaurant is quite popular in Milos and it served traditionally cooked meals. O! Hamos is located just outside of the port town of Adamas – the seaside of Papikinou beach.
Milors cafe is one of my favourite cafes too. I really enjoyed eating freshly baked waffles with Nutella and ice cream on top. It tastes really good!! I loved every bite of it. 
---
Where To Go.
Adamas – Adamas is a main port of Milos. All ferries stop here. It is a seaside village and a tourist centre in general. You can find many good restaurants, some shops and an ATM to withdraw money. Also, you can find various travel agencies where you can book for an island tour (sailing), buy a ticket for the ferry or rent a car.
Plaka – Plaka is a very picturesque village which is definitely worth a visit. It's a charming town with a lot of alleyways, and cobblestoned streets where the majority of the shops are. If you're looking for unique souvenirs to take home with you, this is the place to head for. The best part is that many of the shops carry locally made goods. 

For an unforgettable sunset, I recommend spending an evening in Plaka. The sunset captured the entire sky and it was worth it. Whatever you do, don't miss it!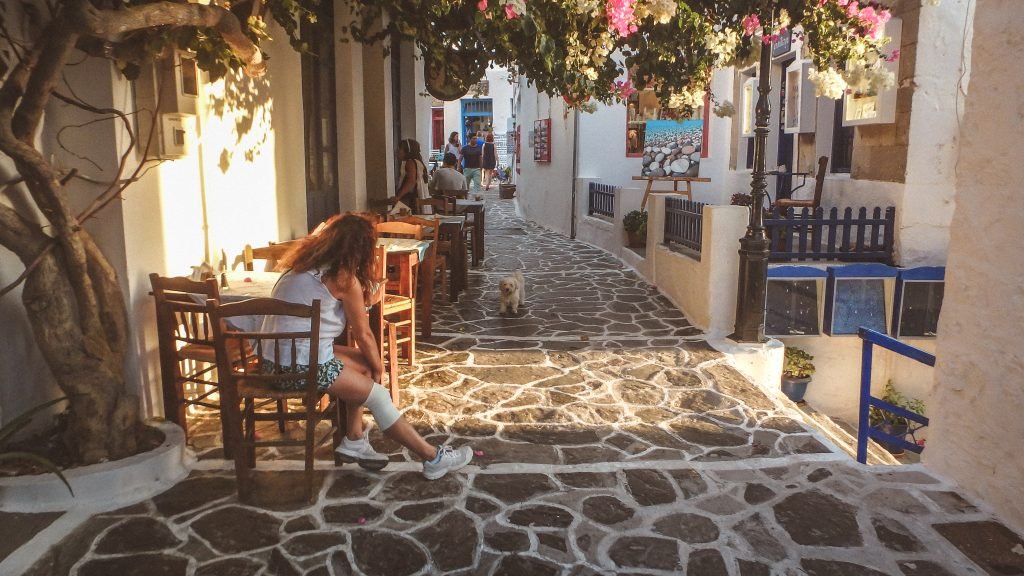 Pollonia – It is a picturesque fishing village that got plenty of restaurants and island cafes with a seaside view. I was so amazed by this place that I can't stop taking pictures! 
Sarakiniko Beach –  This beach is the highlight of the whole island. It is described as a beach but that isn't really what it is. You'll find very small amounts of sand here and there are no plants growing. Sarakiniko was formed by a volcanic eruption and the result is amazing white ash rocks. All of the beach areas have moon-like rocks or space rocks that will make you feel like you travel straight to the moon. Sarakiniko is a true miracle of nature. You will be amazed by how beautiful they are!
Paliochori Beach – Another beach I highly recommend in Milos is Paliochori. This is one of the beaches you should definitely visit for swimming and sunbathing. I still remember how happy I was, swimming and taking pictures underwater with fish because this beach has amazingly crystal-clear water! So don't forget to take goggles and a snorkel with you. There are beds and an umbrella that you can rent for 8 Euros (2 beds/1 umbrella) here. 
Sailing Tour / Round Island Boat Trip – Milos is a volcanic island and the volcanic soil is what makes the beaches so beautiful and different. If you want to explore the island even better choice is to go for a sailing tour where you can visit beaches which are only accessible by the sea like the very famous Kleftiko. I paid 80 euros for a sailing tour but my sailing tour agent needs to cancel it due to the strong winds.
---
More About The Island.
You may not find the party life or nightlife here, but I trust you that the beauty of this island will stay with you forever. The scenery of Milos is truly breathtaking. I guarantee that you will be amazed by how beautiful they are.

For a cat lover, stray cats are everywhere on this island. They are friendly and will come to you when you call. When I was in Pollonia, I ended up giving all of my seafood to cats who came to me at the restaurant.
Be careful when swimming at Sarakiniko beach. I was bitten on my butt by an unknown sea creature (i can't figure it out until now but some people said it was stung by a jellyfish). It felt like something sharp cut me. It felt burning and itching too. A few moments after I got out of the water, it became swelling on a large part of my butt. Like seriously, it worried me big time! Even my right hand that touched the skin became swelling too. 

The beaches in Milos are the most beautiful I have seen in Greece thus far. Just too wonderful for words.

Milos is almost entirely a volcanic island with numerous outstanding beaches (more than 70 beaches around the island). The cliffs and water are breathtaking. It makes you never want to return to civilization.

If you ask me which island I love the most; Santorini or Milos, I definitely say MILOS ISLAND.
X, Hani.