The last time I visited Krabi, I had some unfortunate experiences, which made me hesitant to write about it on my blog. However, I had previously explored Ao Nang, Railey Beach, and Phi Phi Island, and later ventured to Chiang Mai. Although I chose not to document my time there, as there wasn't much noteworthy to share, this recent trip to Krabi turned out to be a different story. Let's just say I decided to make peace with the place, and I'm really glad that I did. It ended up being the most incredible birthday retreat I could have asked for.
Krabi was the final destination I visited before the Covid-19 pandemic hit, and now, it marks the beginning of my post-Covid solo travels. So, here's what I can share about my trip, that might help to make your trip to Krabi smoother.
---
Flight Ticket.
I bought my flight ticket at the last minute, just a week before my trip. I usually use Skyscanner to buy my flight tickets, but this time, I found a better deal on the AirAsia Super App. Having traveled before, I'm already familiar with the ticket prices. If you're planning to go to Krabi, you should aim for a price below RM300.00, and the most you should pay is RM350.00. Anything beyond that would be too expensive. Here's my flight ticket: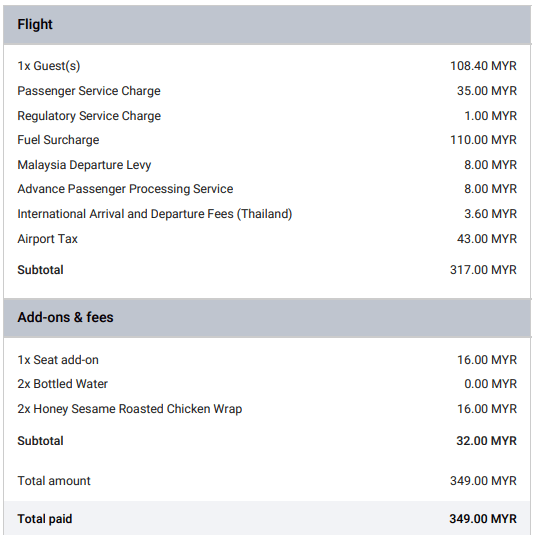 ---
Entering Thailand From Malaysia.
Requirements:
Must have a valid passport with at least 6 months of validity remaining. Malaysian passport holders don't need a visa to enter Thailand for up to 30 days.
You don't need to fill out an arrival/departure card or TM6 immigration form anymore. Thailand's government temporarily lifted the requirement for tourists to fill out a TM6 arrival/departure card to ease overcrowding at airports.
There is no need to show Covid Vaccine proof, but still, bring a copy just in case because Thai Immigration will do random checks to confirm travelers meet Covid prevention requirements.
Unvaccinated travelers (including children traveling with unvaccinated parents) need to complete an RT-PCR or Professional Antigen Test (Pro-ATK) test 72 hours before departing for Thailand. Proof does not need to be uploaded before traveling.
It is no longer an entry requirement, but when traveling to another country, it is important to understand the responsibility of purchasing a Travel Insurance policy, particularly one that includes COVID Travel Insurance coverage. I personally prefer using AIG Travel Insurance.

Wearing masks is no longer compulsory.

Download your itinerary or bring a copy with you. Thai Immigration may randomly ask about your accommodation details.
---
Airport Transfer
You can book through your hotel (this is usually more expensive) or you can easily find it at the arrival hall. 
Shared van or bus: Prices range from 150 Thai Baht to 180 Thai Baht per person, and the driver will drop passengers off individually at their hotels. 
Grabcar: It depends on your luck. Some have luck, some don't. As far as I know, it's hard to get a Grab car here. 
Taxi: If you choose a taxi, make sure the driver uses the

meter.

Do some research on the route to avoid being overcharged.
Hotel Airport Transfer: The driver will be waiting at the front of the Arrival hall with a sign displaying your name. Prices typically range from 400 Thai Baht to 900 Thai Baht, depending on your location.
For transportation around Ao Nang, you have two options: renting a vehicle or using a Tuk Tuk.
---
Internet Data. 
Since my trip is only for 4 days and 3 nights, it's more convenient for me to use Maxis roaming, especially when I know I will use my villa Wi-Fi for the majority of my trip. As far as I know, at Krabi airport, there's no booth selling SIM cards, and the price of the SIM card is equal to the cost of Maxis roaming that I planned to get. So, I decided to get Maxis roaming data and bought it while I was waiting for my flight to Krabi. Once I arrived, I turned on the roaming data on my phone settings. Easy peasy.
It's best to check the data roaming prices with your internet provider before you travel to any Asian country.
---
Where To Stay.
With no doubt, you should be based in Ao Nang—at least on the first day when you arrive. It's a tourist spot, and you can find everything there, such as Tour services, restaurants, souvenir shops, etc. Only then, you can think about going to other places, such as Railey Beach or Phi Phi Island, because it requires you to take a boat.
iRest Ao Nang Sea Front. Perfect for Solo travelers. It is located in the perfect area, right in front of Ao Nang Beach, and it's easy to find restaurants nearby. In fact, it's just a few steps away from McDonald's.
Red Ginger Chic Resort. The last time I was here, I picked this resort. It was a decent resort, although the breakfast options were somewhat limited but it was alright. The rooms were spacious, and the beds were exceptionally comfortable—as long as you picked the Superior Room. The location is also decent, but be prepared for a short walk to reach the main area, where most shops, bars, and restaurants are located. In general, I was satisfied with my stay, and I'd recommend it too.
Mangrove Bay Krabi Beachfront Pool Villa. I picked this Villa for my recent birthday retreat. I came here seeking some privacy to spend time alone on my birthday, and it turned out to be one of the best decisions I've ever made. I got exactly what I needed

—

the privacy. The place is so quiet and peaceful, and I practically had the entire beach to myself, making it the best birthday retreat I could ever ask for. I will share more about it in my next post.
Krabi is a stunning island with so many incredible places to discover that will blow your mind. If you haven't been to Krabi yet, you should definitely add it to your travel list. It's a must-visit destination—the people are friendly, the food is absolutely amazing, and what's great is that Krabi is an affordable island that caters to different budgets. You can find something for everyone here.
Until my next post! X, Hani. ❤