Sebelum ni i pernah share Cara Semak Bil Elektrik (TNB) Online. Today, i nak share Cara Semak Bil Air (SYABAS) Online pula. Cara nak semak bil air ni senang jer. If you pergi ke website SYABAS, klik di menu "Your Water Bill" and then klik "View Bills Online". Paparannya adalah seperti di bawah :
(p/s : klik pada gambar untuk melihat dengan lebih jelas) 
Ataupun, you boleh terus klik link ni : SYABAS Online Consumer Service Portal (OCSP).
Firstly apa yang you kena buat adalah klik menu "Login / Register" dan pilih submenu "New User Registration".
Masukkan butiran diri dan klik "Register Now".
Emel Verification seperti di bawah akan dihantar ke emel yang you pakai for registration. Semak your emel dan klik link yang diberikan untuk verify your account.
Bila dah verify, you boleh terus Login.
Klik "Bill & Payment" dan seterusnya "View and Print Bills" untuk tengok bil air bulanan you. Jangan lupa untuk klik "Show Bill" di butang kecil sebelah kanan untuk tengok paparan seperti di bawah : 
You juga boleh semak payment history dengan memilih submenu "Payment History".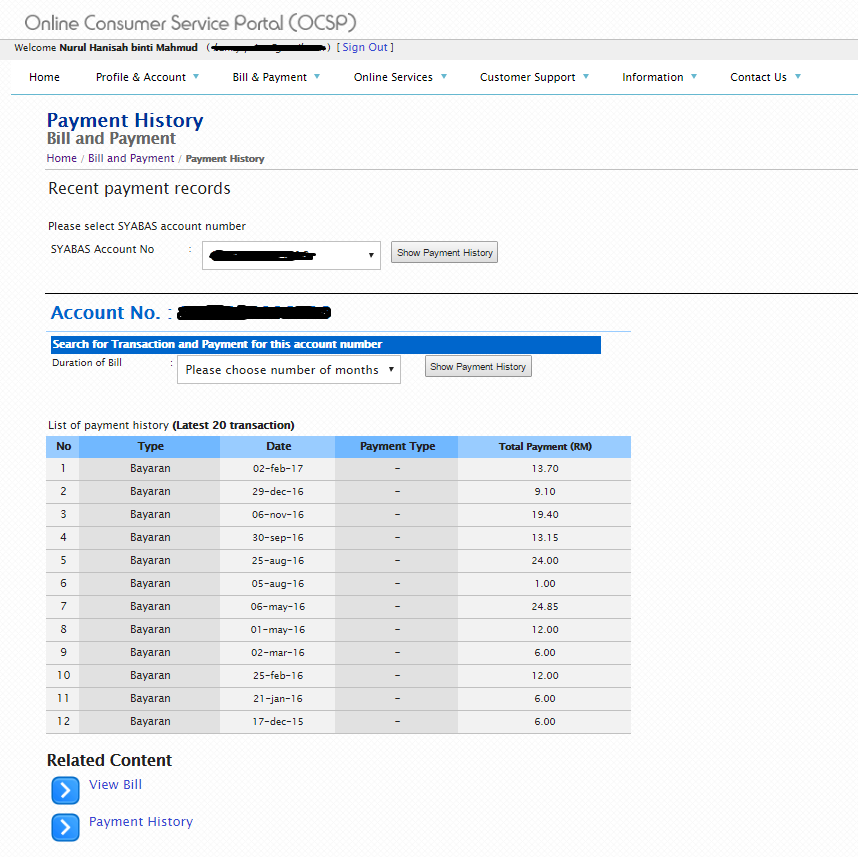 Selain itu, portal SYABAS OCSP ni juga menyediakan online services yang lain. Kalau nak tahu, kena la tengok sendiri. Hope lepas ni, kalau tak dapat bil air ataupun bil hilang ke, dah tak perlu risau sebab boleh semak online. 
Okay…Until then…