Sebelum ni I tak pernah ada experience my checked in luggage rosak but that changed after my recent trip to Kuching, Sarawak. Luggage yang I selalu pakai everytime I travel retak di bahagian atas, manakala dibahagian bawah pula, salah satu roda luggage tercabut. Dah lama I pakai luggage I ni, dari tahun 2016—jauh dah pergi tapi tak sangka rosak kat Malaysia juga. Hehe.
To be honest, at first I tak tahu pun boleh buat aduan dan claim baggage damage. Ye la, tak pernah jadi. So I was kind of frustrated. After ambil my luggage, I terus pergi ke hotel. My mood was literally spoiled that day. During the night, my followers on Instagram informed me that I actually boleh claim. 
Once I knew I can claim, I took an effort to email Malaysia Airlines straight away to complain about it but the next day, since I didn't get any response, I decided untuk pergi terus ke airport untuk buat aduan dan claim baggage damage. Thankfully, proses adalah sangat mudah, I hanya perlu isi form sahaja. 
Jika you sedang mengalami masalah yang sama, berikut adalah 2 cara mudah untuk buat aduan dan claim baggage damage:
---
Aduan di kaunter.

 
After dah ambil luggage di baggage claim carousel, check your luggage. Once you notice ada damage, terus cari kaunter 'Baggage Inquiries.' Kaunter ni selalunya berada di area baggage claim carousel di arrival hall. 
Macam I, since I pergi keesokan harinya, I masuk balik arrival hall untuk pergi ke kaunter baggage inquiries Malaysia Airlines. Staff yang bertugas minta boarding pass dan kad pengenalan. Then, dia bagi I form untuk I isi. I diberitahu yang duit claim akan masuk dalam tempoh 14 hari bekerja but I was suprised duit masuk dalam tempoh 8 jam after I buat aduan. Tak banyak pun dapat, RM80.00, way much lower than the actualy price of the luggage tapi jadi la, boleh buat tambah modal beli luggage baru. 
---
Aduan secara online.

 
Pergi ke laman web MH Self Service Portal, dan klik 'Mishandled Baggage.'
---
Kemudian klik 'Self-Service Baggage Reporting Portal' dan pilih 'Create A Damaged Baggage.'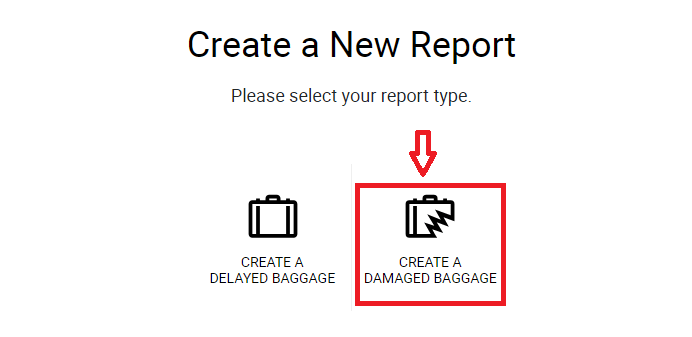 ---
Make sure dah ada detail boarding pass dan gambar kerosakan luggage sebelum meneruskan aduan. 
---
Akhir sekali lengkapkan detail aduan dengan menekan butang 'Add flight details.' 
---
Little Note:
Pastikan buat aduan dan claim dalam tempoh 24 jam bermula pada tempoh masa flight landed. 

Sebagai gambar rujukan, pastikan sebelum check in, tangkap gambar luggage. 

Duit claim tak banyak dapat, if you think it's not worth your time and energy, just let it go. 
X, Hani.