I finally managed to travel to Santorini after spending a week in Athens. Yay! While writing this, I am actually don't know how to truly portray in words the beauty of Santorini. So, i'm letting all my photos speak for me.

* Getting There & Public Transport in Santorini *
Around 5:15 in the morning,  i took a bus from Chaidari headed to the Piraeus port, Athens. That was the earliest bus I could get since my ferry departed at 7.30am and it takes like an hour journey to get there by bus.
I went to Santorini by ferry. I booked the ticket online with Blue Star Ferries 2 months early. (Click this link for online booking).

Taking a ferry to Santorini is way-way cheaper than flying but it takes 7 hours journey to get there.

One thing I like about travelling to Santorini by ferry is that I can see the beauty of Paros, Naxos & Ios Island.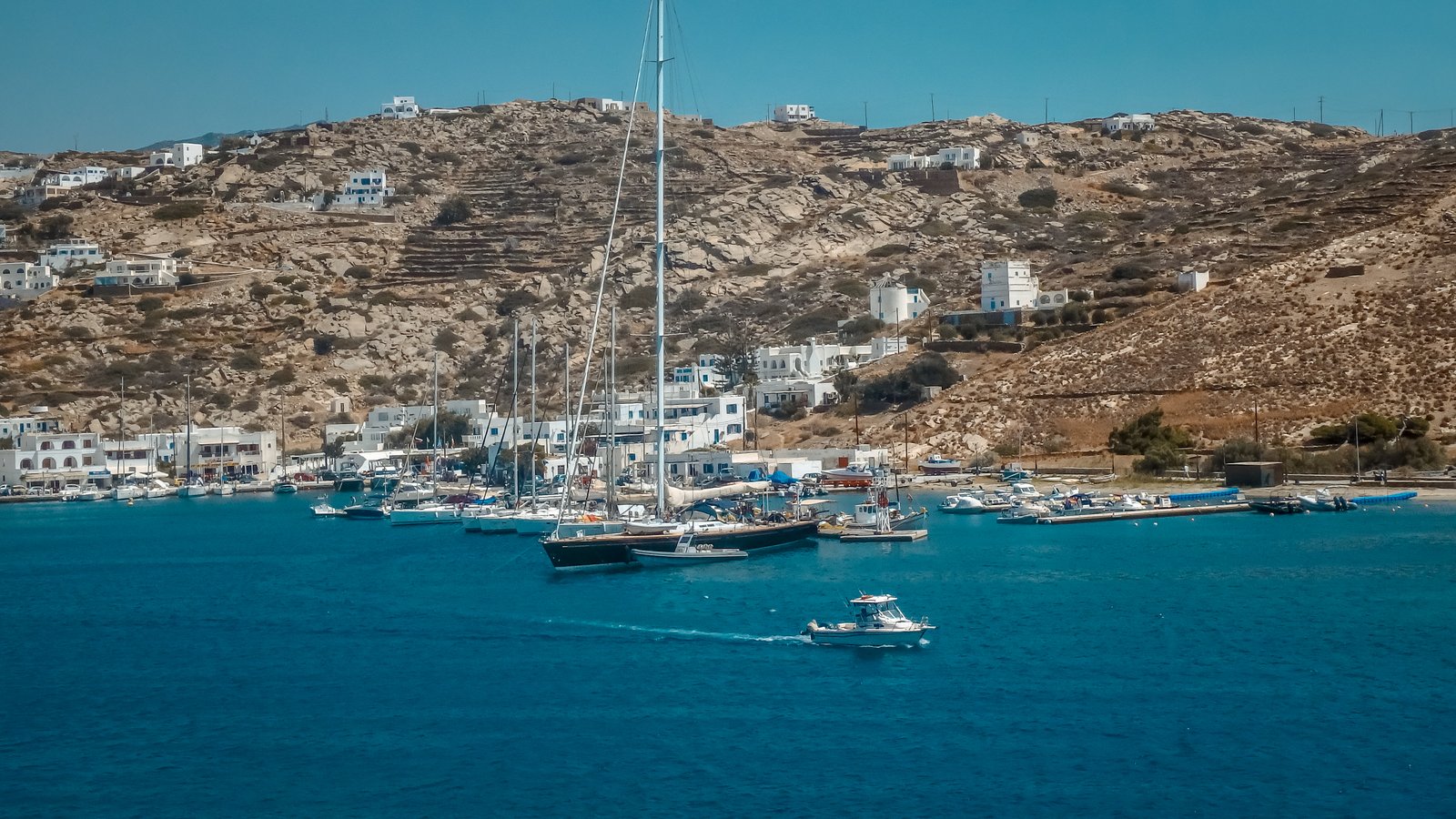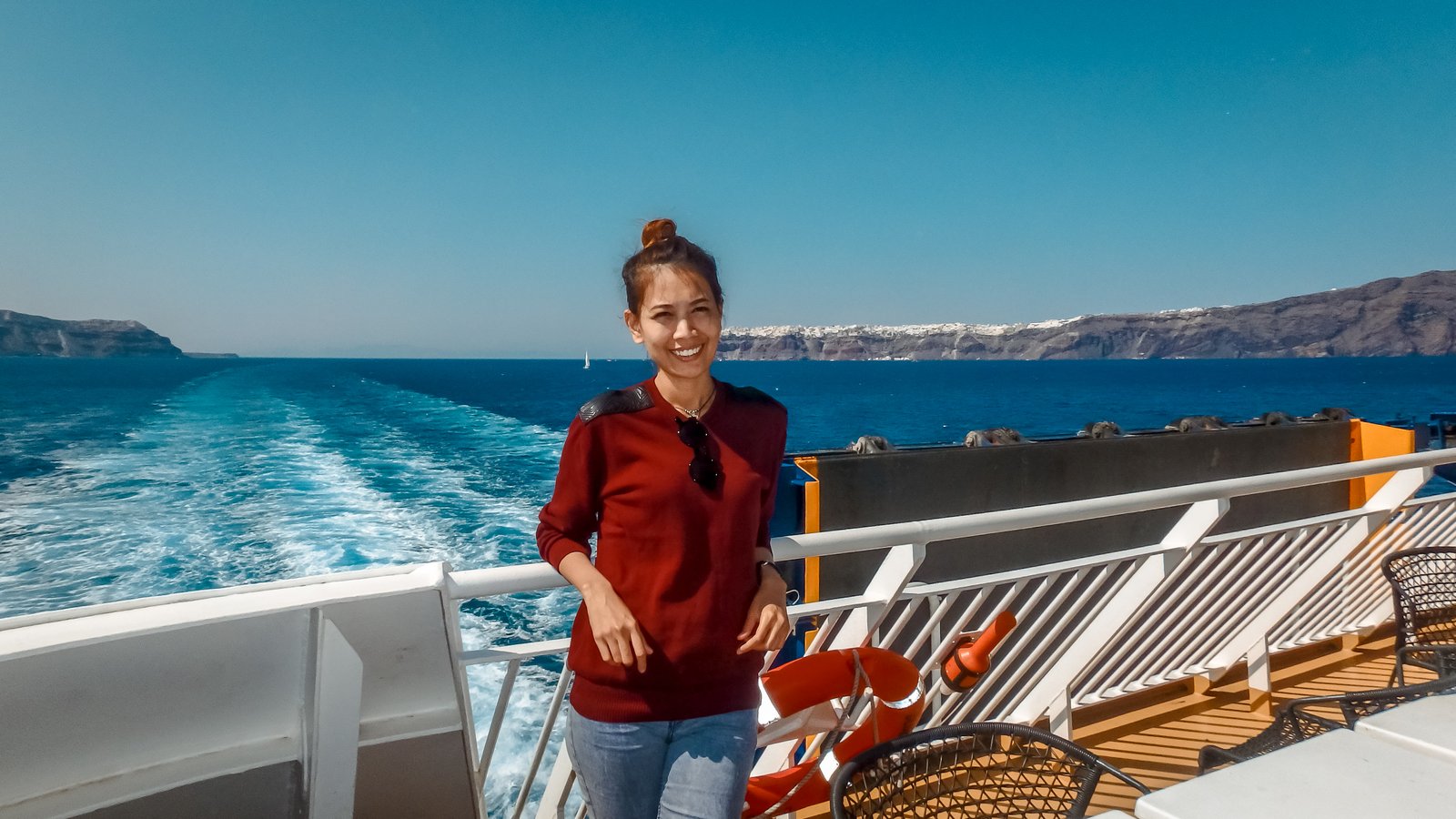 When you arrived at thira port, there are few buses waiting for passengers on your left. If you don't know where the bus going, just ask. I took a bus to Fira since my hotel located in Fira town.

The bus service in Santorini is excellent, reliable, frequent, and cheap. You can go anywhere in Santorini by bus. 

The main hub for the bus is in Fira and every bus passes through it at some point. For example, if you're in Oia, and you want to get to Perissa Beach, you'll need to get to Fira first then change.
---
* Packing Tips *
I was in Santorini in September (late summer), here's what I recommend packing :
Sunglasses are a must! If you forgot yours, there are plenty of shops that sell them but expect to pay a premium, though!

Bring more than one swimsuit.

Flat sandals or shoes are necessary. Absolutely DO NOT pack heels. There are hundreds of uneven stone steps everywhere and a lot of them curve along the side of steep mountains.
You don't need full set of makeup. The weather is hot and 

excess oil on your face will cause your makeup to slide around and melt right off. Remember, the islands are full of tourists and there's nobody to impress!

Sunblock / Concealer / lip cream for everyday use.

I packed mostly sundresses, shorts, plain t-shirts and tanks. The island is extremely casual.

A camera & selfie stick. There's a photo opp around every corner of Santorini. Like seriously, do not forget these two because you will need them all the time
---
* Where To Stay *

The first and most basic decision that needs to be made is do you want to stay at the beach or in the town?.
I strongly recommend that you stay in Fira. Fira has the most restaurants (lots of choice for where to eat), shops (for the souvenir), and hotels. It is also the main town of Santorini.

I stayed at Kykladonisia Hotel. 64 Euros/night (Including breakfast). It is just a basic room with toiletries, located in Fira town. I did not have high expectations about the room. It was okay and my goal was not to spend too much time there.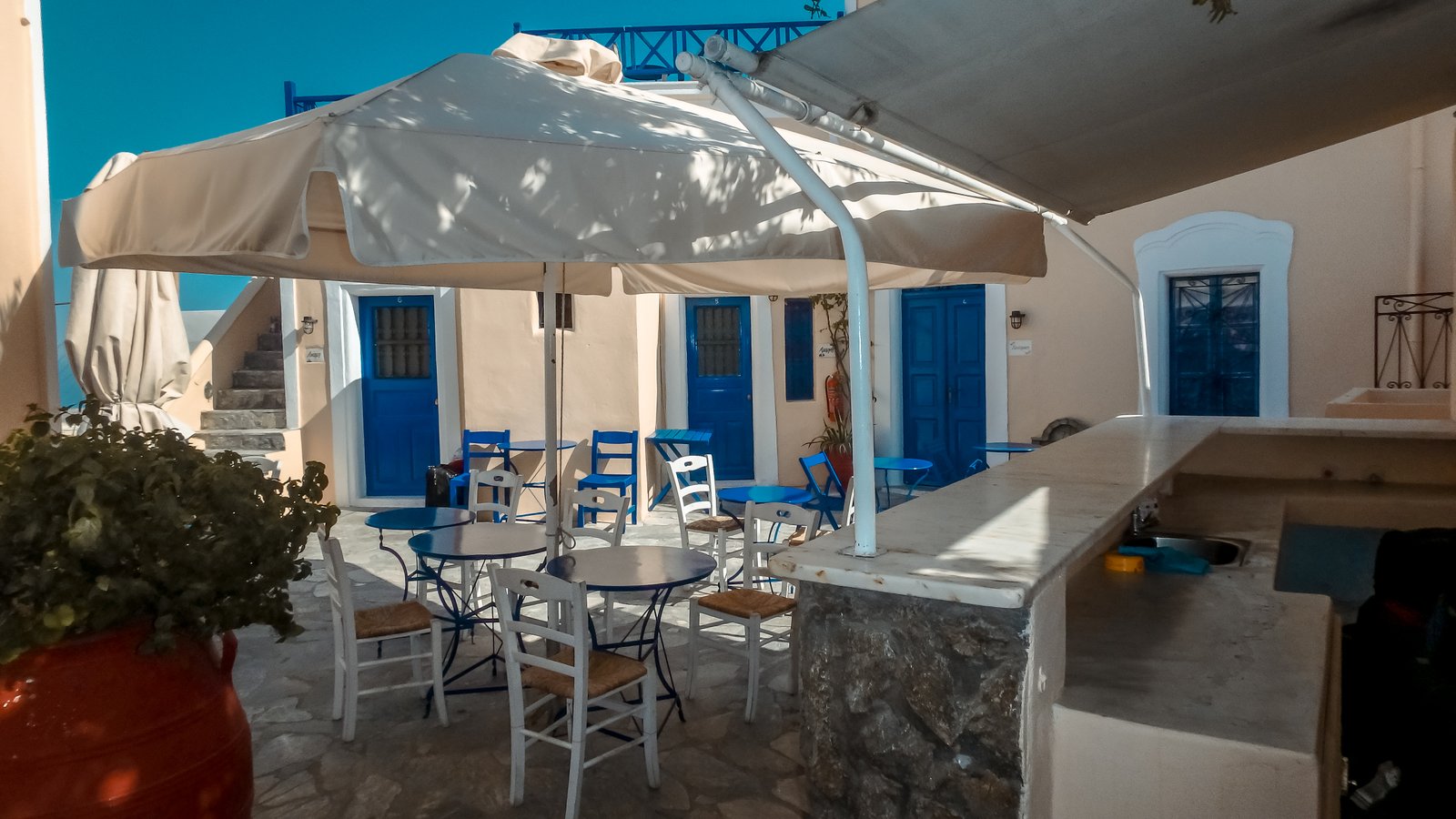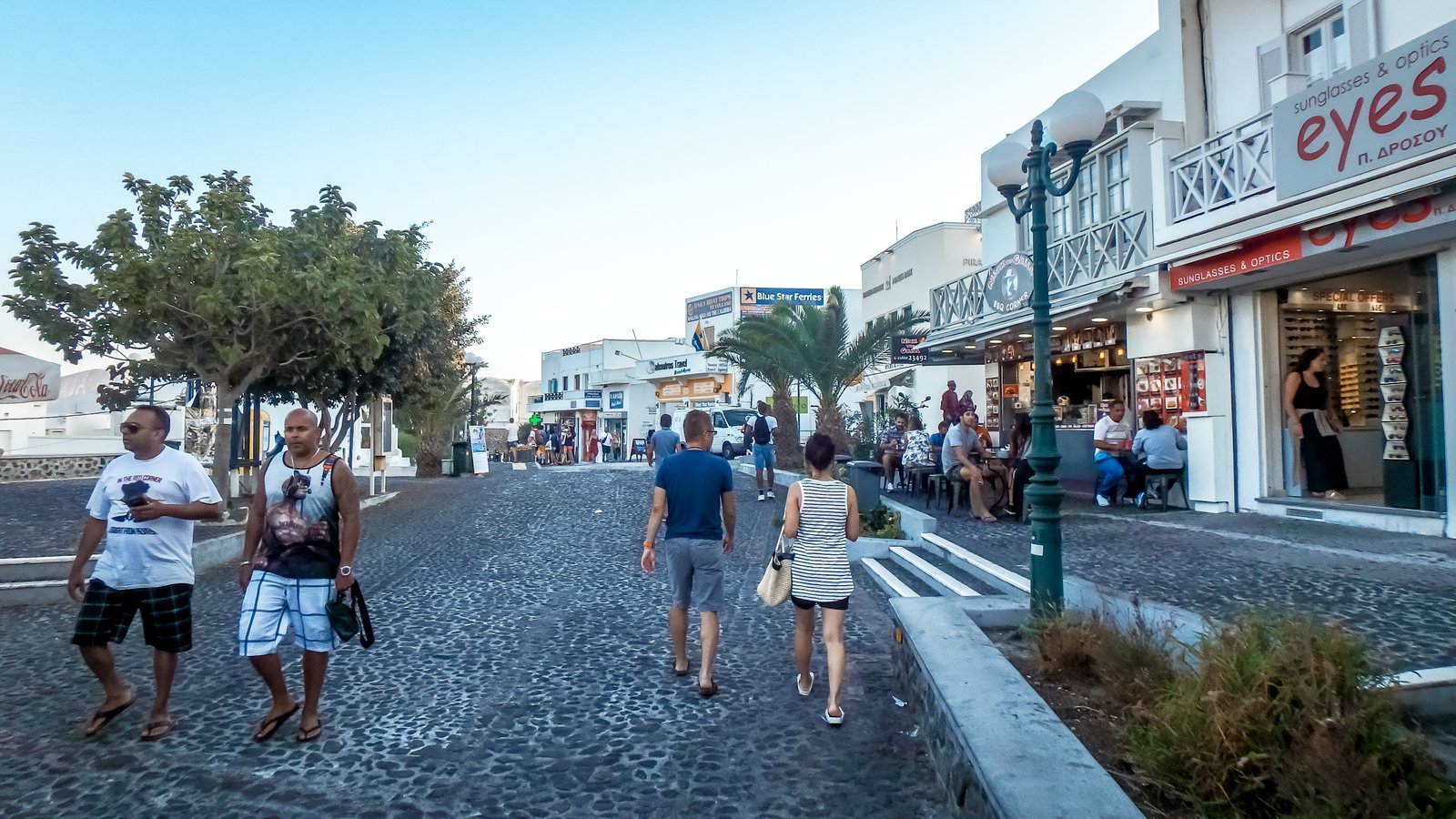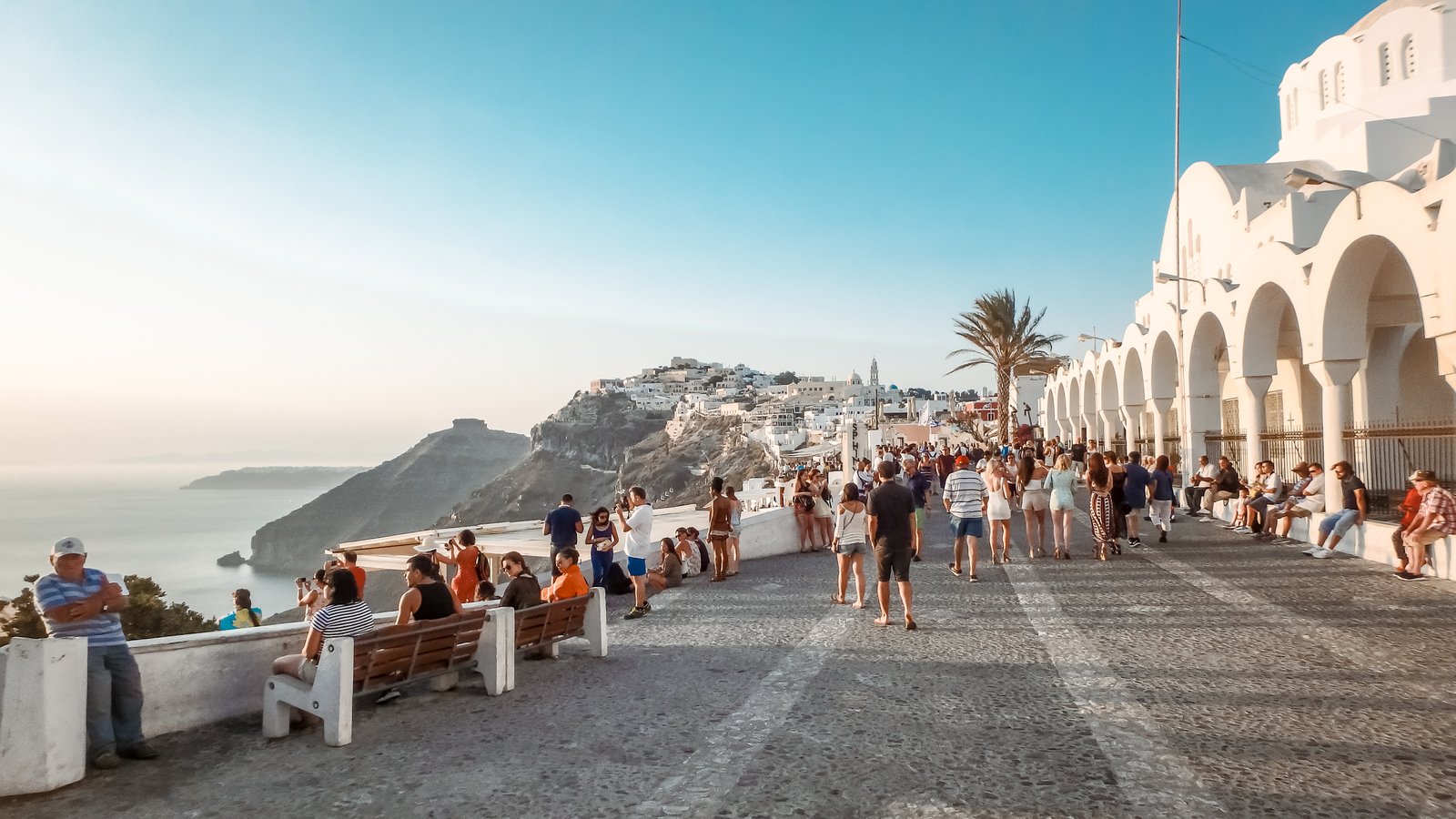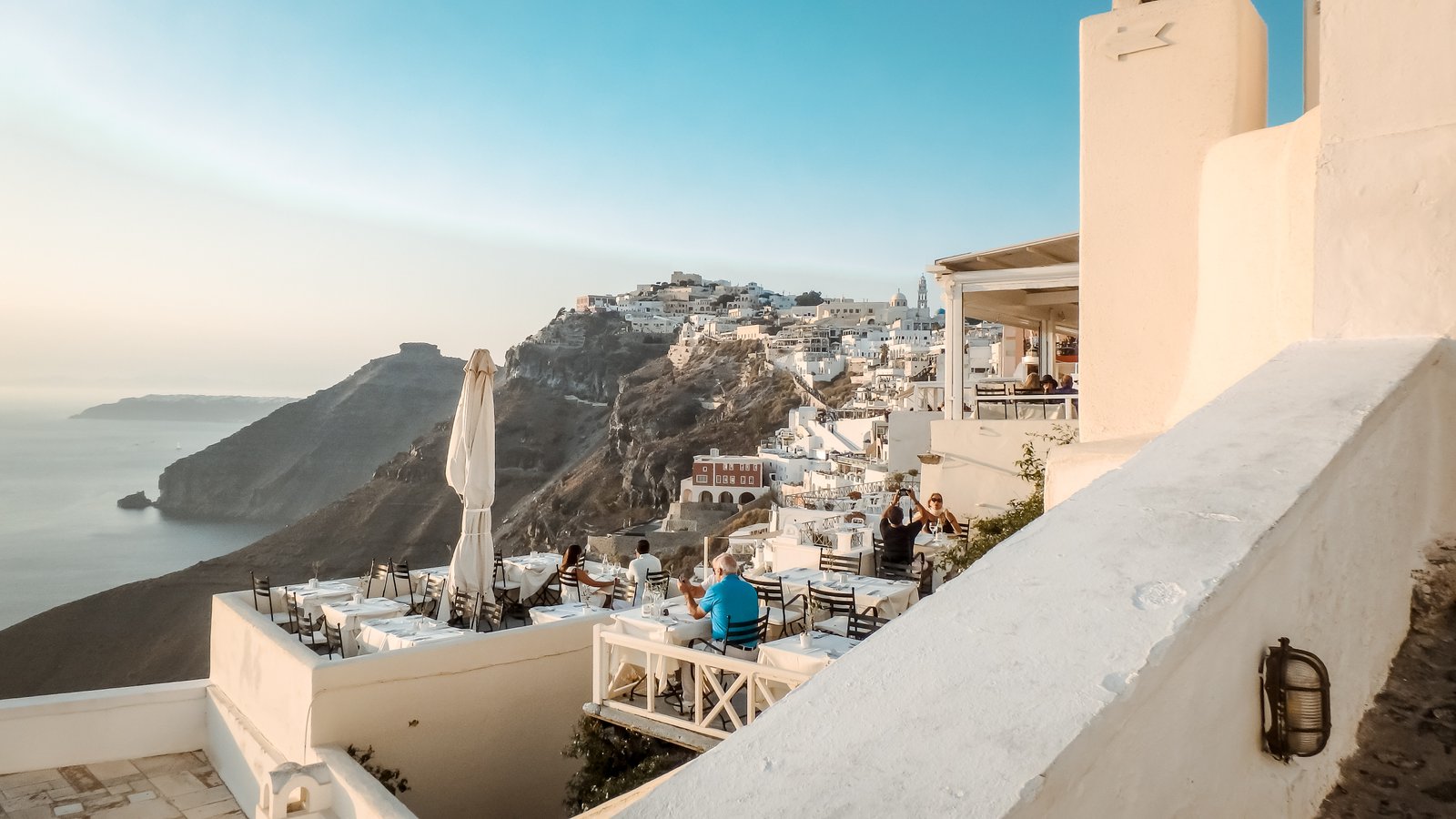 ---
* What And Where To Eat *
For travellers who do not want to try the Greek cuisine, there are plenty of other restaurants in Santorini.

At every Greek restaurant I had lunch and dinner, a bread basket and butter automatically arrived.

If you like Asian foods, you can go to Asia club restaurant in Fira. Ask them to make your food spicy! It burnt my boyfriend's tongue! Mine too actually. Haha.

For Muslims, I can't find any halal restaurant in Santorini.

There are grocery stores for when you just need a snack.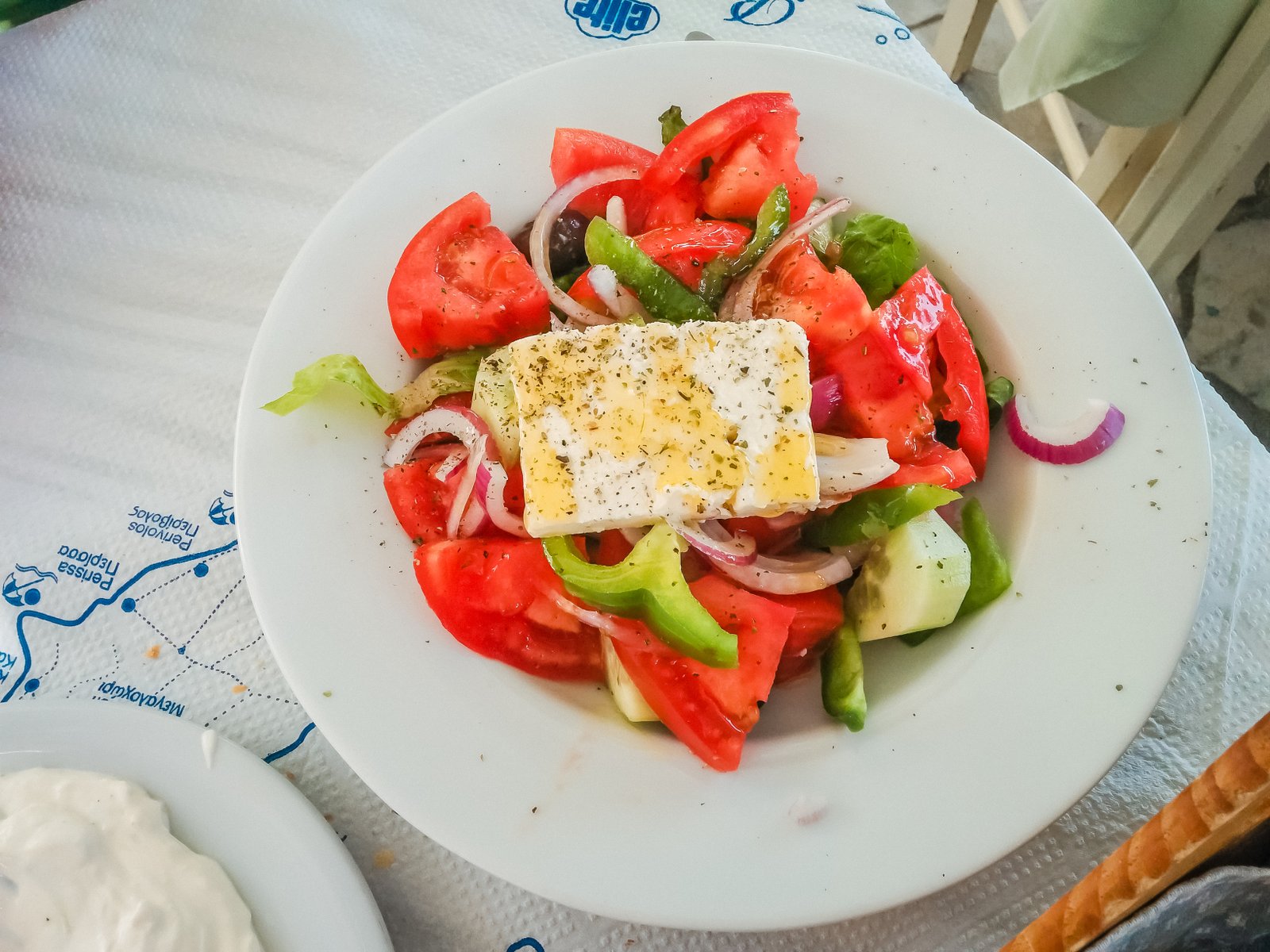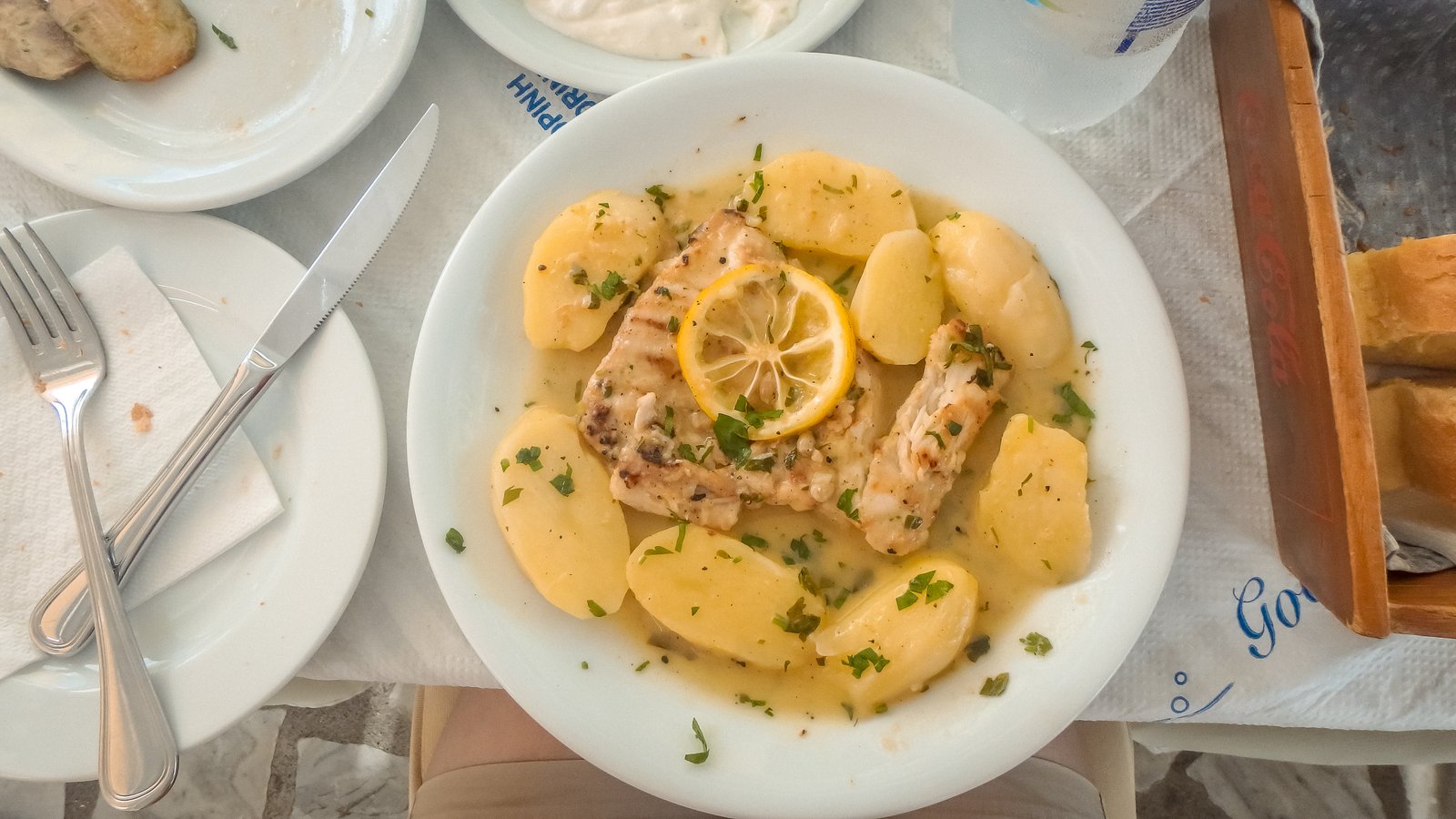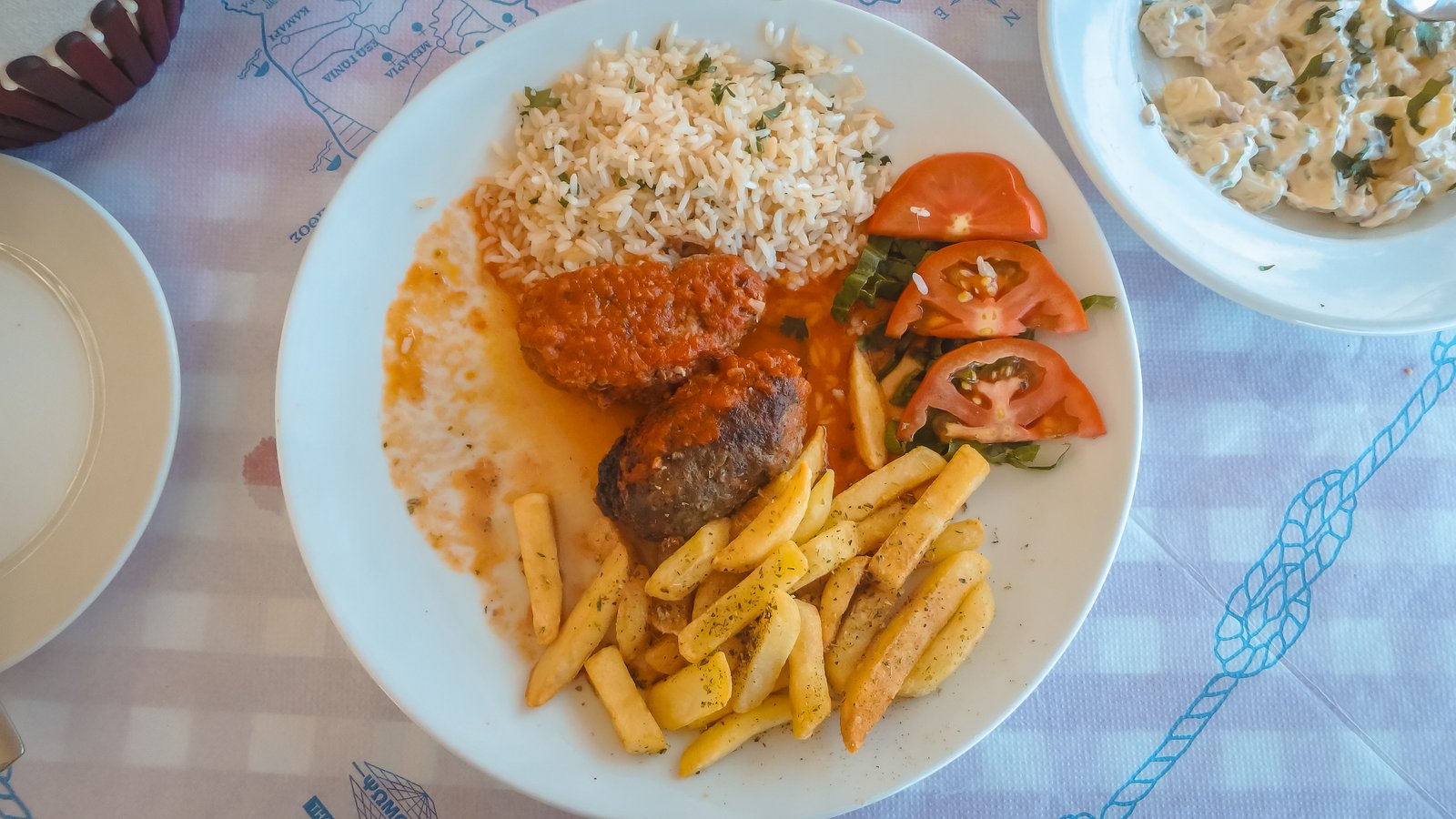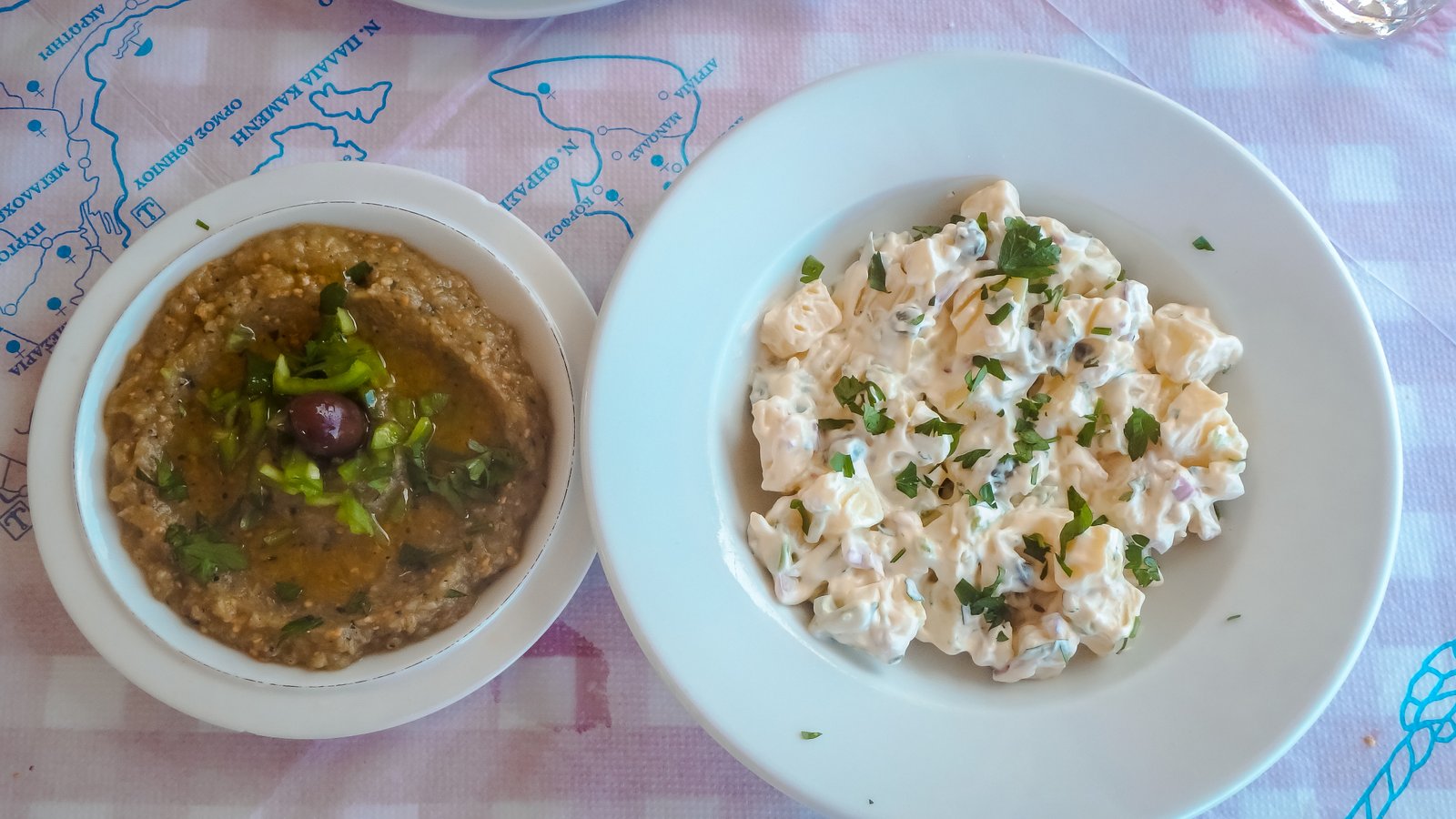 ---
* Things You Must Do *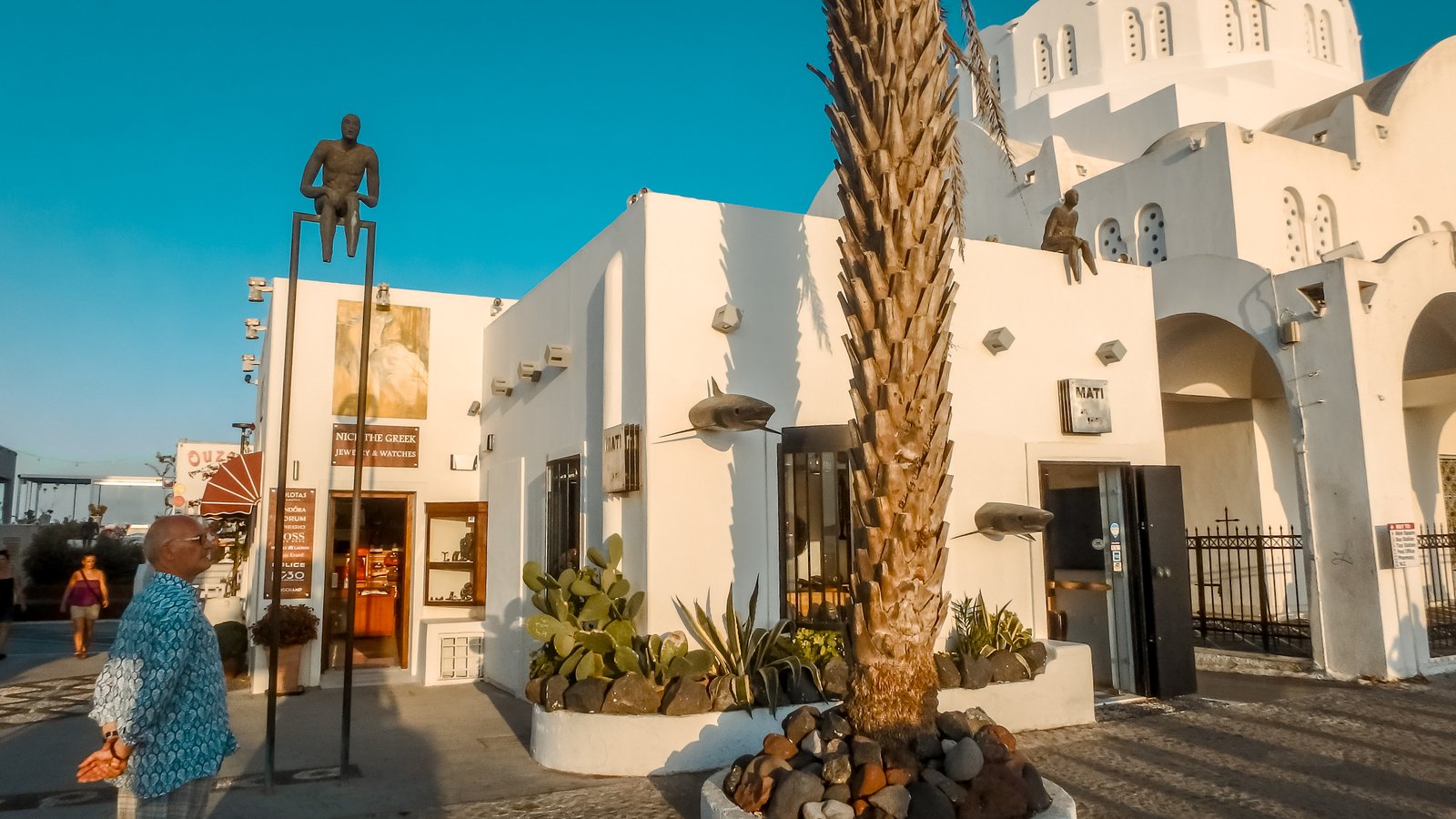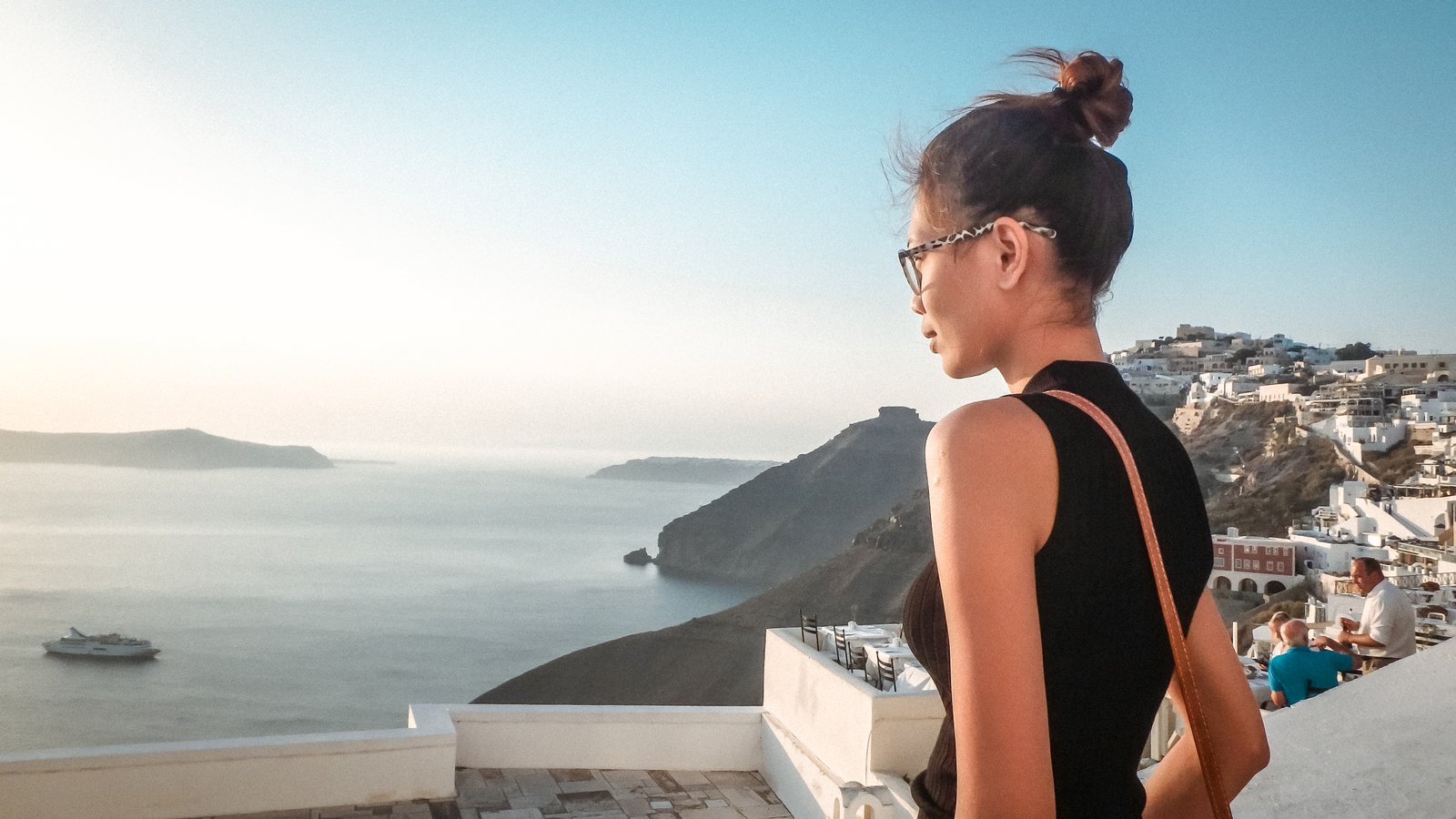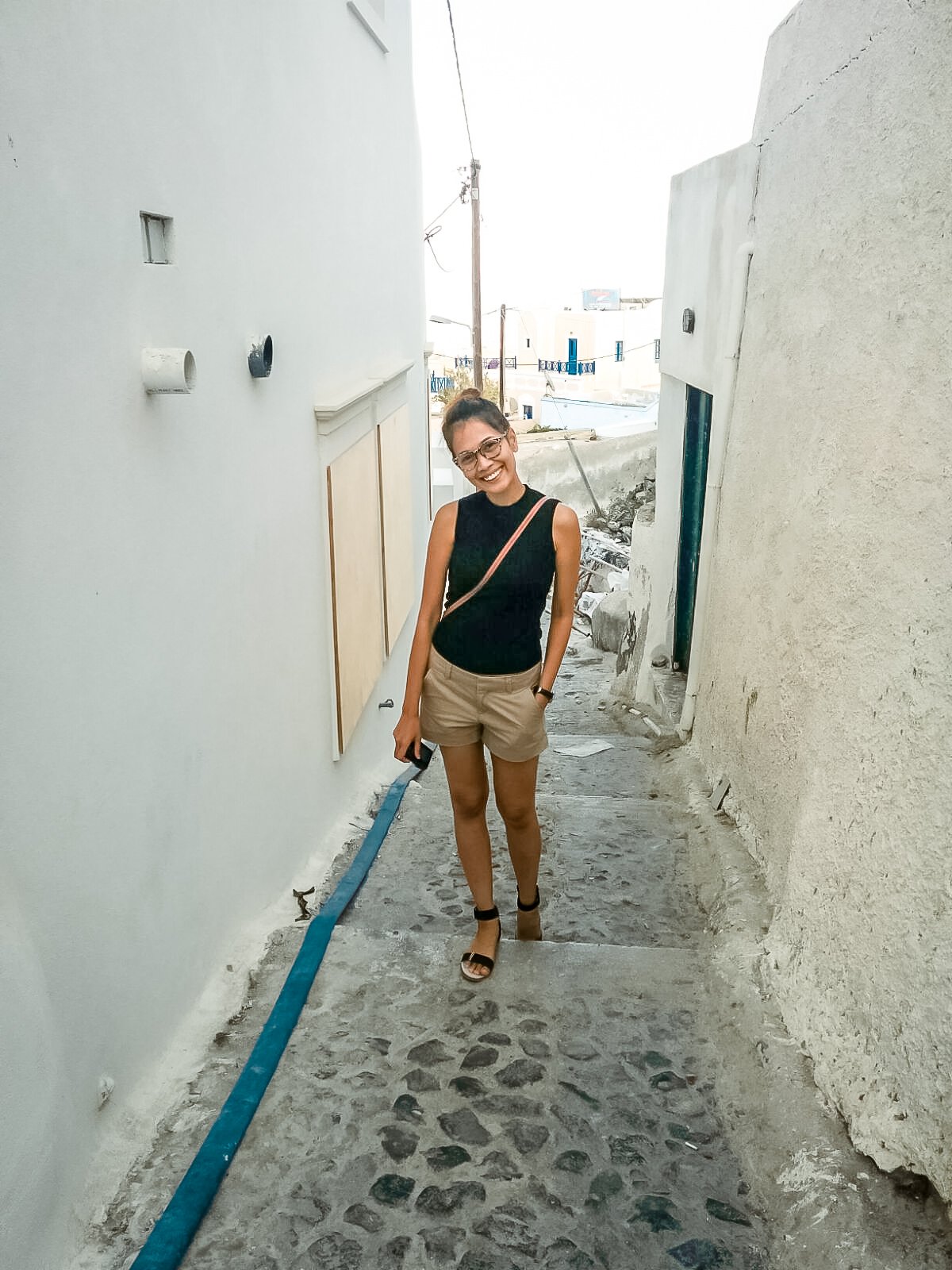 Sightseeing and explore the paths, alleys and stairwells of Fira.

Sightseeing and explore the paths, alleys and stairwells of Oia.

Oia is popular for its sunset views. But, one word to describe an Oia sunset: CROWDED as heck.

One thing i must say,  the beauty of Oia are beyond imagination.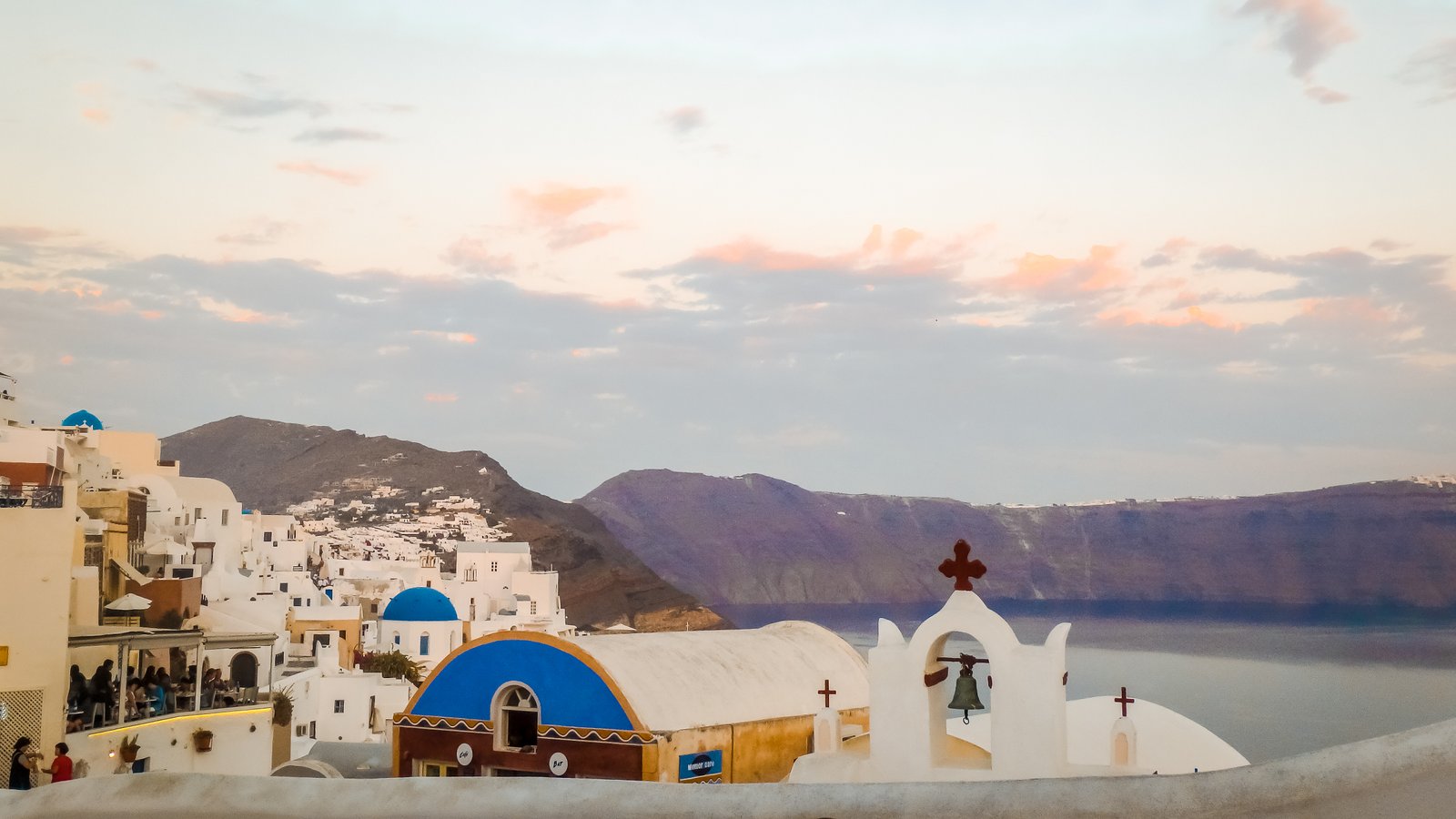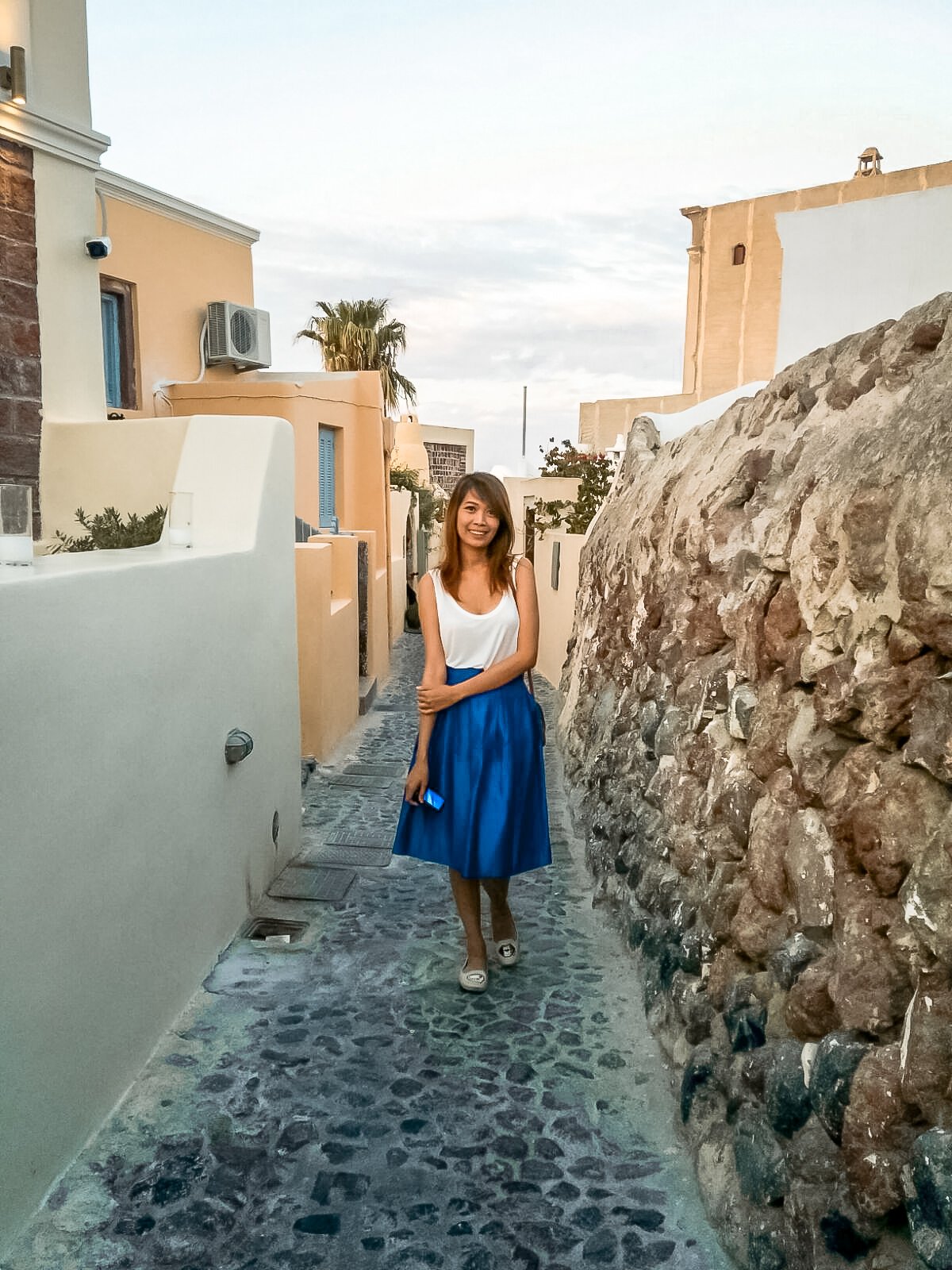 Both paths of Fira and Oia is like a maze of narrow streets and zig-zagging but Oia has even more hidden pathways than Fira. Be sure to get off the main path and explore the magical views.

For most of my days at Santorini, i just happy weaving through the streets, peeking into stores and snapping hundreds of photos!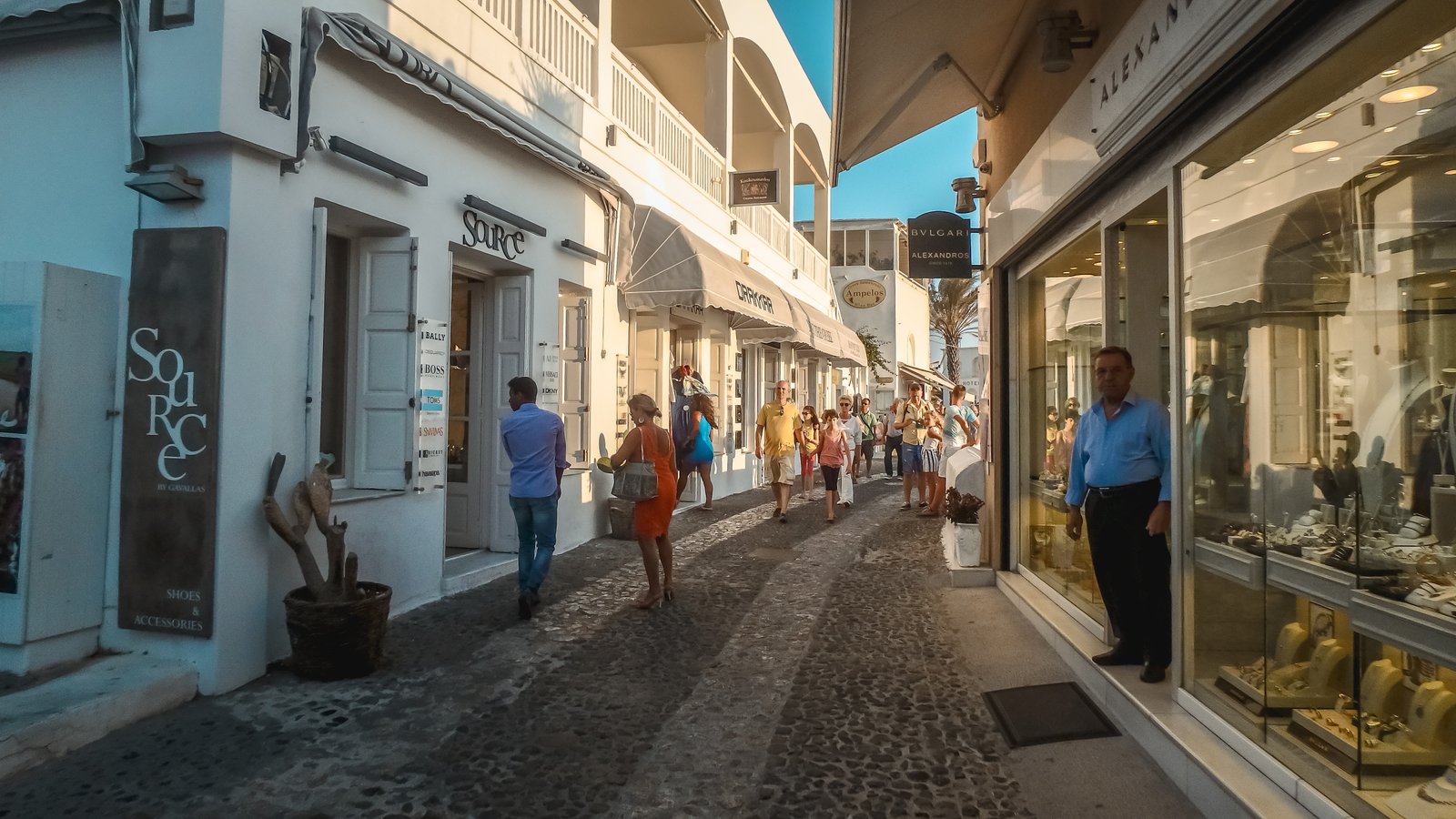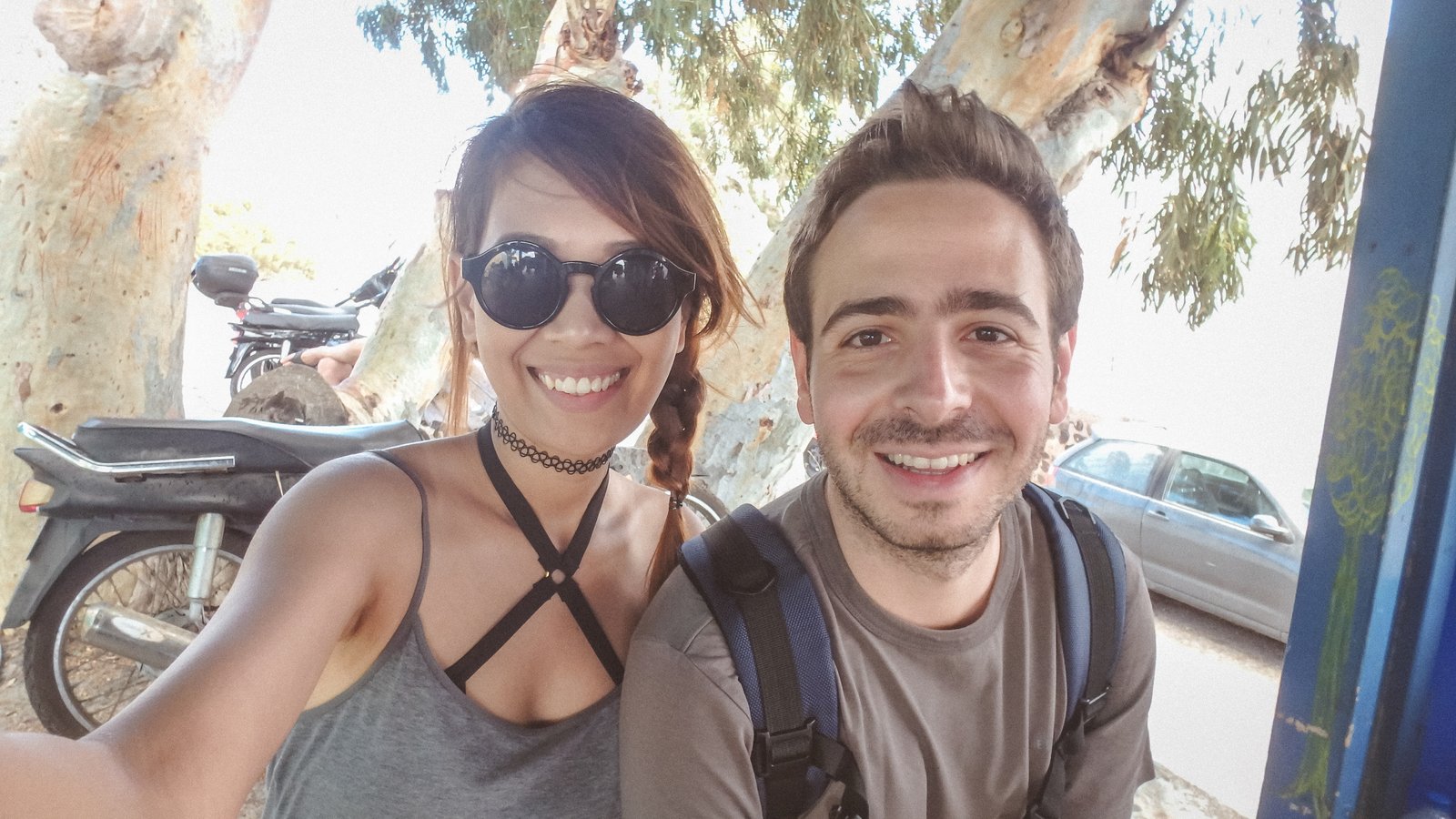 There are three types of beaches in Santorini, black, white and red. White (the ordinary sand). Black (because of the volcanic rocks). And the red (due to iron and volcanic rocks mixing).
I went to Kamari and Perissa beach. Both are the black sand beach with Greek cuisine restaurants spread along the beachfront.

Personally, my favourite beach is Perissa. The scenery is beautiful! I enjoyed swimming and sunbathing in there.

If you plan to go to the Red beach, you need to wear proper shoes because to access the beach, you need to climb the cliff.
Kamari Beach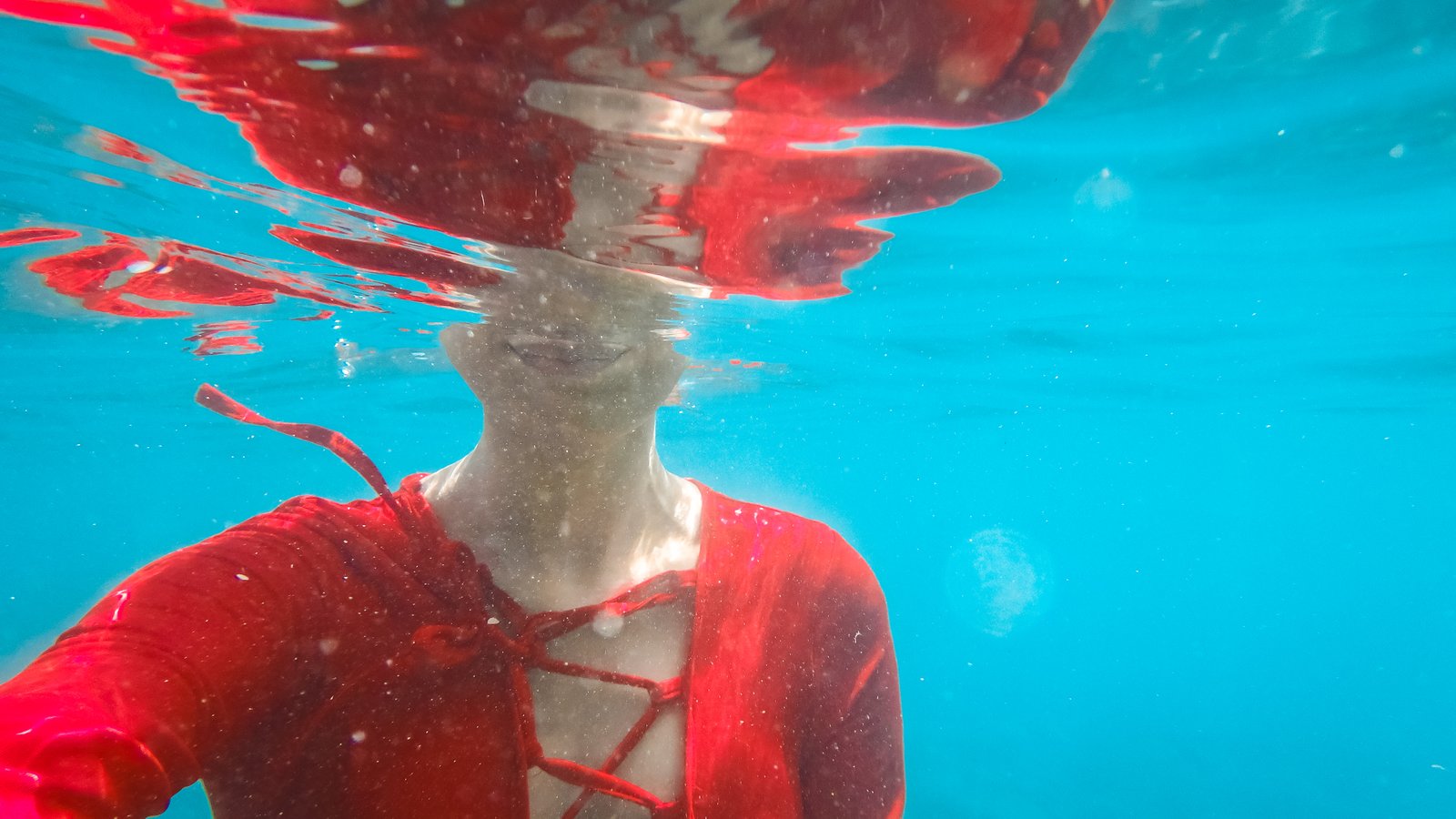 Perissa Beach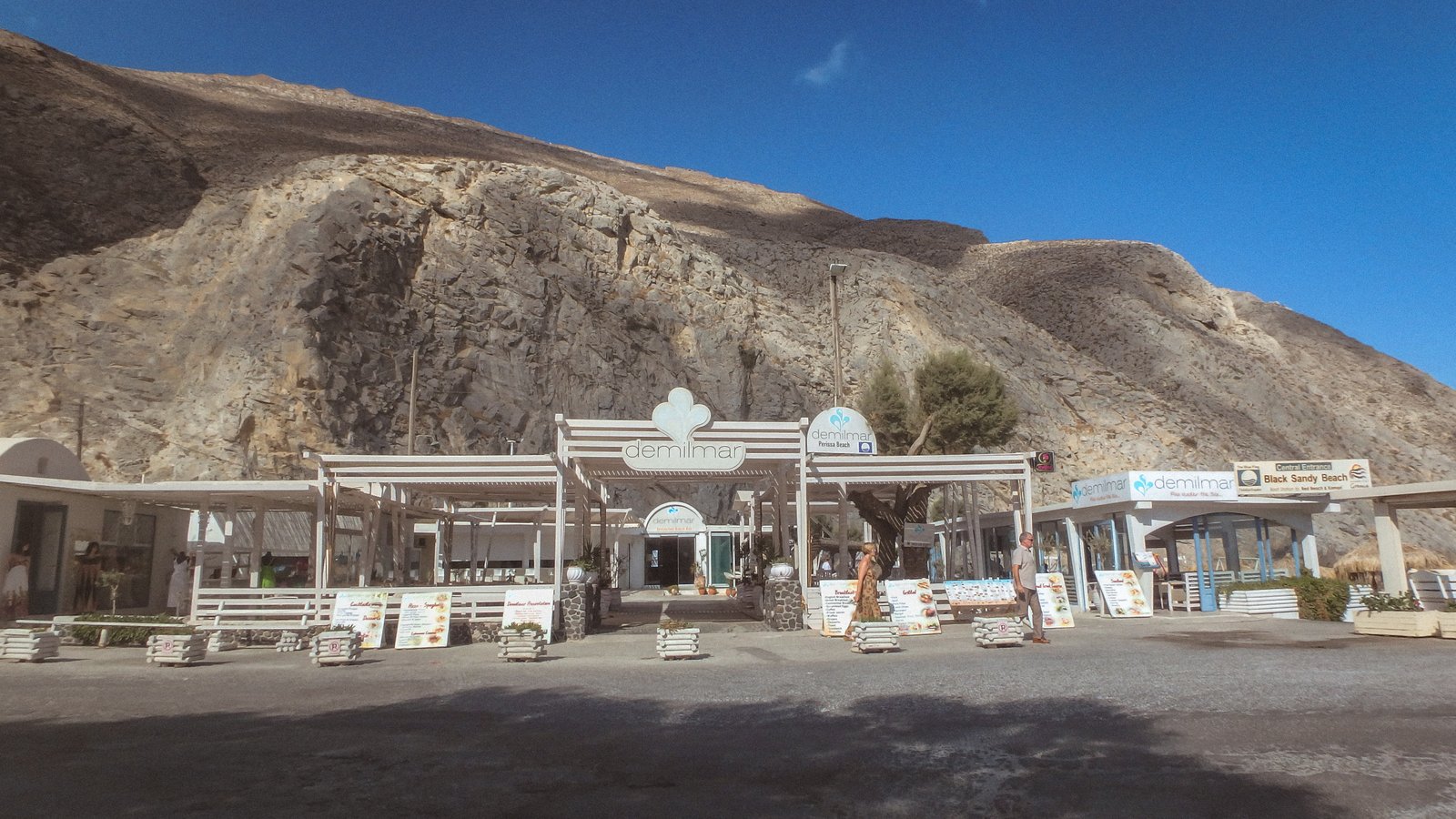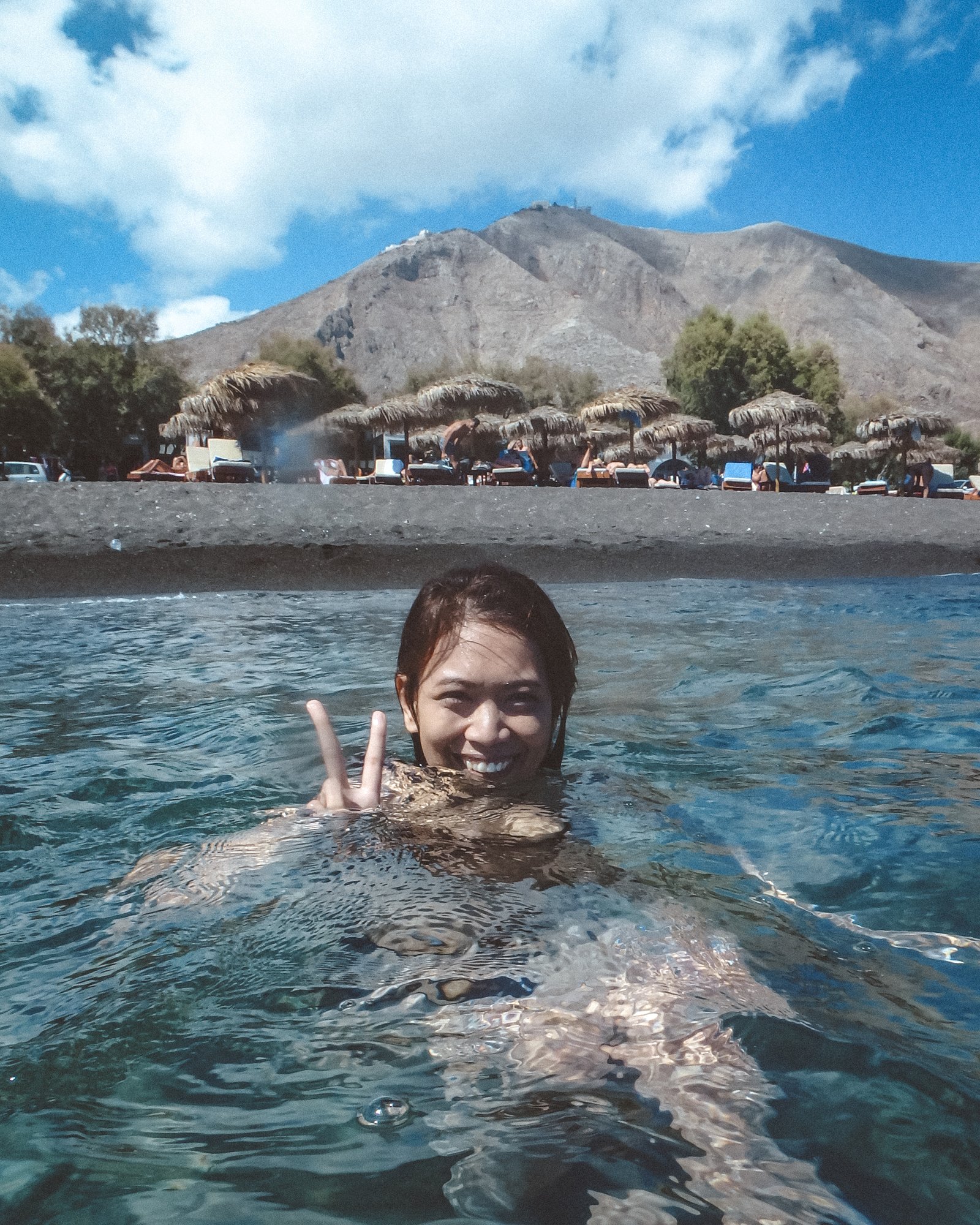 ---
* More About The Island *
Santorini is a wonderful place to visit! It is mentioned in many travel guides as a most beautiful destination.

I went to Santorini in September. Best time for swimming and suntanning. Tourists are many but it's never crowded.

High season (late June – end of August) prices are at their peak.

Since Santorini rely heavily on tourism, most people on the island at least can speak basic English.

The currency in the island is Euro. If you do need cash, there are few ATMs.

You can't flush your toilet paper,

AT ALL

. Not just on the island but everywhere in Greece. I have read somewhere online telling that the sewage system in Greece is not designed to handle the flushing of toilet paper. If you did, then you are likely to block the pipes in the sewer system.
Oia is the most EXPENSIVE place in Santorini. It is quieter, more romantic, generally has more expensive hotels and higher-end restaurants.

The roads throughout Santorini are windy, steep and narrow. Always be careful.

To be honest, you don't need to stay in Santorini more than 4-5 days because Santorini is more of a sight-seeing island. You should plan to island-hop.

Santorini is not known for its beaches. They are good but not great – so don't be expecting too much.

You can take a donkey ride in Fira. Poor donkeys. 🙁

To travel between Santorini and Milos, I used a boat company called Sea Jets. It's about 3 hours by boat between the two islands and the most affordable way to island hop.
---