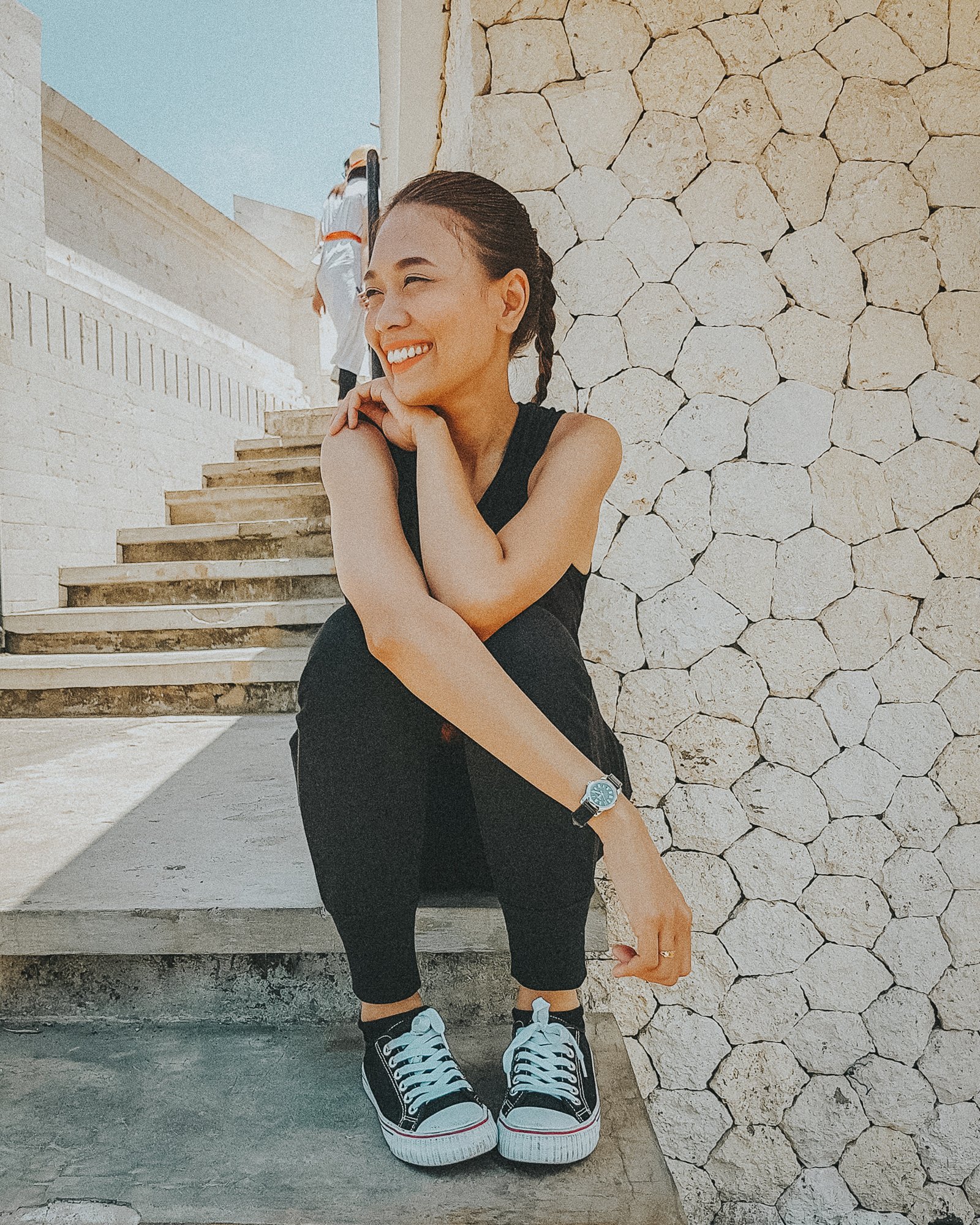 Before my first trip to Bali in 2017, I thought Bali is all about the beaches. I didn't do much research online to plan my Itinerary. I was like "fu**k it. I will just go and see what i can do there". Then, when i arrived, i felt lost because i know nothing much about the island. When my Supir gave me suggestions for the itinerary, that's when i realized my 5 days trip wasn't enough to explore each area of Bali because it's a big island – the journey to reach some destination can take up to 3 hours. It does make me feel like my time mostly spent on the road more than the destination. Honestly, I wasn't satisfied with my first trip. I promised myself that one day, i will come to Bali again. I'm glad i did it a year later!  
The best months to visit Bali are in May, June & September where you can enjoy good weather. So, i'm sharing this itinerary to help you guys plan the trip and get the best out of your first visit to Bali. 🙂 
---
Full day trip day 1 :



("Cameron Highlands" Trip) 
GitGit Twin Waterfall (GTW).


Gitgit is impressive and beautiful. It has this green-bluish colour that made me want to jump and swim in it right away. The only stupid thing i did was – i didn't bring my swimwear. Gitgit has become one of Bali's famous tourist attractions because of its accessibility. To reach the waterfall, you will have to walk and hike but it's not that hard. It's healthy! Hehe. Bring your swimwear if you want to swim here but be careful, there's a legend that if a couple swims together here, they will separate soon after their visit! 
         Entrance Fee : Free. 
---
Wanagiri Hidden Hills.




Wanagiri was my favourite destination for this full day trip. I'd recommend this place to everyone! The place is breathtaking and instagrammable. You simply pay an entrance fee and spend as long as you like taking photos and to try Bali Swing. Oh my! y

ou need to try Bali Swing once in your life. Like seriously! You need to try it. It was such an awesome experienced for me even though i'm scared of height. Ketaq juga la tangan kaki sebab tinggi gila. Sepanjang perjalanan, we were stunned by the view of a beautiful lake. There were a lot of monkeys on the side of the road too. We even stopped by to fed them with bread and got surprised by how well-behaved the monkeys were.

The locals here were selling strawberries and other fruits too. We bought strawberries on our way home and it was way way way much cheaper if compare to Cameron Highlands strawberries.
         Entrance Fee : 150,000.00 LDR / person.
---
Gate Handara


Alternative to Lempuyang Temple. Gate Handara is a gate to Handara Golf & Resort. To go to Lempuyang Temple are quite expensive. For those yang tak ada budget besar, you can come here to take photos. The background lebih kurang sama dengan Lempuyang Temple. Sometimes people got confused by it.
To take photos here, you need to pay for the entrance fee and only have 10 minutes to take photos. 
 Entrance Fee : 30,000.00 LDR/person
---
Bedugul.


The place is huge and crowded with tourist. In here you can find Lake Bratan, Ulun Danu Temple, Botanical Garden and Fruits Market. Worth a visit since this place is beautiful and very clean. 
         Entrance Fee : 50,000.00 LDR / person.
Note : For this full-day trip, my supir ada bagi suggestion to go to Lovina to see Dolphins. But to go here kena gerak pukul 3.00 pagi. So, i decided not to go. 
---
Full day trip day 2
(My favourite Bali Trip)
---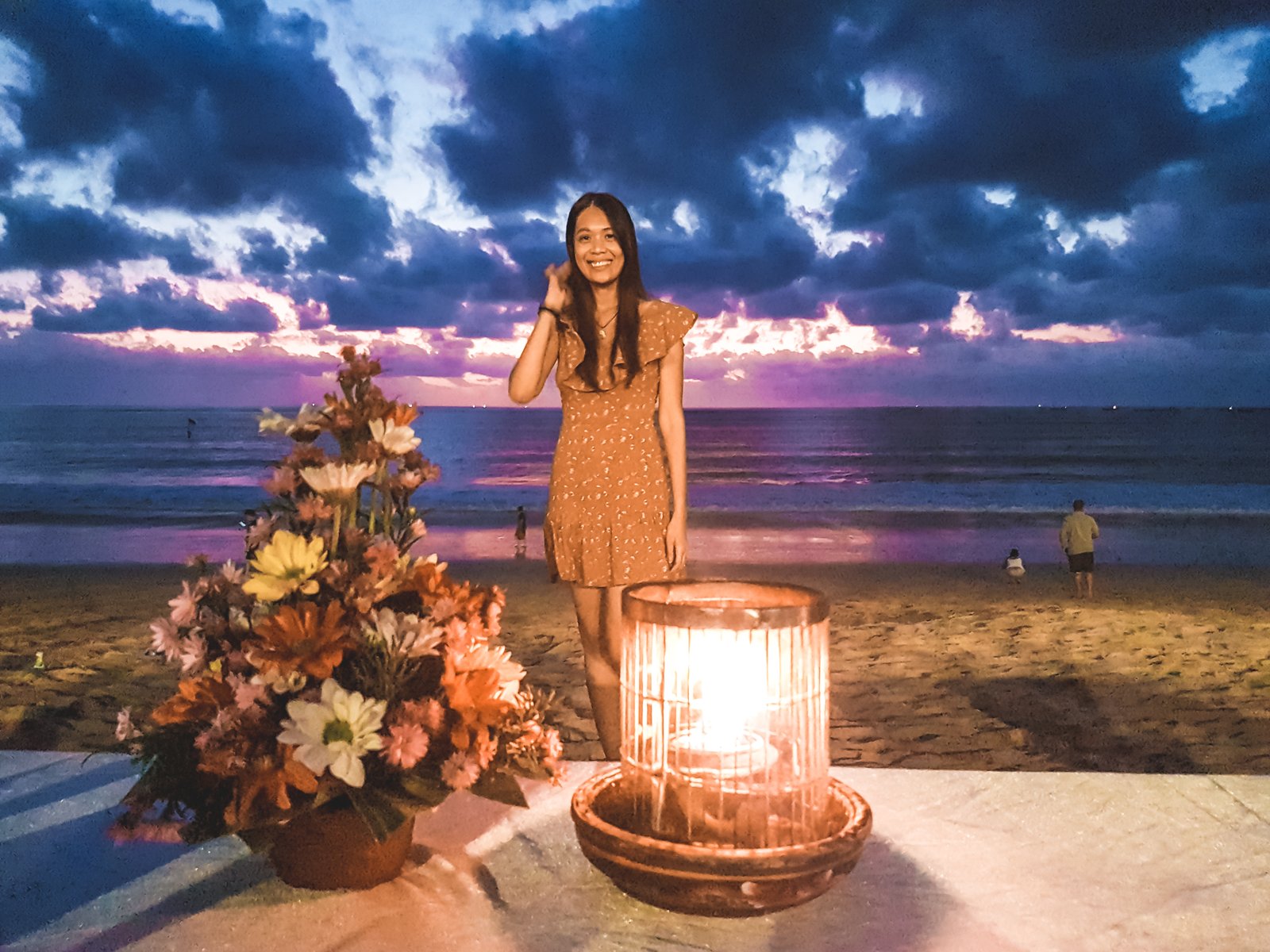 Jimbaran.


We arrived at the port at 5.00pm from Nusa Penida. Then, our Supir took us to Jimbaran to see sunset and have a romantic dinner…gitu! Sunset in Bali is around 6.00pm to 6.30pm. We are lucky because Yanto already arranged everything for us (our table, menus and bills). He even reserved our table at the front row facing the beach. This was my first romantic dinner. It was amazing and the menu was excellent. For Muslims, this restaurant is the only restaurant yang ada surau in Jimbaran. If you want to have dinner here, 

the only person who can help you is Yanto since he has a good relationship with the owner of the restaurant

.
Set Menu: 250,000.00 LDR/person (drinks not included)
---
Full day trip day 3
(Trip to Ubud) 
Tirta Empul.


This temple famous for its holy springs to cleanse their minds, bodies and souls. Before entering the temple, men and women with short pants or short dresses must be covered with shawls available just before the entrance (you can't enter if you are on your period). Each of 13 stretches of water pouring has their own meaning. Make sure you know or ask the locals before taking bath here. 

Entrance Fee : 50,000.00 LDR/person
---
Monkey Forest Sanctuary.




I was surprised by how much this place has changed if compared to my last visit. The renovation is still ongoing but the place is still open for visitors to come. 
Entrance Fee : 50,000.00 LDR/person
---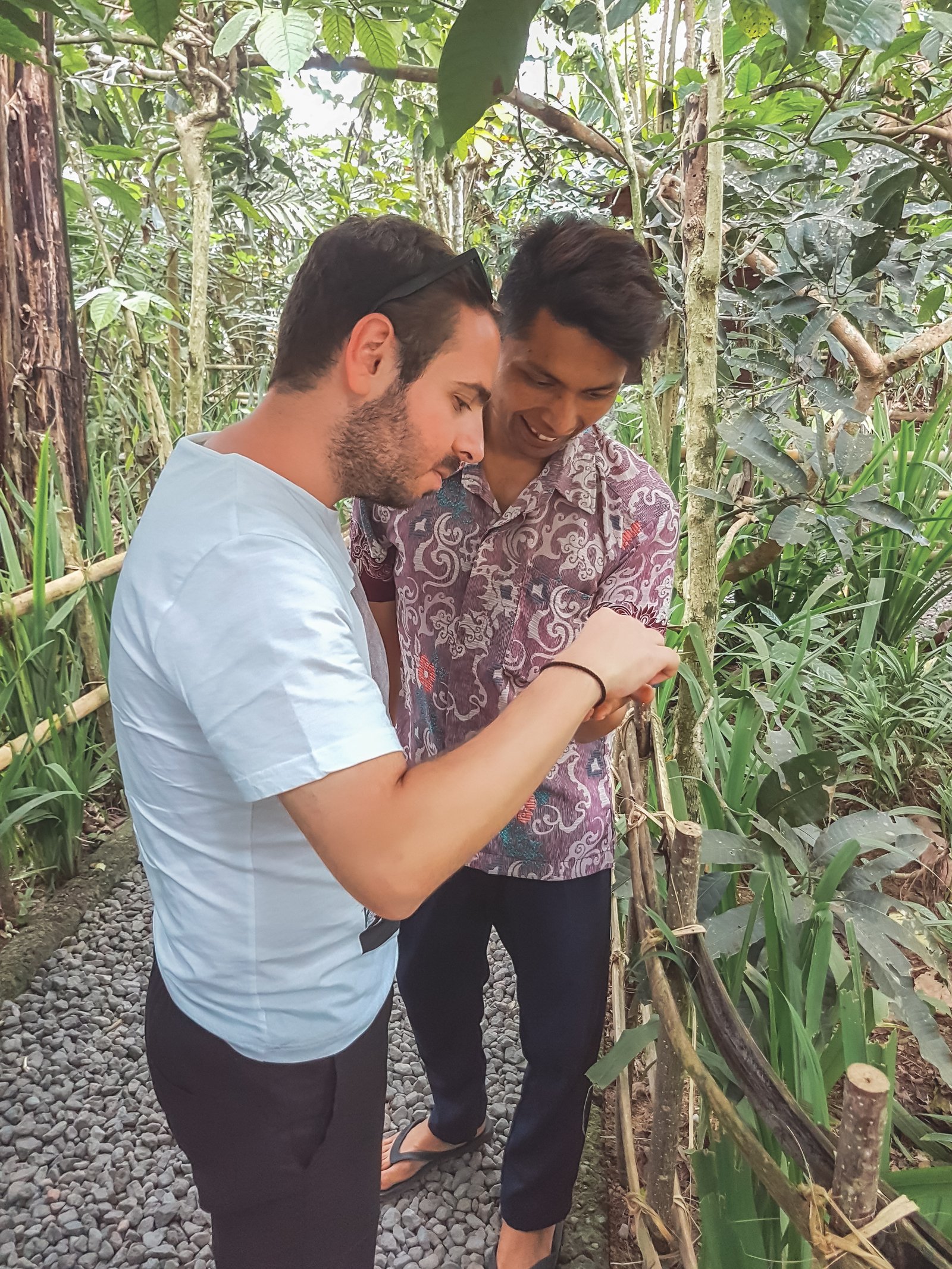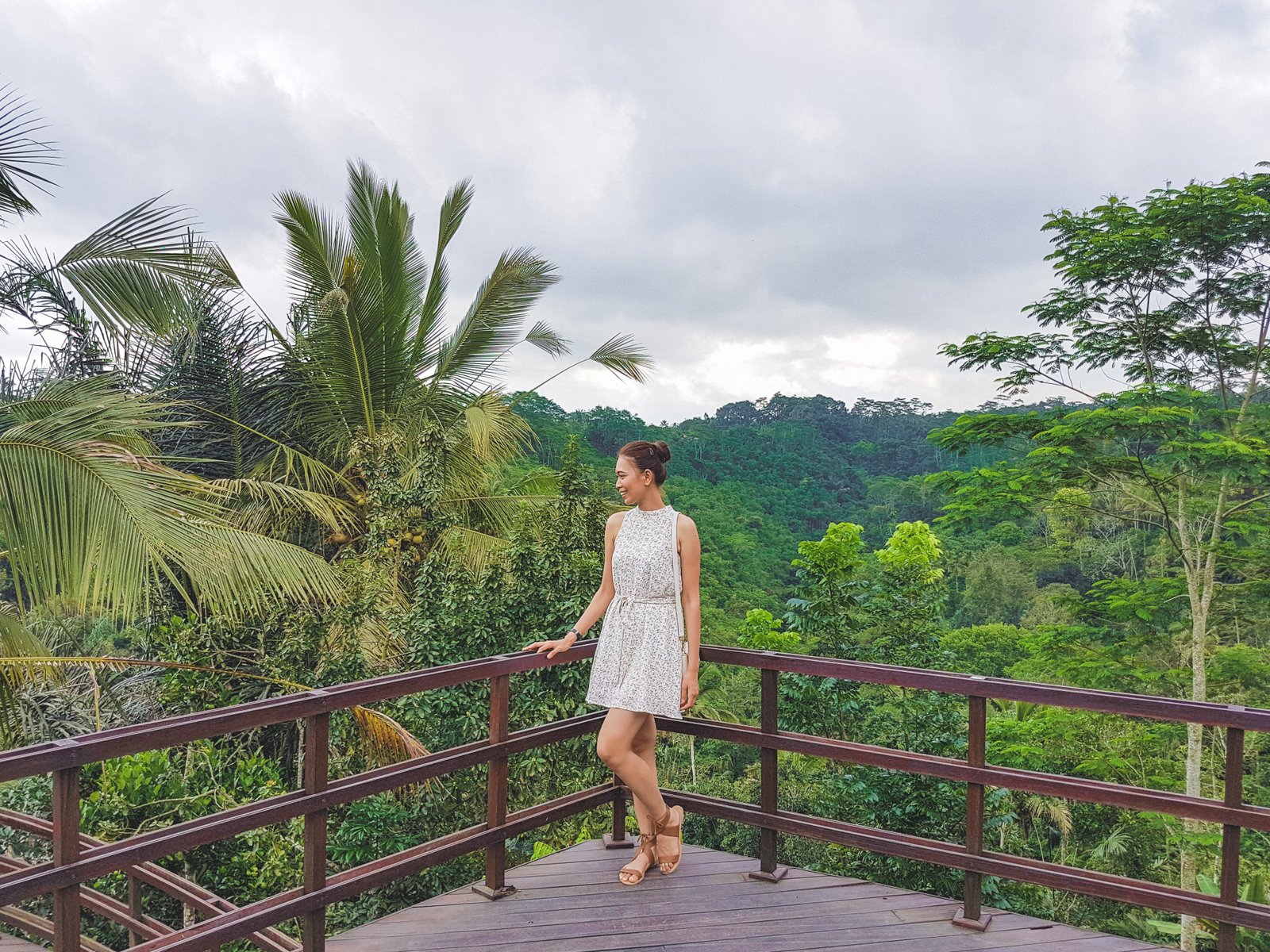 OKA Agriculture Bali.


Definitely my favourite place for this trip. Not a big fan of coffee but they have tea tasting too! Our guide here is very friendly and he speaks English very well. He taught us about coffee, cocoa and many things. They have a coffee tree (psssstt this is our first time seeing it), cocoa tree, cinnamon tree and many more for visitors to see and learn. What an amazing experienced! We had a chance to taste 6 kinds of different coffee and 6 kinds of different tea for free too. I fell in love with Rosella tea right away. It tastes so good.
To taste Kopi Luwak, you need to pay 60,000.00 LDR. It's the most expensive coffee in the world. So they can't simply give you for free. Hehe.
Entrance Fee : Free
---
Tegalalang Rice Terraces.


Went here on my previous trip but i didn't go further. So this time when i came back, i walk further to the rice terraces and to be honest, it was tiring. I regret it but my boyfriend loved it. I don't think i'll ever do this again. Haha. We need to give a donation too at each entry point in this rice terraces but it's not expensive. We can give any amount we want. 

P/s : Kids will try to sell a postcard. They will say it's for school. If you don't want to buy, say NO nicely and walk away. Do not promise them anything. Just say No and walk away. 
Entrance Fee : Free
Note : On our way to OKA Agriculture, we stopped by at a place that makes Crystal, Silver and Kain Batik. If you are interested to see or even to buy, tell your Supir to take you to this places. 
---
Half day trip day 4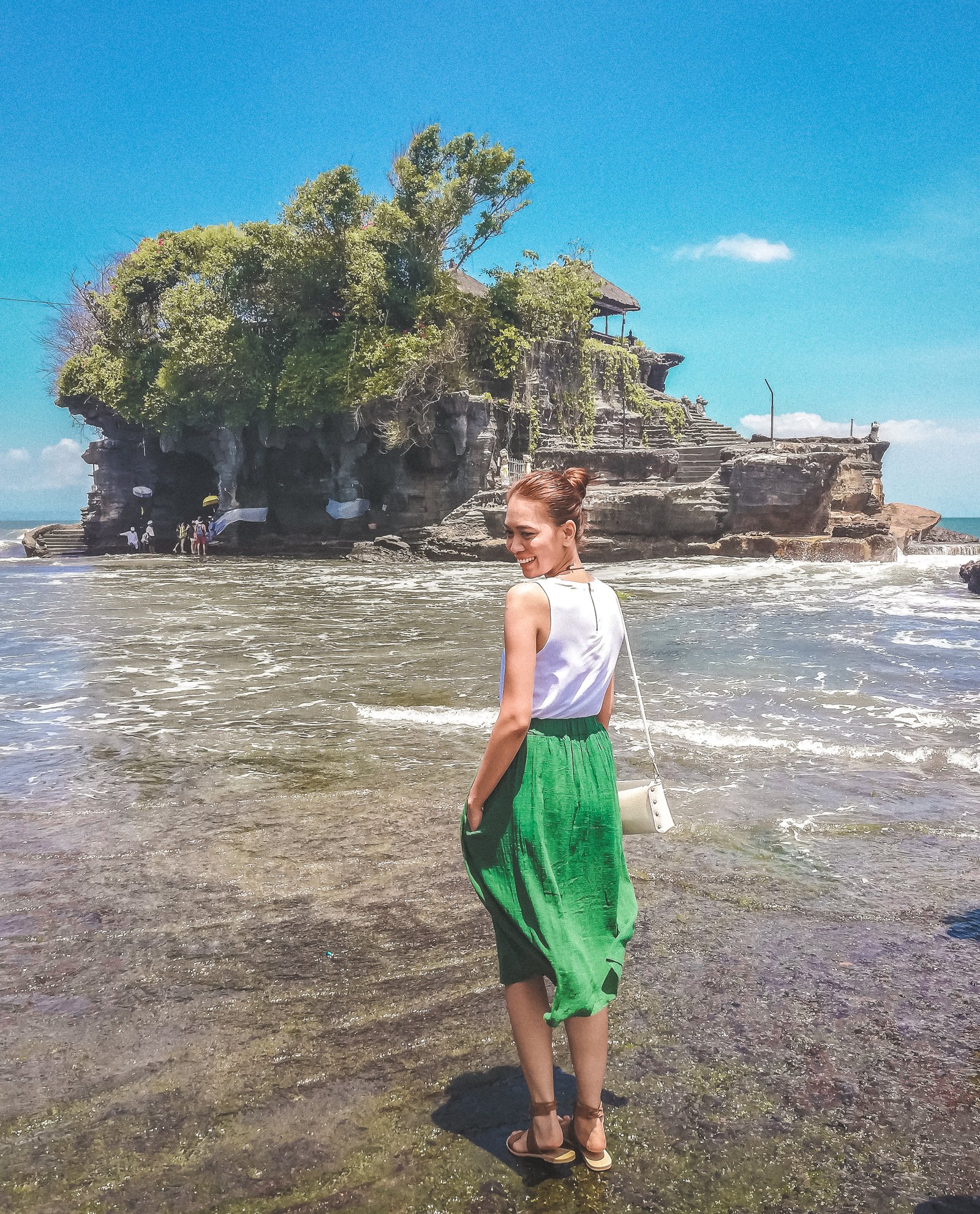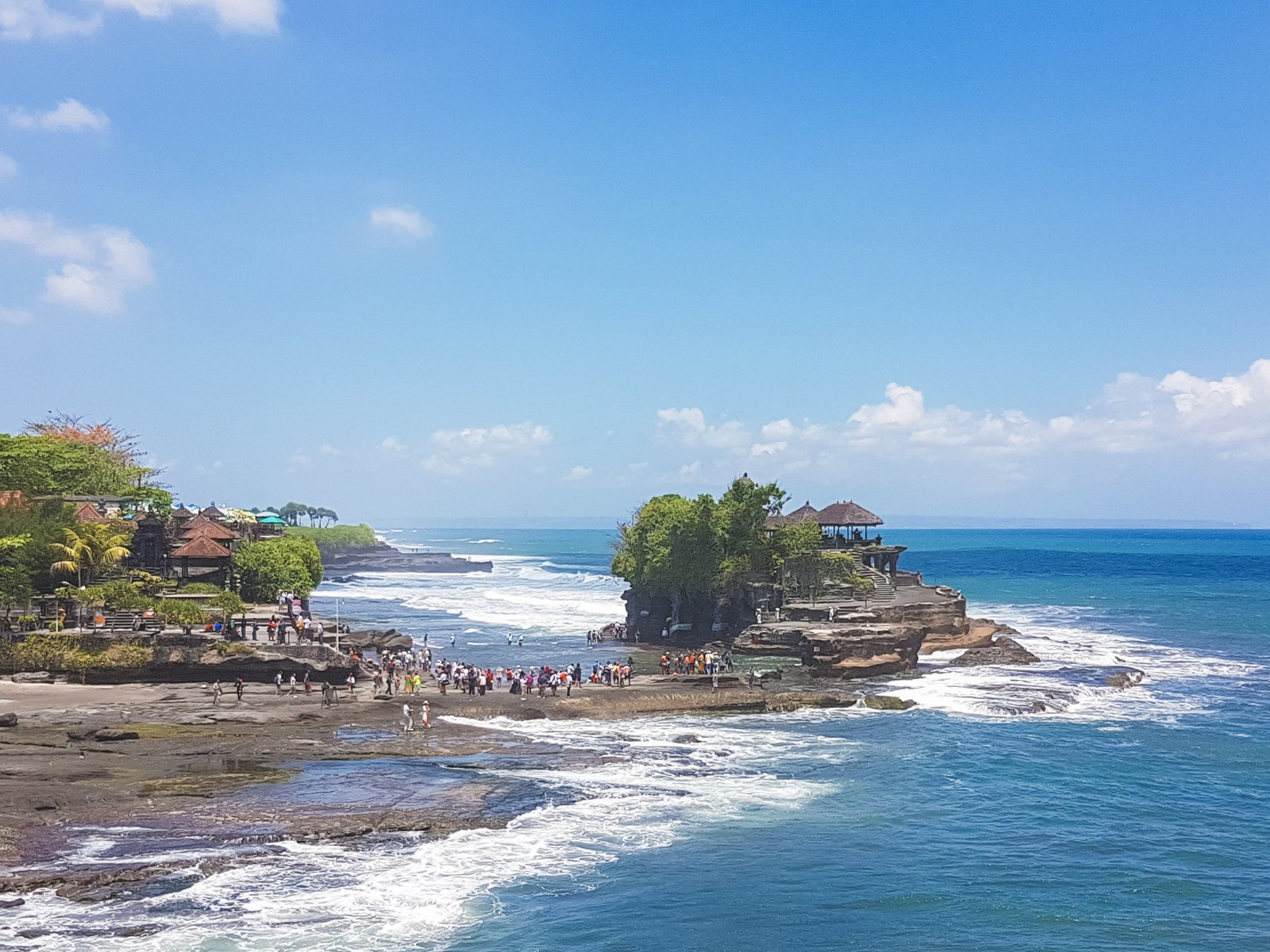 Tanah Lot.




One of the most famous tourist attraction in Bali. It's a must place to visit if you come to Bali. The view is amazing but to take photos without people in the background is kinda hard. Tanah Lot are crowded with tourist but it's worth a visit. On our way to Tanah Lot, the view of the rice field caught my attention. My Supir suka layan i tangkap gambar, so dia gamble je berhenti tepi jalan and take the photo of me. Haha. 

Entrance Fee : 60,000.00 LDR/person
---
Bali Agung Souvenirs.


A famous place in Bali to shop for souvenirs. You can't bargain here. All are fixed price. Highly recommended. 
Entrance Fee : Free
---
Beachwalk, Kuta.




Famous shopping complex in Bali. Came here because we don't know where else to go. Had our lunch here too. It's expensive though but If you are a big fan of branded clothing, you can come here to shop or maybe for window shopping? 

Entrance Fee : Free
---
Legian Beach.




To chill and drink coconut drinks, Legian beach is always my choice. The price for coconut drinks here is between 20,000.00 LDR – 25,000.00 LDR.

Entrance Fee : Free

---
La Plancha.


One of my favourite place in Bali. It's a beach club located in Seminyak. I like this place so much that i wish i could spend my time here everyday lol. The place is great. It comes with great vibes, great foods and of course great music. If you come to Bali, put this place on your list. You need to come here at least once for sunset. Trust me, you will like it. 

Entrance Fee : Free
---
Halfday trip day 5
Pandawa Beach.




Not my favourite beach in Bali but the view from the hills are awesome. If you want to take photos, I'd recommend you to take photos from above.
         Entrance Fee : 8,000.00 LDR / person
---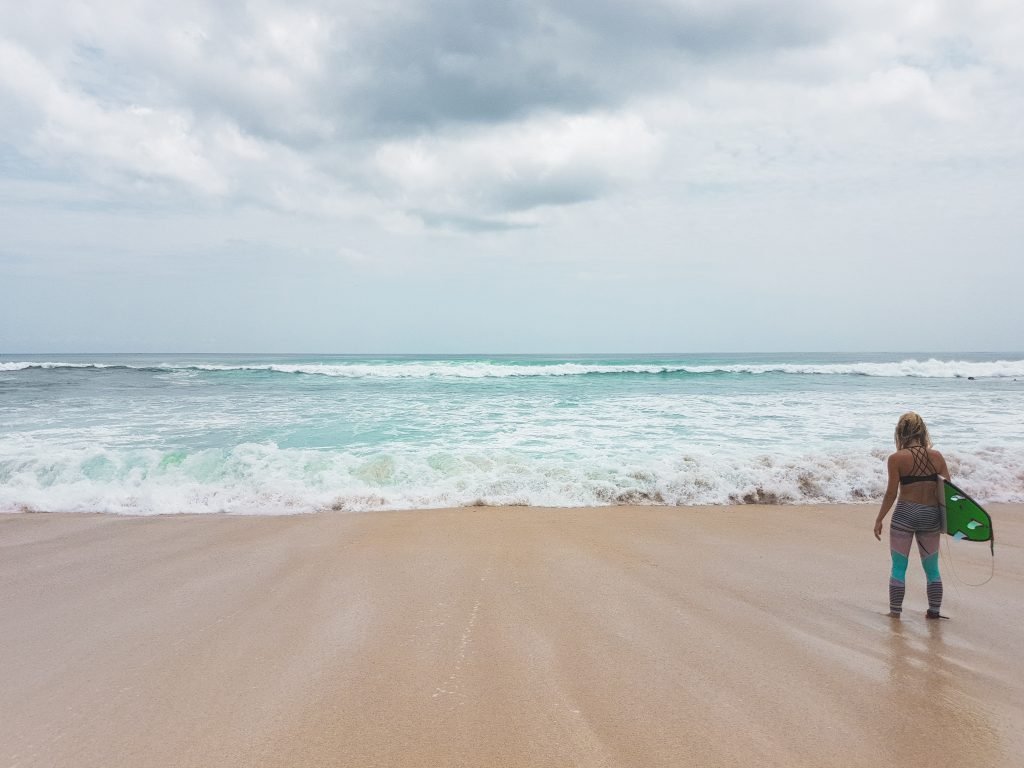 Dreamland Beach.


It's a beautiful private beach owned by President Suharto's son. Last time when i came here, the waves were not big and i could cross the rocky path to reach the other side of the beach, so i manage to take photos with a beautiful background. This time, i could only enjoy the view from far.   

Entrance Fee : 10,000.00 LDR / person
---
Waterblow Nusa Dua.
The place is still under renovation but people still can enter just to look around. I don't recommend you to come – at least not until the renovation is completed. Why it's called waterblow? It's because this spot is famous for the towering water splash. Big splashes! But to take the photo with it, i need to wait for the splash. Well, kesabaran i tak tinggi since bila i tunggu, no water splash. Bila i tak tunggu, suddenly ada water splash. Haishh. If you want to know more, try to search on google about Waterblow Nusa Dua.

Entrance Fee : Free
---
Hotel transfer day 6 from Legian to Labuansait.

Padang-Padang Beach.


We didn't take any trip for our day 06th in Bali. Only need our Supir for hotel transfer from Legian to Uluwatu. From the hotel, we can walk to Padang-padang beach since it's within walking distance. Padang-Padang beach is a recommendation beach to swim in Bali. The waves are not big. Cons, this beach is crowded with tourist.
         Entrance Fee : 5,000.00 LDR / person.
---
Trip day 7 & airport transfer.
Uluwatu Temple.


Our flight back to Malaysia was at 6.20pm. So, after checked out from the hotel, we decided to visit Uluwatu Temple because it wasn't far from the hotel.
Entrance Fee : 40,000.00 LDR / person.
---
Krishna Bali.


My favourite souvenir store in Bali other than Agung Bali. All are fixed price. Highly recommended. You can pay with ringgit too if you are out of rupiah. 
Entrance Fee : Free 
Note : New tourist attractions in Bali is Garuda Wisnu Kencana (GWK) –  It's the biggest statue in the world and located in Uluwatu. Ticket price 100,000.00 LDR. I didn't come here because need to go back to Denpasar. 
---
More About Bali 
Read previous post here : Bali Trip 2018 : Tips Dan Tempahan Supir Pak Yanto
P/s : Please refer blog post from last year if you want to know more about my trip to Bali.