Hello guys! Gambar di atas adalah screenshot bagi desktop komputer i. Nak customize your desktop macam komputer i ni, tak susah pun. I akan ajar step by step. By the way, i pakai Windows 10. 
So, here we go 🙂 :
Untuk wallpaper, you boleh pakai gambar apa pun you nak. But, if you nak pakai wallpaper macam desktop i, you download gambar tu di sini :
Gears Of War Game Wallpaper  (click the image – right click – save image as)
Untuk tukar wallpaper, right click di desktop – Personalize – Browse the wallpaper yang you nak pakai.
Then, download & install – Rainmeter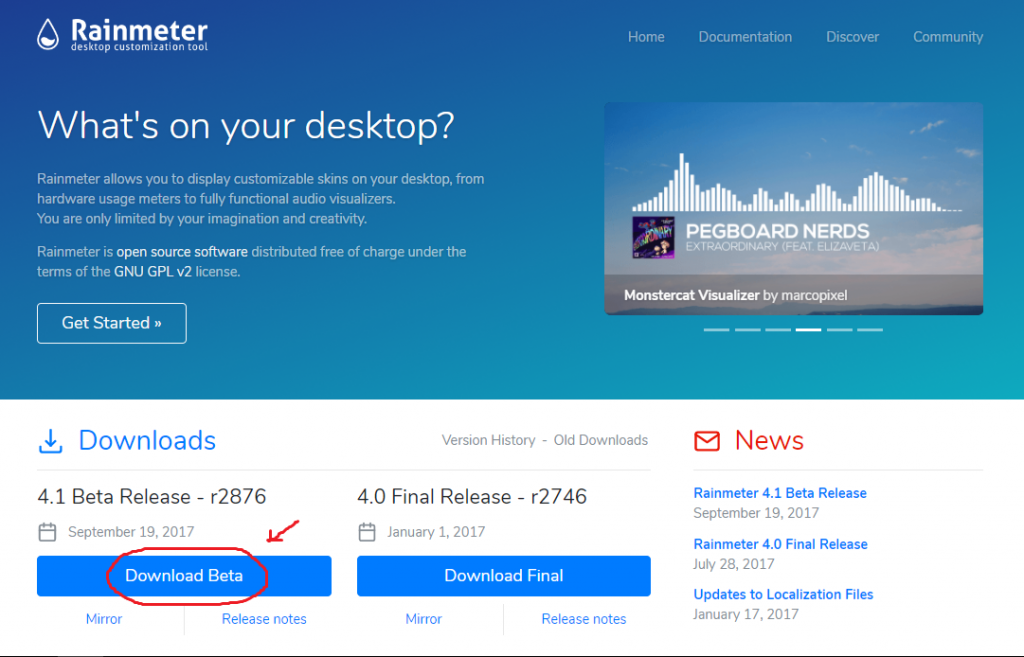 ---
Once you dah installed rainmeter, akan appear "Welcome to rainmeter" di tengah-tengah desktop bersama-sama kotak kecil di sebelah kanan desktop. Semua kotak ni you boleh hilangkan with right click di setiap kotak dan pilih unload skin :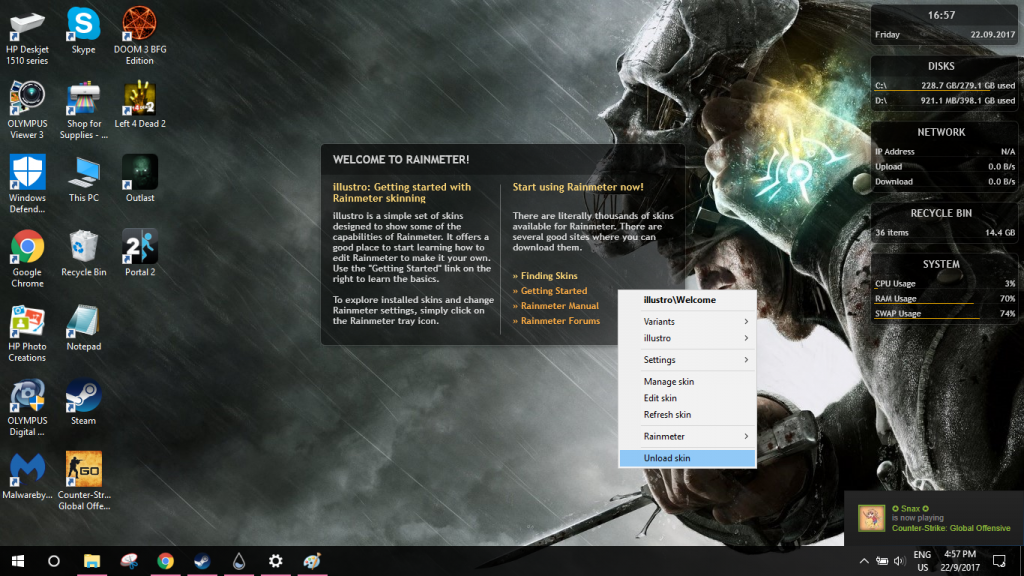 ---
Ubah posisi deskstop icons :   right click – View – uncheck Auto arrange icons – check Align icons to grid dan drag setiap icons ke sebelah kanan.
---
Seterusnya download &  install :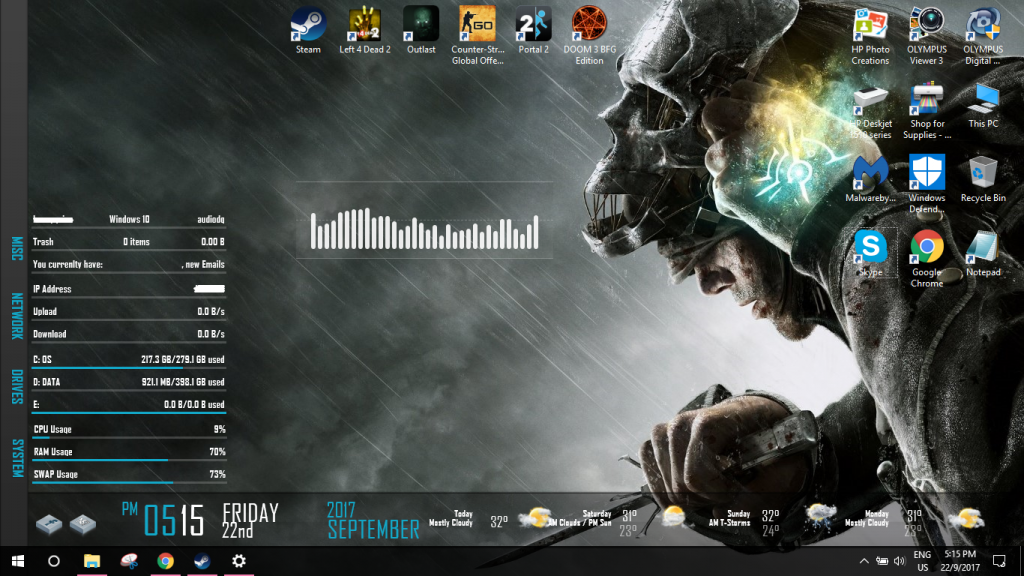 ---
Kemudian, click icon rainmeter di taskbar dan manage everything yang appear on your desktop. Contohnya, i tak nak meter bagi USB appear on my desktop. Jadi, i cari setting untuk USB dan i click Unload. 
or lagi senang, just right click di meter yang you tak nak dan click Unload skin. 
---
Date & Time adalah auto tetapi you kena ubah location bagi cuaca. Pergi ke Weather.com, Search your location. Code location akan appear on URL. Copy that code :
Then, pergi ke Manage Rainmeter – Weather – Horizontal dan klik Edit. Cari WeatherCodeLocation dan gantikan code di dalam tu dengan code yang you copy from Weather.com. Manakala untuk WeatherUnit, you tukar f kepada m. Untuk save, klik File (kiri atas) dan klik save. Kemudian, klik Resfresh di Manage Rainmeter. 
---
Bagi music visualizer pula, right click di visualizer – setting dan pilih No bagi Show Lines & Show Gradient Background. Unless if you nak ada background, then biarkan Yes. Yang lain-lain tu contohnya macam style, ikut citarasa you. Macam i pilih Flat. If you nak yang berwarna, boleh pilih Color Highlighted. Then, drag the visualizer letak di mana-mana yang you suka. 
---
Dan yang akhir sekali, you kena hide your taskbar dan deskstop icons. 
Taskbar : Setting – Personalization – Taskbar – On Automatically hide the taskbar in deskstop mode.
Deskstop : right click – View – Uncheck Show desktop icons. (you boleh check dan uncheck deskstop icons anytime you want)
---
Oh! since you dah hide your desktop icons, sila customize you windows start. Unpin semua yang tak diperlukan dan Pin to start semua apps yang you letak di desktop you sebelum ni (ataupun apps yang penting-penting je yang you selalu pakai). You hanya perlu right click di setiap apps dan pilih pin or unpin. 
---
Okay guys, itu sahaja. If you have anything to ask, feel free to contact me ya! Until then…XOXO!