"Eh, are you sure? Coca-Cola with Chicken? Seriously". That was my first reaction when I heard about the recipe 3 years ago dari kawan i yang datang bercuti ke Malaysia. And he said "Yeah…It tastes so good. You should try"
Well guys, he's right. Memang sedap dan yang paling penting, it's easy to make. Like….SUPERRR easy. Sometimes kalau i mati akal tak tahu nak masak apa, tambah pulak dengan kemalasan i, memang i campak je ayam dengan coca cola dalam kuali. Haha. 
---
Bahan-bahan :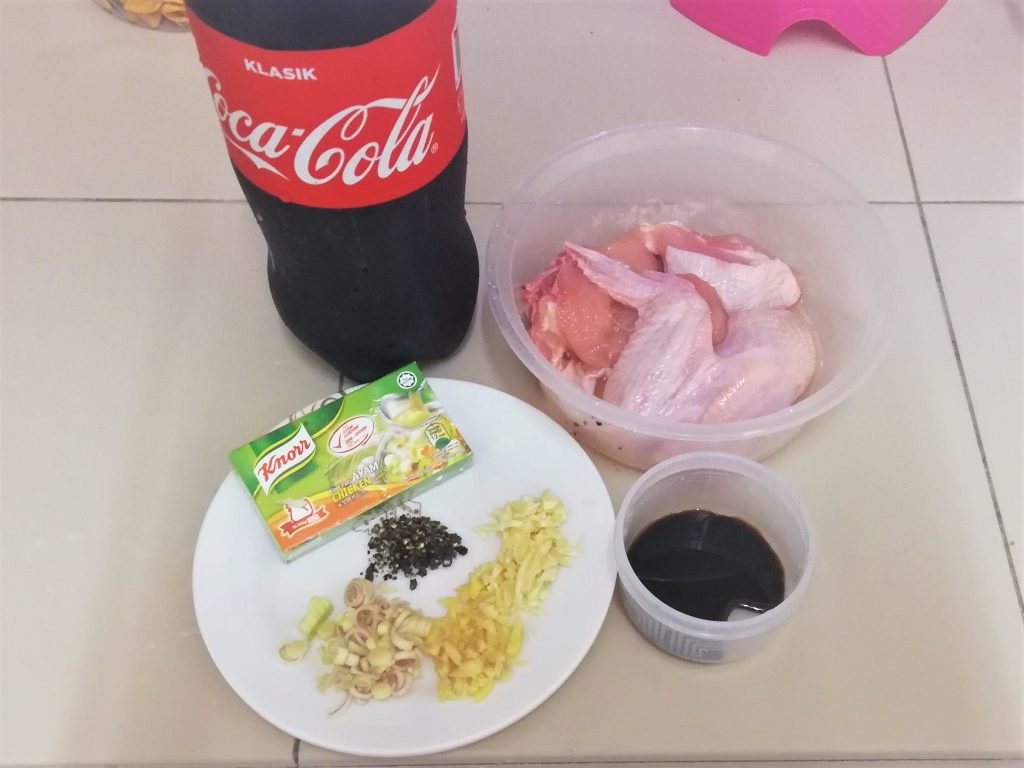 Ayam 

1 tin Coca-cola (Jangan plak botol besar macam dalam gambar).

1 kiub ayam

Lada hitam (ditumbuk)

6 ulas bawang putih (ditumbuk)

1 inci halia (ditumbuk)

sebatang serai dihiris halus (optional).

2 sudu kicap manis

Garam 
---
Cara- cara penyediakan.
Gaul ayam dengan garam dan perap selama 2-3 jam. 

Tumiskan bahan yang telah ditumbuk (bawang putih, halia & lada hitam) & serai yang telah dihiris halus. 

Bila bahan tumis dah naik bau, masukkan ayam & kicap manis. Biarkan dalam 5 minit.

Kemudian masukkan Coca-Cola & kiub ayam. Pelankan api, masak sehingga kuah menjadi pekat atau kering.
Kalau nak senang lagi, lupakan semua bahan tambahan –  just masukkan je ayam & coca cola dalam kuali dan masak sehingga kuah pekat / kering.

Rasa Ayam coca cola ni sama je macam rasa ayam bbq. 🙂

Selamat mencuba!