I recently traveled to Siem Reap, Cambodia for a 4-day, 3-night trip, and I have to admit, I'm glad I didn't stay longer than that. To be honest, there wasn't much to do there. In fact, I feel like 3 days would have been enough.
As usual, after booking my flight tickets, I made sure to arrange my accommodation and airport transfer in advance. However, when it comes to planning my itinerary and deciding which places to visit, I take a different approach. I prefer to wait until I arrive at the destination and rely on the recommendations of the locals for the best places to visit. I enjoy collecting pamphlets as references and then making spontaneous decisions on where to explore.
---
Flight Ticket.
I purchased my flight ticket for Siem Reap two weeks before my trip, which resulted in a slightly higher price of RM487.80 (excluding the cost of the seat I selected). Typically, if you plan ahead and book early, you can find ticket prices below RM300.00 for a trip to Siem Reap. However, if you prefer a more spontaneous approach and don't make advanced plans, you might end up paying a bit more for your flight tickets.
---
Currency.
In Cambodia, the currency used is USD (United States Dollar). When exchanging money in Malaysia, it's important to ensure that the USD bills are in good condition, without any marks or lines. Even the smallest defects can lead to the bills being rejected in Cambodia.
---
Passport & Visa.
Malaysian citizens do not require a visa to enter Cambodia and can stay for a maximum of 30 days. However, if you plan to stay longer than 30 days, you will need to apply for a visa. For detailed information on visa requirements, it is recommended to visit the official website: OeVisa.com
---
Where To Stay.
I stayed at Mudra Angkor Boutique Hotel based on a recommendation from my boyfriend's colleague. However, I cannot personally give a strong recommendation for this hotel to my readers. Although the staff was friendly and helpful, I had some negative experiences during my stay. Additionally, the hotel's location was quite far from the main tourist attractions.
If you're planning a visit to Siem Reap, I would suggest considering a hotel or hostel located in or near the Old Market area. This area is situated at the city's center and offers a vibrant nightlife scene.
---
Transportation.
I relied on Tuk-tuks and Grab to get around during my time in Siem Reap. I had pre-booked a dedicated Tuk-tuk driver through my hotel, whom I paid for all my trips. However, when I ventured out to Pub Street and returned late at night, I had to find another Tuk-tuk. Thankfully, it was easy to find one as there were many available in that area.
One piece of advice I have is to negotiate the fare with the drivers, as they may try to overcharge you. For instance, if the standard fare is 4 USD, they might initially ask for 6 USD.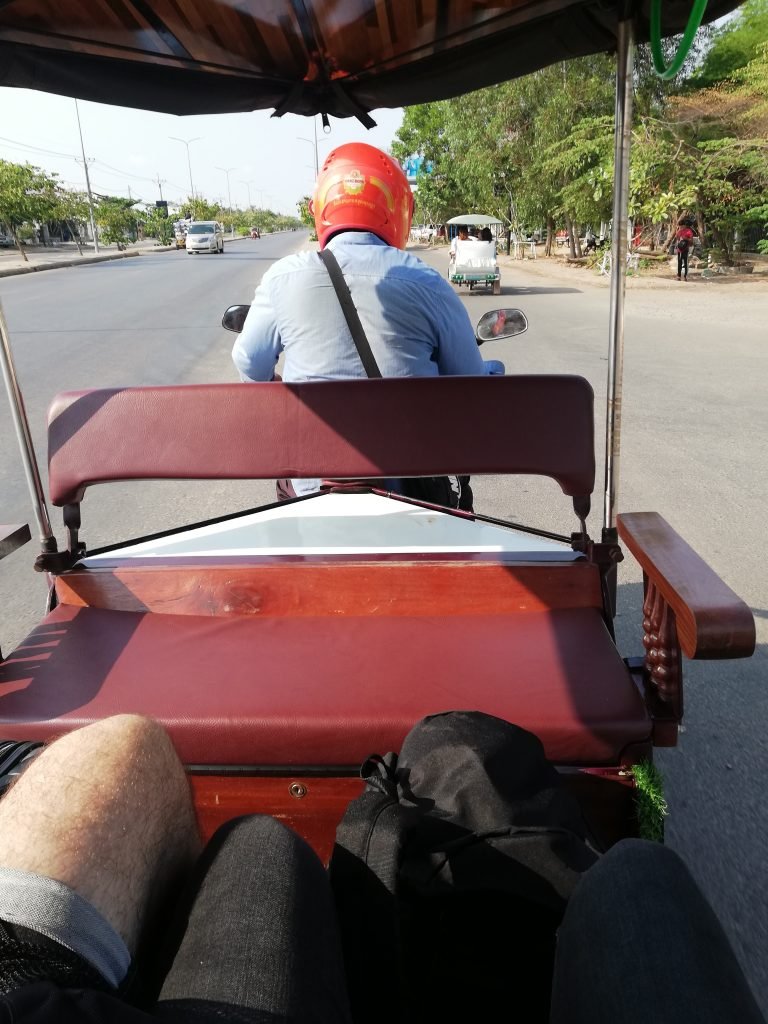 ---
Foods and Drinks.
To be honest, finding halal food options in Siem Reap was quite challenging. I only came across three halal restaurants, and all of them happened to be Indian cuisine. Additionally, I would not recommend trying street food in Siem Reap due to cleanliness concerns and exposed food. Once you visit, you'll understand what I mean.
My boyfriend experienced severe food poisoning during our stay, although luckily, it wasn't from the same food I had consumed. It's advisable to consider bringing your own food from Malaysia, even if it means relying on simple options like instant noodles. The priority should be avoiding food poisoning.
---
What To Pack.
When I traveled to Siem Reap, it was during the hot season, and temperatures reached around 34°C-35°C. The heat was quite intense, and despite using sunscreen, I still ended up getting sunburned. So, it's important to check the temperature online before your trip. If it's hot, avoid bringing thick clothes and opt for lightweight, breathable clothing that can absorb sweat instead. Comfortable sneakers or sports shoes are highly recommended, especially when visiting the temples, so leave your heels behind.
Additionally, when visiting temples, it's essential to dress appropriately by covering your shoulders with clothing and wearing pants or skirts that cover your knees, as there are often dress codes in place for these sacred sites.
Remember to pack a pen in your handbag to fill out the customs form during the flight. It's also handy to bring wet wipes, sunscreen, slippers, a travel adapter, and any other necessary items to make your trip more comfortable.
---
Shopping in Siem Reap. 
If you're looking to buy souvenirs, the Old Market is the place to go. Here, you'll find a wide variety of items to choose from, and the best part is that you can haggle and negotiate the prices. Don't be afraid to engage in friendly bargaining with the vendors until you reach a price that you're comfortable with. Remember, it's common practice to negotiate in the market, so have fun and enjoy the experience of finding the best deals for your souvenirs.
---
Where I've Been To. 
Tix price: 15 USD / person
If you have a keen interest in history, you'll definitely appreciate a visit to this place. However, as history isn't my personal preference, I found it less engaging. Nonetheless, if you're seeking to spend some time or have exhausted other sightseeing options, it could be worth a visit to gain some insights into Cambodia's past.
---
Tix price: 37 USD / person
Angkor Wat is a must-visit destination in Siem Reap. It's recommended to start your visit early in the morning, around 9:00 am. The tour usually concludes in the afternoon. There are numerous temples to explore within the complex. Remember to bring your own water as there will be a fair amount of walking involved.
Please note that you can't purchase tickets on behalf of someone else, as each person needs to have their photo taken when obtaining the ticket.
---
Phnom Kulen National Park 
Tour Price: 80 USD
Upon the suggestion of my hotel, I decided to visit this park and it turned out to be the highlight of my stay in Siem Reap. The journey from my hotel took approximately 2 hours, but it was well worth it. What made this place even more special is that it is popular among the locals but not overcrowded with tourists, allowing me to truly appreciate its natural beauty.
Phnom Kulen National Park is a highly recommended destination for nature lovers. 
---
Old Market / Pub Streets / Siem Reap Night Market
These places were my go-to spots during my stay in Siem Reap. I found myself visiting these places every night, and the best part is that they are all within walking distance. If you prefer a tuk-tuk, simply tell the driver you want to go to the Old Market. These areas come alive at night, offering a vibrant and exciting atmosphere.
With a plethora of restaurants, pubs, and shops, you'll never get bored. It almost feels like a different world, as the presence of foreigners adds to the lively and international vibe of the place.
X, Hani.