Hey, guess what? I tried something new today, and I had a blast! I decided to give golf a shot, and after some quick online research, I found the perfect spot to practice—MOS Driving Range & Academy. The place is only about 20 minutes away from my place, so I headed over there to see what it was all about, and let me tell you, it did not disappoint!
As a complete beginner, I was nervous at first, but as I began to hit the ball, I realized how therapeutic and calming golf can be. With each swing, I could feel my stress melt away, and I became more and more absorbed in the game. The instructors at MOS Driving Range & Academy were incredibly knowledgeable and patient. He helped me improve my stance, grip, and swing, all while making the experience fun and enjoyable. I couldn't believe how much I had learned in just one session.
After spending about 2 hours practicing at MOS Driving Range & Golf Academy, here are my thoughts:
The place isn't fancy, but it's acceptable for daily practice.

The cost for 100 balls is RM12.00,

A golf club can be rented for RM5.00 too, but it is an old one. If it breaks, you must pay RM150.00 for the repair, but don't worry about it as long as you don't use it to intentionally break it.

Take golf club No. 9 if you're a beginner, according to my Instructor.

The place is open from 10:00 a.m. to 11:00 p.m.

You can share the balls with your friends. 

The carpet is quite old, but it is still okay.

It's cheap compared to other driving ranges I found online.

Easy to access, plenty of parking, and not too crowded.

It's a good place for beginners or daily practice. 

The worker is quite helpful and friendly.

They also have a prepaid package. 1000 balls package RM110.00, 2000 balls package RM190.00. Minimum 50 balls for each request.

If you have any questions, you can reach out to them through a Facebook page: MOS Driving Range & Academy.

They don't provide free Instructors. If you need one, you can find Param. His academy is just next to the MOS Driving Range. Alternatively, you can also just ask anyone there to help you and show you how to do it. They would probably be happy to show you.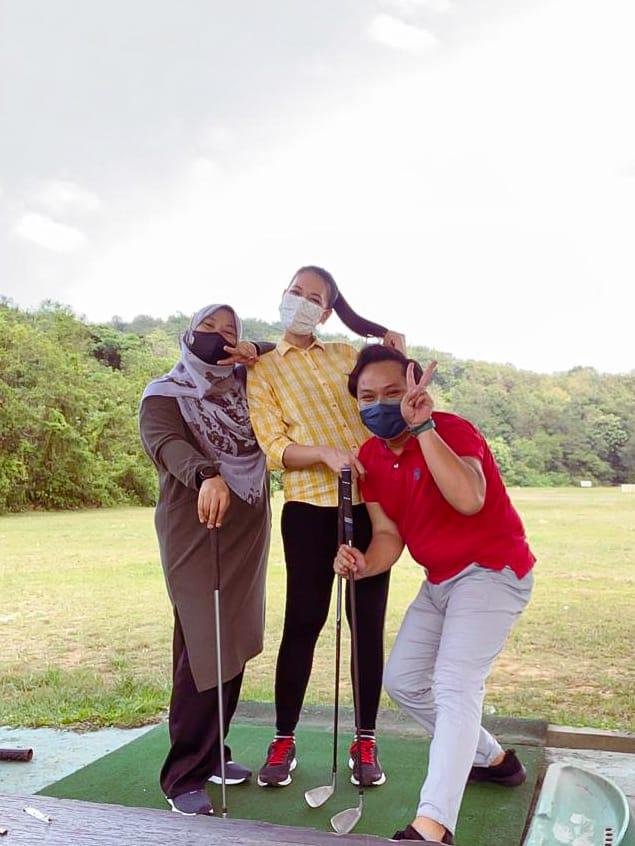 I was afraid of embarrassing myself by accidentally throwing the golf club. Before I leave, I told Nat about it, but Nat said,
"The best way to do that is to throw it on purpose."😂
He added, "As long as you don't fall over trying to hit the ball you'll be fine."
Well, that's helpful!
I was talking about playing golf the whole week with him. He's right though. Playing golf is fun. I'm glad I gave myself a chance to learn. Proud of myself! Here's my first trial before my instructor came and showed me the real technique.

So, if you're just starting out, don't be shy. Simply go practice. Even if you just want to do it for fun with your friends, it's a fun activity to do. You'd enjoy it! X, Hani.