I last used Tinder about two years ago, and I had over 2000 matches. Yes, you read that correctly: 2000! It's safe to say that I was pretty active on the app back then after I broke up with my ex in 2019. I turned to Tinder as a form of catharsis, an outlet for my anger and frustration. At the time, I had no intention of having a meaningful connection with anyone.
One thing I've learned about Tinder is that while it can be a fun and exciting way to meet new people, it isn't always the best platform for serious dating; in fact, the majority of the people I met there weren't really looking for one.
It was fun at first. I got to talk to a lot of people, which made me feel less bored. However, it is not something that I wish to recall since I'm aware of the fact that throughout that period of my life, my mental health was not in the best state. I strayed away from my true self. I did things that were damaging to my soul, and it wasn't something I will ever be proud of; however, one thing is for sure: I did find a part of me that I never knew existed, and I was able to learn and grow in ways that I never thought were possible.
I believe the majority of Tinder users understand how it works. Some people are straightforward about what they want, telling you the truth and not playing any games, which I think is very nice of them even if their intention may not be the best; on the other hand, there are those who will make you feel good by giving you the ideal image of love you've always wanted, only for them to leave you hanging later. Ok, I don't want to be overly critical here, because my intentions for using the app weren't all that great either.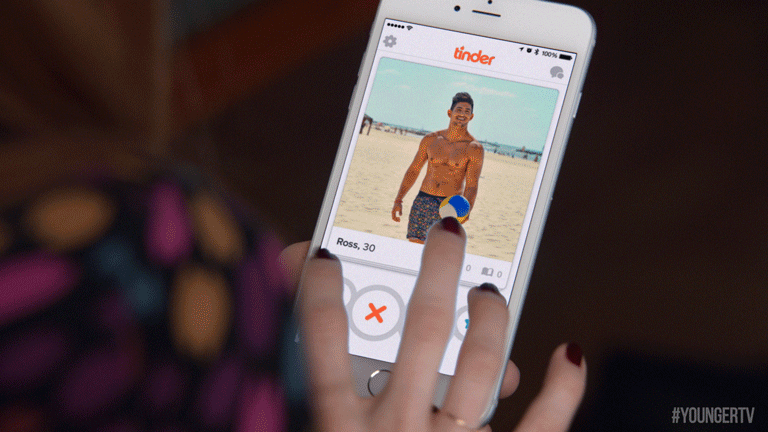 Over time, since I hadn't made any meaningful connections with anyone on Tinder, I found myself increasingly frustrated and lonely while using it. I eventually realized that I was stuck in a cycle of repeating the same patterns over and over again. First, I would look at someone's profile and swipe right if they matched my preferences. Then, if we matched, we would talk for a while, getting to know each other. However, even if we got along well, we would still keep swiping and talking to other people simultaneously, keeping our options open and always on the lookout for someone better. And, inevitably, when we found someone who seemed more interesting, we would stop talking to the previous person and give our attention to the new one. This cycle was emotionally draining for me, and it seemed like a never-ending game. It was like watching a movie, but the director kept changing the main actor. I did go on a few dates before the lockdown, and while some of them were bad, most of them were a lot of fun and even very sweet and respectful to me.
Gradually, I began to spend less time on Tinder and more time on my self-love journey and self-healing. 
Anyway, believe it or not, people that I met on Tinder with who I developed meaningful connections and quickly became good friends were the ones I matched with when I was hardly using the app—after I began spending less time on the app. It's funny how life works, sometimes. Even though we never ended up going on a date or dating, I'm glad that I swiped right on these people. It is true that the most unexpected connections can lead to the most meaningful friendships.
One of my online good friends, Nat, was the first person I truly clicked with out of the 2000 matches I had at that time. From the moment we matched, we hit it off and quickly developed a meaningful connection. However, after a month of chatting, he suddenly stopped replying to me, and I felt sad and affected by it. But three months later, he reconnected with me, and our friendship became stronger than ever. Now, I proudly refer to him as one of my best friends. We share many things together and even have our special Monday night date where we watch The Last of Us together. We love sharing music and just talking about anything and everything. I often ask for his opinions on my Poetry too. My day isn't complete without talking to him, so yeah, he's indeed a big part of my life. 
I also met Justin, or Jay, on Tinder, and he has been special to me from the moment we matched. He was actually the last person I matched with before I deleted my account. To be honest, I have never felt connected with anyone the way I do with him. Being myself when I talk to him is effortless and feels incredible. My jokes and pickup lines for him just come out naturally. It's a unique connection that I haven't experienced with anyone else, and the way I talk to him, I never could with anyone else either. As I spent more time talking to him, my feelings for him grew and remained the same after all these years, which is significant because I haven't felt this way about a man in a long time.
It's fascinating how things worked out because I was very close to deleting my Tinder account before I matched with Justin. Since I was using Tinder Platinum, I had the benefit of seeing who swiped right on my profile. So I decided to look at it one last time. As I scrolled through the list, his profile caught my attention. It was the last one on the list among hundreds of others who had swiped me right. When I looked at his profile, I thought to myself, "Well, he's cute." Despite my confusion as to how someone living 10,000 kilometers away could have swiped right on my profile, I decided to swipe right on him too. It turned out to be one of the best decisions I've ever made. Although we stopped talking for months when I became distant from everyone and he didn't reach out to me either, I somehow made an effort to reconnect with him later on because I knew I wanted to keep him in my life. During the time we stopped talking, there was not a single day that went by without me thinking about him. I genuinely cherish our friendship, and he is always a special person to me. He remains one of the best people I've met online.
Besides Nat and Justin, I also have some other good friends that I matched with on Tinder, and we still keep in touch to this day. They're not as close to me as Nat and Justin, but they still hit me up every now and then to see how am I doing, which I find really nice of them. Raph and Feb, both always make sure to wish me a happy birthday and a happy new year, and Ludo, on the other hand, is such a sweet guy. During the lockdown, we spent hours chatting; he would even video call me whenever he took a break from work to check on me and also talk about our cats. Feb is amazing and I know he's the smart one! I've met so many guys on Tinder, but Feb is definitely not one of the worthless ones. We both ended up not liking Tinder, as he said:
"Dating apps right now are like looking for some gold in a ton of shit," 
He also continued saying,
"But at the same time, I'm also grateful to have a chance to meet very valuable people and be in touch with them, like you as an example."
As for Dan, he's a great guy and very straightforward about his interest in me, but the connection isn't as strong as it is when I'm with Nat and Justin, which is really important to me. Nonetheless, I know he's someone I can trust and he could make me happy. 
Thanks to my friendship with all of these guys, I've learned to be kinder to men too. 
So yeah, Tinder isn't all bad. If you're lucky, you might meet some great people, but let's be real, it's not easy. I managed to build meaningful connections with less than 10 people out of over 2,000 matches. Still, this app has given me so much. It's opened my eyes to a lot of things. I've learned to be cautious and not fall for people's sweet talk too easily. I'm more careful now when it comes to meeting people on the internet.
It's amazing how some couples who met each other on Tinder ended up getting married. One of my readers recently got married to a guy she met on Tinder years ago when he was on vacation in Malaysia. Despite being in a long-distance relationship for a couple of years after they initially matched on Tinder, they made it work and tied the knot. This shows that you never know where you might find your soulmate. As long as you give it a chance, work on it together, and walk on the same path, anything is possible. As for me, I was not lucky enough to find a serious relationship on Tinder, but I am grateful to have met some great people through the app.
Looking back, I'm glad that I met these people on Tinder. Even though it's challenging to find valuable people or connections on the app, I was fortunate enough to have found them. Sometimes, we can meet great people in unexpected places.
Also, to any girls or women using online dating hoping to find their Prince Charming, I want to share a word of caution: be careful and don't trust people too easily, even if they say sweet things to you. I've been sexually harassed by guys I met online a few times, and I wouldn't want anyone else to go through the same thing. Stay safe and trust your instincts.
X, Hani. ❤
Update: I reinstalled Tinder when I was in Thailand last June and still have the account, but I rarely use it.