Pernah tak terfikir, "Macam mana nak tahu kalau email yang kita hantar, telah dibuka dan dibaca oleh penerima?".
Berikut adalah jawapan bagi persoalan di atas.
Firstly, pergi ke laman web Google Extension. Search for "Mailtrack". 
---
Then, klik "Add to Chrome" and "Add extension":
---
Klik "Connect with Google", pilih mana-mana plan yang you minat. Kalau nak spend some money, boleh la pilih plan yang berbayar. Kalau tak, pilih yang "Free".
---
After you klik "Sign Up Free" dan isikan maklumat akaun Gmail, paparan seperti di bawah akan dipaparkan. Klik "Go to Gmail : 
---
Ikon Mailtrack terletas di sebelah atas bahagian kanan Gmail. Make sure your mailtrack is enable :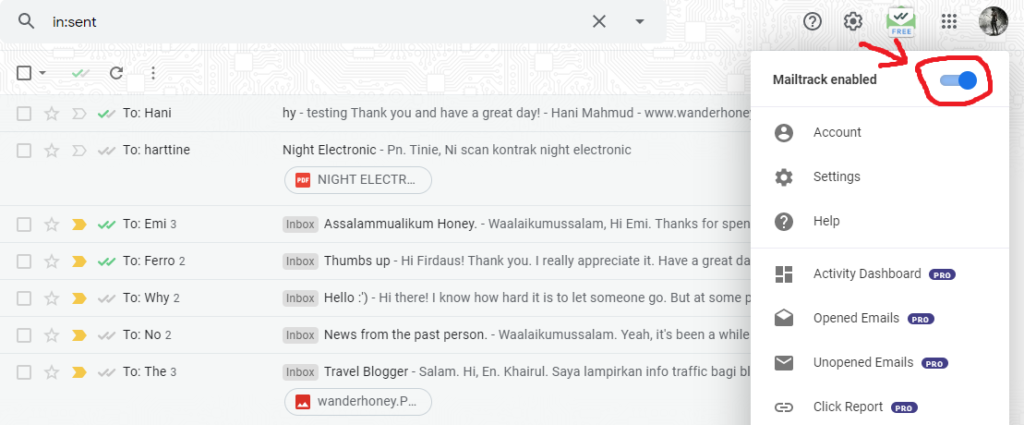 ---
Itu sahaja caranya. Mudah je kan?! Sedikit pencerahan menggunakan Google extention ni ; Bila email dihantar, dan hanya ada 1 ticked hijau bermakna email telah dihantar dan diterima oleh penerima. Bila ada 2 ticked hijau bermakna email telah dibuka dan dibaca oleh penerima. Function extention ni adalah sama seperti Whatsapp : 

---
Satu notifikasi melalui email juga akan dihantar apabila email telah dibuka : 
Hope this tutorial membantu. XOXO