In the ever-evolving world of skincare, finding the perfect and affordable anti-aging product can be a challenging task. With numerous options available, it's very important to choose a product that not only promises results but also delivers on its claims. One such product that has caught my attention is the Clinelle Caviar Gold Skincare Series. In today's blog post, I am thrilled to share my reviews on this anti-aging product that I've been using and loving for the past three months now. It has quickly become a personal favorite of mine, and I can't wait to evaluate just how effectively it tackles signs of aging.
---
What is Clinelle Caviar Gold? 
Clinelle Caviar Gold is a luxurious anti-aging skincare product formulated and manufactured in Korea and claims to provide comprehensive rejuvenation and nourishment for aging skin. It harnesses the power of caviar extract, known for its rich source of essential nutrients, and combines it with other potent ingredients to create a formula aimed at reducing wrinkles, improving skin elasticity, and enhancing overall skin texture. 
---
The Key Ingredients:
The star ingredient in Clinelle Caviar Gold is Caviar extract, which is renowned for its ability to promote cell regeneration and stimulate collagen production due to its human-like cell structure to boost skin firmness and hydration, reducing the appearance of fine lines and wrinkles. Additionally, the product contains other key ingredients such as:
3X OmegaLIFT Complex: Omega3 to reduce inflammation and increase skin's hydration level, Omega6 to keep skin hydrated and plump, and Omega9 to improve skin elasticity.
24K Gold: Boost collagen production to increase skin elasticity.
PhytoGold Extract: Proven 80x more effective than Arbutin in brightening effect. 
---
Happy Skin, Happy Face.
Clinelle believes that true beauty comes when you are happy in your own perfectly healthy skin. The products are 100% Dermatologically tested, ensuring they are 100% safe and free from harmful ingredients. Formulated with carefully selected natural key ingredients, Clinelle products are designed to deliver effective results while being gentle even on the most sensitive skin. As someone with sensitive skin myself, I can personally attest that these products have not caused any adverse reactions or negative effects.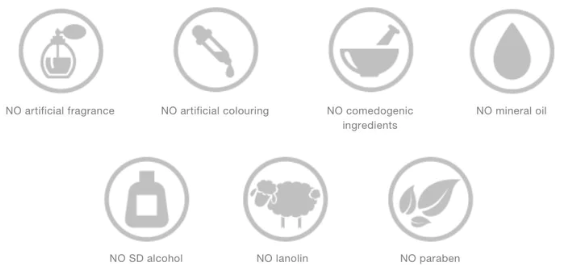 ---
The Texture.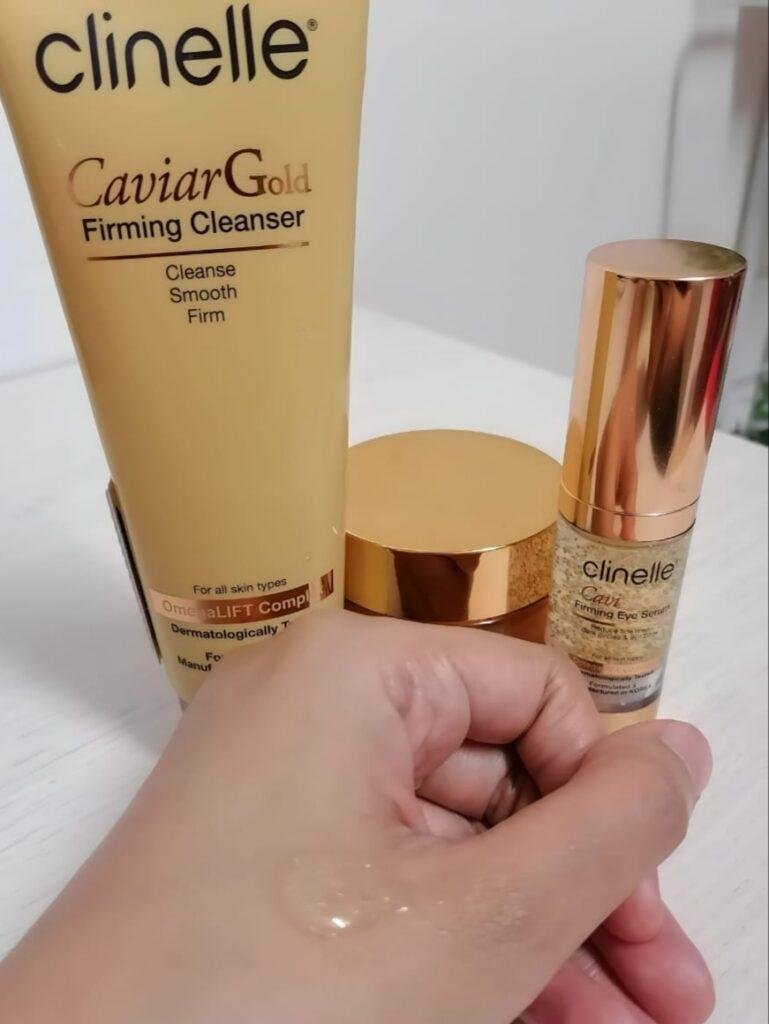 The cleanser is a gel-like texture. It is designed to create a luxurious and indulgent cleansing experience. When applied to the skin, the cleanser transforms into a soft, smooth lather that effectively removes impurities, excess oil, makeup residue, and dullness without over-drying. It has a really pleasant and subtle scent, allowing for a gentle and enjoyable cleansing experience. The cleanser aims to provide a soothing and calming effect, leaving the skin feeling rejuvenated and revitalized.
---
The eye serum is lightweight and has a silky gel-like texture. It is designed to be easily absorbed by the delicate skin around the eyes without leaving any greasy or heavy residue. It has a mild and pleasant scent. However, the scent is not overpowering or heavily perfumed, as eye serums are usually formulated to be gentle around the sensitive eye area.
---
A lightweight yet highly concentrated rich and creamy moisturizer that helps to firm and tighten skin, reduce fine lines and wrinkles, repair and revitalize skin, nourish, and lock in skin moisture. It is designed to be easily spread and absorbed by the skin. The cream feels velvety and luxurious upon application, providing a smooth and nourishing experience. It is formulated to deliver intense hydration and firming benefits to the skin, helping to improve elasticity and reduce the appearance of sagging. It has a light and pleasant scent that is not overpowering. The cream aims to provide a sensory experience that enhances the overall skincare routine and leaves the skin feeling rejuvenated.
---
Will I Continue Using It?
Yes, the results are noticeable after 30 days. I have observed a reduction in the fine lines under my eyes and experienced a tightening and plumping effect on my skin since incorporating it into my routine. Personally, I find the scent to be the most delightful among all the beauty products I've tried. Many users have also shared their satisfaction with Clinelle Caviar Gold, praising its luxurious texture, quick absorption, and visible results. However, it's important to note that individual experiences may vary, as skincare products can interact differently with each person's unique skin type and concerns. 
I tried the Clinelle Essential series before, but I stopped using it because I didn't see my skin any difference. Initially, I was skeptical about trying another series from the same brand. However, I'm glad I got influenced by the promoter to give the Caviar Gold series a try. Now, I am delighted to recommend these products to others.
X, Hani. 💛