After my wonderful trip to Kuching, Sarawak, last year, I found myself returning to this city once again. This time, I'm here not only for work but also to make the most of this wonderful opportunity to experience its blend of culture and nature. Although city travel isn't usually my preference, Kuching has surprisingly found a special place in my heart. Its urban atmosphere feels like a breath of fresh air compared to the bustling streets of Kuala Lumpur.
I'll keep this post brief since I've already written my guide for a short trip to Kuching here: A Guide For A Short Trip To Kuching, Sarawak. Today, I just want to add more to that guide and highlight a few more places that truly deserve more attention.
---
Looking for souvenirs?
Jalan Main Bazaar. Down by the waterfront, you'll discover a shop lot where you can explore a range of souvenirs such as t-shirts, handicrafts, accessories, fridge magnets, and more. If you're not planning to venture elsewhere, this is a convenient option. However, if you're up for more exploration, I'd recommend heading to:
Kubah Ria. This market is an absolute haven for souvenir shopping where you can easily find ikan terubuk masin, handicrafts, and more. You'll find plenty of choices here, and the prices are much cheaper. For instance, I purchased a bag to carry the extra items I bought in Sarawak for RM25.50 at Jalan main bazaar, while the exact same bag only cost RM20.00 at Kubah Ria.
---
Go to this viral cheese nan restaurant. 
This place is well-known for its cheese naan, which doesn't skimp on the cheese. When my friends and I came here for dinner, the line was quite long, but we patiently waited for about 30-40 minutes to get a table. The owner greeted us with a smile, and the servers were really quick at their jobs, so we didn't have to wait too long for our food. Our patience in line was worth it. The food was absolutely amazing, and I really enjoyed their extra-cheese naan and chicken biryani.
Don't miss out on checking out Makansari Food Street.
This spot is packed with all sorts of eateries and hawker stalls offering different kinds of delicious food. It has become a hotspot for food lovers. What's cool about it is its calm and easygoing atmosphere, making it a perfect choice for a laid-back dining experience. Whether you're in the mood for local flavors or international treats, you're sure to find something to satisfy your cravings here.
---
The trip wouldn't be complete without getting a Sarawak cake. 
Sarawak is truly renowned for its layered colorful cakes, so your experience wouldn't feel complete if you didn't bring one of these cakes back home. In my previous post, I recommended visiting Dayang Salhah Cakehouse. This cakehouse is among the oldest establishments that offer delectable Sarawak cakes. You can also consider Mira Cakehouse, which has also been well-known for its cakes for a considerable time.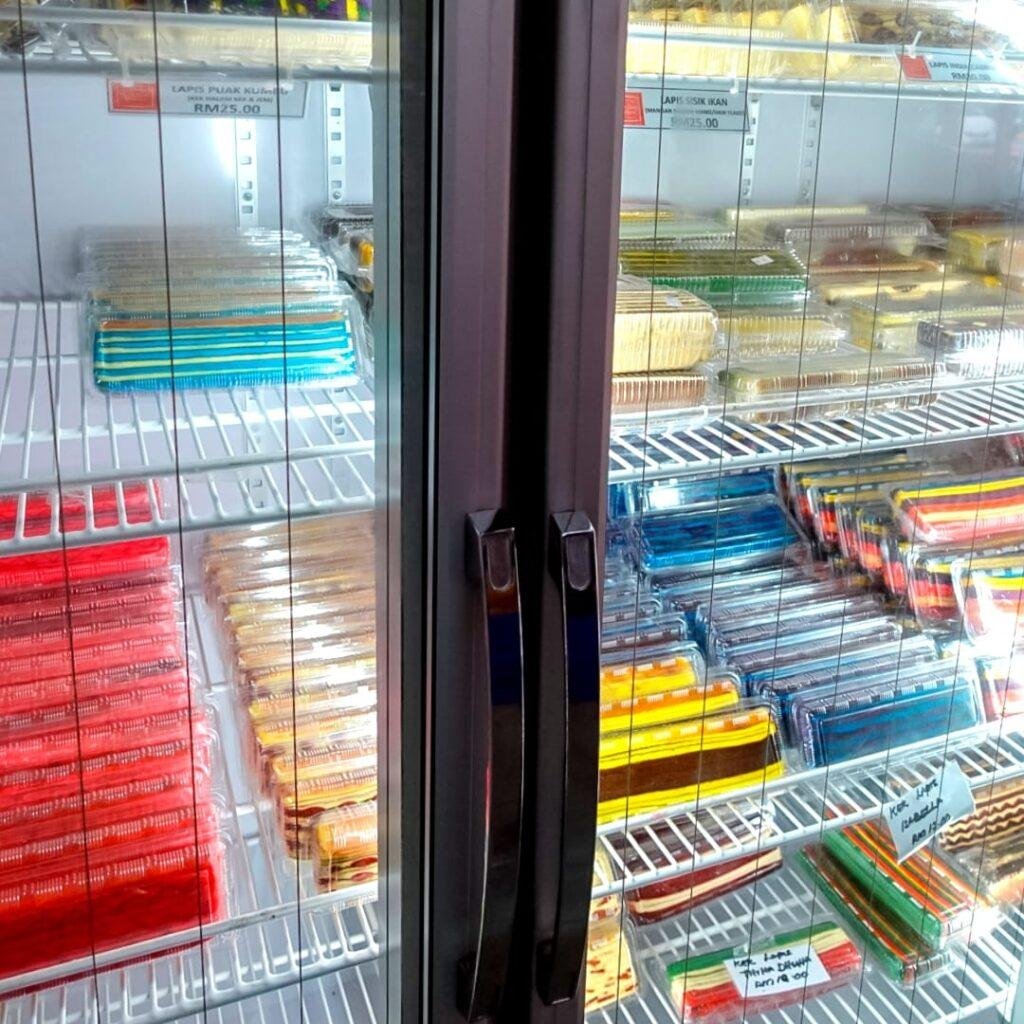 However, if you're looking for a premium Sarawak cake experience that offers an absolutely delightful taste along with a wide selection of flavors crafted from the finest ingredients, I highly recommend visiting Mama Su Cakehouse. It's situated within one of the shop lots along the waterfront.
Also, be sure not to miss out on Mita Cakehouse, famous for its trending butter cheese cake!
I must admit that I was quite skeptical at first. To me, it appeared like an ordinary butter cake, and as someone not particularly fond of butter cakes, I had my doubts. However, my friend insisted that I give it a try, and from the very first bite, I fell in love with it. It truly was exceptionally good. No wonder it became such a sensation! I ended up buying the whole loaf of cake and managed to finish it all in a day 😂 The cake's texture is incredibly soft, and the flavor is a delightful combination of cheese and butter. I highly recommend trying it out when you're in Kuching.
---
A Few More Places That Are Worth Visiting.
Borneo Culture Museum.
The museum was opened in March 2022 and has become home to over 1,000 artifacts that showcase the rich culture and heritage of the indigenous peoples of Borneo and Sarawak. It's a modern five-story building with a distinctive architectural design that reflects Sarawak's unique traditional crafts and rich cultural heritage and aims to become a lively place for social and cultural exchange.
Plaza Merdeka and The Spring.
Shopping complexes to consider if you're in the mood for some shopping. If you happen to visit Plaza Merdeka, make sure to head to the 2nd floor and try the Keju dessert ice cream. I had it once, and I've been craving it ever since. It's really delicious!
Monumental Cat Statue of Kuching City.
Kuching means "cat," making this the city of cats. While there are several cat monuments, this particular cat monument is by far the most popular. This monument has been standing here for nearly 30 years. It's situated at the golden traffic triangle of Jalan Tunku Abdul Rahman, right in front of the Grand Margherita Hotel and beside the Riverside Majestic Hotel.
Enjoy an evening stroll along the Waterfront.
The area comes to life at night with performances, a water fountain musical show, mascot dancing, and lively music playing. Don't forget to also cross the Hana Bridge to the other side for a charming walk and some fantastic photo opportunities. You'll be captivated by the enchanting lights and the mesmerizing fountain show.
X, Hani. ❤